A South Korean official told Newsweek that the longtime U.S. ally viewed President-elect Joe Biden taking office as a pivotal moment for the historic peace talks that were launched by outgoing President Donald Trump but later stalled.
South Korea, officially known as the Republic of Korea (ROK), and North Korea, formally called the Democratic People's Republic of Korea, (DPRK) remain divided despite intensive diplomatic contacts launched three years ago. As nascent relations once again gave way to tensions on the Korean Peninsula, Seoul seeks a renewed effort to bring the two neighboring rivals together.
"The launch of the Biden administration would provide a turning point to newly restart U.S.-DPRK and inter-Korean talks," a South Korean Unification Ministry official told Newsweek.
The official hoped the new White House would make a priority of working with Pyongyang, and that both sides would abandon hard-line stances for the sake of cooperation.
"The ROK Government expects the new U.S. administration and North Korean authorities to move forward in building relations through dialogue and negotiations in a more flexible manner," the official said. "Seoul will also do its best to create a virtuous circle with substantial progress between inter-Korean and U.S.-DPRK relations."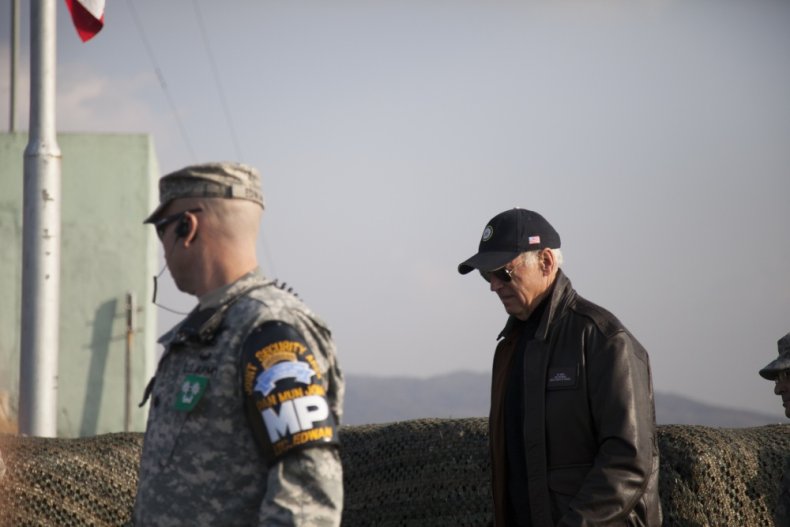 Biden has not yet released a detailed strategy to approach nuclear-armed North Korea, but has vowed to work with allies as well as competitors like China in pursuing the denuclearization of the Korean Peninsula.
"In North Korea, President Biden will empower our negotiators and jump start a sustained, coordinated campaign with our allies and others, including China, to advance our shared objective of a denuclearized North Korea," his official foreign policy statement says.
Working with allied was also emphasized by Biden's pick for top diplomat, Antony Blinken. He told a confirmation hearing Tuesday that the incoming administration intended to review "the entire approach and policy toward North Korea, because this is a hard problem that has plagued administration after administration, and it's a problem that has not gotten better—in fact, it's gotten worse."
He didn't rule out tightening the screws on Pyongyang, noting the new administration would "look at what options we have, and what can be effective in terms of increasing pressure on North Korea to come to the negotiating table, as well as what other diplomatic initiatives may be possible."
Humanitarian options were also being weighed, Blinken said.
Biden has previously expressed criticism of Trump's maverick approach to negotiations, accusing his rival of legitimizing Supreme Leader Kim Jong Un in his becoming the first sitting U.S. president to meet him in June 2018. Trump would meet with Kim again in February 2019 but the follow-up summit ended without a deal. A third meeting that summer also ended empty-handed despite dramatic scenes of Trump stepping into North Korean territory, also uncharted for a current U.S. leader.
Working-level relations unraveled later that year, with inter-Korean ties also collapsing last year, ostensibly over South Korean activists flying balloons carrying anti-government material and contraband across the border. Tough talks were introduced by North Korean officials and state-run media, culminating in threats of an entire rethinking of rapprochement with Seoul as referenced in Kim's remarks last week to the ruling Korean Workers' Party 8th Party Congress.
The ruler warned that "the prospects for improving relations between North and South Korea are uncertain" and warned that warming ties have reverted back to the period prior to his landmark three meetings with South Korean President Moon Jae-in in 2018. Kim accused Seoul of not living up to their joint agreements that year, instead prioritizing the longstanding U.S. alliance and engaging in "provocations," warning such behavior could force Pyongyang "to treat the South differently."
In the end, however, the third-generation supreme leader made note that this trend could be reversed "at any time" should South Korea change course. The South Korean Unification Ministry official saw this point as a potential opportunity.
"North Korea evidently appears to have left many possibilities open without determining its policy direction," the official told Newsweek. "Watching developments in the future, it seems to leave room for choices to be made between strategies of hardline and moderate. While apparently taking a tough stance, the North has also expressed room for improvements including calls for attitude change first from the South."
Kim was far harsher in his words for the U.S., which he called his country's "greatest enemy."
He was also less ambiguous in his call for new, more advanced nuclear capabilities including the development of tactical and super-large weapons. He called for preemptive and retaliatory capabilities, seeking solid-fuel intercontinental ballistic missiles (ICBMs) and an extension of his forces' effective strike range to 15,000 kilometers, or about 9,320 miles.
The estimated capabilities of North Korea's furthest-flying ICBM tested during a spike in U.S.-North Korea tensions in 2017 is believed to be over 13,000 kilometers, or over 8,000 miles, putting Washington, D.C. in range. An even larger weapon was displayed during a military parade marking the 75th anniversary of the founding of the Korean Workers' Party last October.
Kim threw another military parade last week to mark the end of the 8th Party Congress. The grandiose event showcased a degree of his country's existing military might, including some new additions like the debut of a submarine-launched ballistic missile called Pukguksong-5 and a solid-propellant-based short-range ballistic missile, but no ICBMs.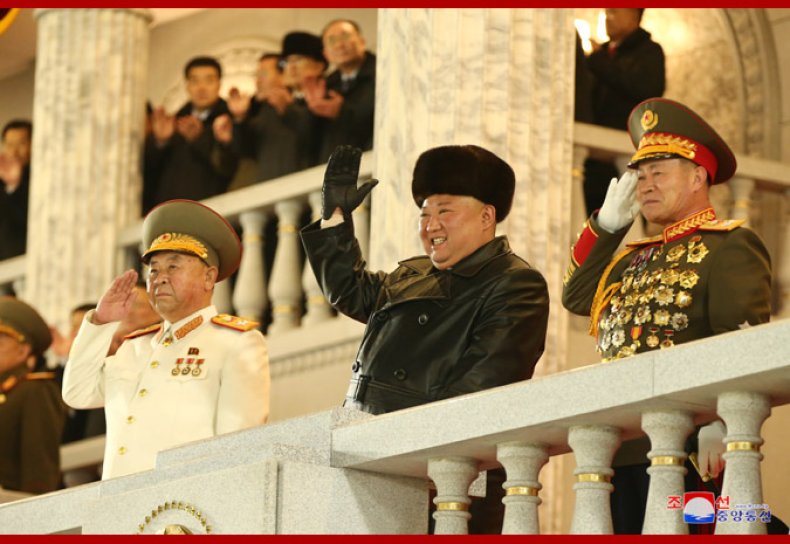 While Kim has yet to launch an ICBM or conduct a nuclear test since a self-imposed moratorium announced at the onset of the 2018 peace process, he revoked his pledge against doing so during his 2020 New Year's message. His latest New Year's address, delivered in text, focused far more on reworking his country's embattled economy, strangled by both international sanctions and a national lockdown induced by the ongoing COVID-19 pandemic, which North Korean authorities insist has yet to infiltrate the elusive, militarized state's borders.
Even with North Korea retreating into isolation, Kim urged a national campaign to foster better external relations, and South Korea has emphasized its readiness to restart talks at any time.
"The ROK Government remains consistent in pursuing denuclearization and settlement of peace on the Korean Peninsula, and improvement of inter-Korean relations," the South Korean Unification Ministry official told Newsweek. "Its will to implement inter-Korean agreements is as firm as it has been stated many times before, and we look forward to creating a new starting point for peace and prosperity on the Korean Peninsula in the near future based on mutual trust and respect."
Such sentiments were echoed by Moon, who on Tuesday nominated former National Security Adviser Chung Eui-yong to replace Foreign Minister Kang Kyung-wha on the eve of Biden's inauguration. Chung played a major role in first bringing Trump and Kim together in 2018 and his appointment to top diplomat followed Moon's call for a new push to bring the two Koreas together with U.S. support.
"The achievements we have seen in the Trump administration should be the basis of talks with the new administration in the United States," Moon said during a New Year's address on Monday.
Moon called Biden's inauguration "a new opportunity" for diplomacy and said his team would be well-qualified for the task.
"Many people in Joe Biden's administration have a great deal of expertise on Korean Peninsula issues and they see the importance of dialogue," Moon said. "So I believe that the issue of North Korea will be a priority in U.S. diplomacy. I will also exert my full efforts and intensify cooperation with the U.S."
This article has been updated to include remarks by the Biden administration's nominee for secretary of state, Antony Blinken.