South Koreans now see their country as more powerful than their northern neighbor, but the number of citizens who want to reunite with North Korea has witnessed a significant uptick, according to a state-sponsored poll obtained by Newsweek.
The Seoul-based, government-backed Korea Institute for National Unification (KINU) has published the results of its latest opinion survey spanning a number of topics, mostly pertaining to inter-Korean relations. Newsweek obtained the accompanying report as well as some additional results that were not featured in the public version.
Among the more notable features in the unreleased section is a never-before-recorded reversal that shows more South Koreans believe their nation "is stronger" than North Korea.
The difference, recorded in April, is slight at 37.1% who favor Seoul versus 36.5% who see Pyongyang as commanding the more powerful Korea, but it marks a drastic change from previous figures last November, when North Korea was described as more powerful by more than a seven-point margin at 33.5% against just 26.4% who chose South Korea.
Previous years showed an even further lead for the North Korean option at 7.8 points ahead in June of last year, 9.1 in September 2019 and 11 in April of 2019.
Research fellow Lee Sang Sin, corresponding author of the study, called the latest results "a very interesting change."
"So far, more South Koreas have believed that North Korea can overpower South Korea with its military force," Lee told Newsweek. "Now, it has reversed."
And he explained what he said is the likely reasoning for the shift.
"I think it shows that South Koreans are now confident with the country's cultural, economical, and political standing among neighboring countries," Lee said. "Due to South Korea's exemplary response to COVID-19 and the recent surge of Korean soft power, Koreans are finally accepting the fact that South Korea is no longer a poor, defenseless country."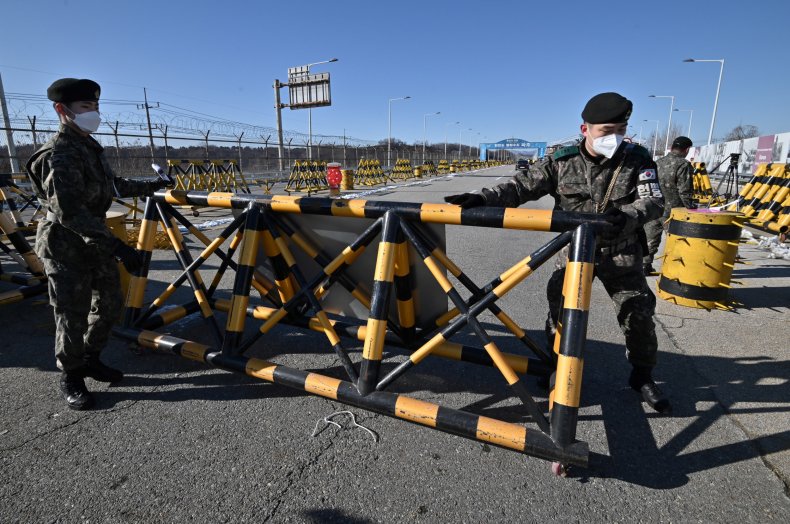 But there's another interesting facet to the figures featured in the report.
Asked about the need for North Korea, officially the Democratic People's Republic of Korea, and South Korea, formally known as the Republic of Korea, to once again unite after being divided by rival Cold War powers the Soviet Union and the United States after World War II, "the response that unification is necessary has significantly increased" from a low of 52.7% last November to 58.7% this past April.
This number had continued to steadily decline from a historic high of 70.7% in the wake of the landmark summit between former U.S. President Donald Trump and North Korean Supreme Leader Kim Jong Un in June of 2018 as a subsequent meeting in February 2019 ended without a sought-after peace deal providing sanctions relief in exchange for North Korea's denuclearization.
As Washington and Pyongyang failed to rekindle diplomacy, South Korean President Moon Jae-in's hopes for inter-Korean rapprochement have also stalled. Now with President Joe Biden in office, however, Moon has called for a new effort to engage with Kim and the report saw a correlation between these developments and public opinion in South Korea.
"The necessity of unification is closely connected to changes in inter-Korean relations," the report found. "After the failure of the US-DPRK Summit in Hanoi in [2019], responses that unification is necessary continued to decline, but the [2021] result shows that new expectations for inter-Korean dialogue have been reflected since the Biden administration took office."
But Lee saw a more compelling argument that it was events on the Korean Peninsula itself that have driven this trend.
"I don't think it is related to Biden's election," Lee said. "Necessity of reunification item always reflects the current South-North relationship. When the two Koreas get along it tends to go up. When there is tension, it goes down. After the failure of Hanoi, South Koreans feared North Korea might resume its usual military provocations. But, with the exception of the demolition of the Kaesung office, North Korea has refrained itself from extreme measures so far."
"An increase of the necessity of reunification may reflect these changes," he added.
North Korea has not tested a nuclear weapon or long-range missile since the launch of the peace process with South Korea and the U.S., though Kim has reserved the right to due to a lack of progress in negotiations. The ruler has also ordered a limited number of shorter-range weapons tests that have garnered expressions of concern from Seoul and Washington.
Among the principal grievances aired by North Korea is the prospect of joint U.S.-South Korea military drills viewed as provocative by Pyongyang. North Korean state-run media outlet Uriminzokkiri issued a scathing commentary Monday in response to news that the two allies would conduct training together this summer.
"The blame for the current instability on the Korean Peninsula should be squarely placed on warmongers among the South Korean military colluding with outside power and engaging reckless confrontational machinations," the commentary said.
It argued that "war games and schemes to strengthen armed forces will never stand hand in hand with peace."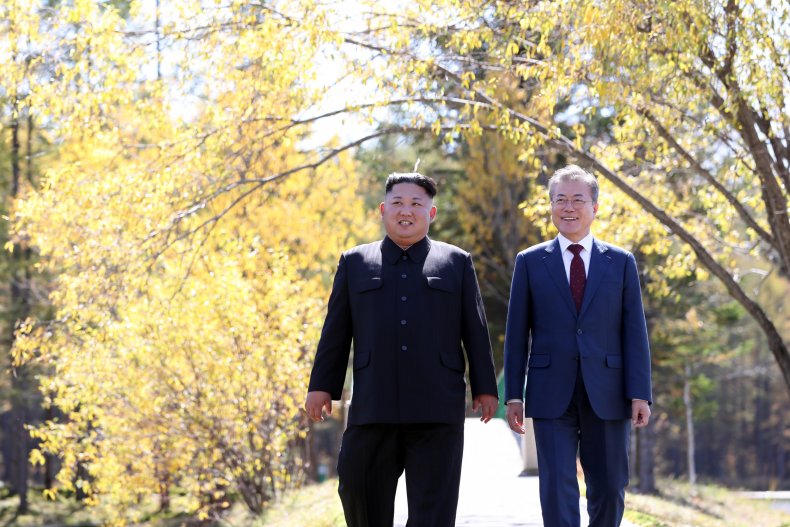 North Korea has also reacted strongly to the U.S. decision to lift restrictions on South Korea's missile development during Biden and Moon's debut summit in May, At that same meeting, however, the South Korean leader emphasized his aspirations for the resumption of talks with North Korea.
Since completing its policy review earlier in April, the Biden administration has left the door open for diplomacy with Kim's government, but has warned it would also respond to any escalations and would act in unison with allies such as South Korea, along with Japan, which has expressed far less enthusiasm for inter-Korean unity.
Deputy Secretary of State Wendy R. Sherman is set to begin on Monday an East Asia trip in which she'll visit travel Japan, South Korea and Mongolia. She's set to hold joint talks with officials from Tokyo and Seoul "to discuss trilateral cooperation on pressing shared challenges, including regional security issues such as the DPRK, as well as climate change and global health."
The Biden administration has also recently discussed coordinating on North Korea with China, North Korea's ally and a top rival of the U.S.
Asked by reporters Friday at a press conference in Beijing, Chinese Foreign Ministry spokesperson Zhao Lijian declined to discuss Sherman's upcoming trip.
"China's position on China-U.S. relations is consistent and clear," Zhao said. "As to the specifics you asked about, I have nothing to read out at this moment."
Later that same day, State Department spokesperson Jalina Porter also declined to offer additional details on Sherman's agenda during a press briefing in Washington.
So far, no direct contacts between Washington and Pyongyang under the current U.S. leadership have been reported as North Korean officials say the White House must first end its "hostile policy" against the country.
At a press conference earlier this month, State Department spokesperson Ned Price said the offer to talk still stands.
"We have made very clear to the DPRK that we are ready to engage in good-faith, constructive diplomacy," Price said at the time. "We have extended messages and we are awaiting a constructive reply."
As for South Korea, the country's Unification Ministry has also continued to broadcast its willingness to complete its mission amid suggestions that such unity between the two Koreas may never be realized.
"The Ministry of Unification should continue to exist and improve in order to realize the spirit of the ROK Constitution toward peaceful unification, to heal the wounds of division and to accelerate peaceful coexistence and common prosperity between the two Koreas," spokesperson Lee Jong Joo said earlier this week.