'South Park' Hints at Prince Harry, Meghan Markle Roasting: 'Dumb Prince'
Adult animated comedy series South Park has hinted that Prince Harry and Meghan Markle could be in for a roasting in the newest episode, set to be broadcast on Wednesday night.
The cult comedy show was created in 1997 by Trey Parker and Matt Stone and is on its 26th season. South Park is known for its controversial takes on hot topics and social commentary, including, most recently, the COVID-19 pandemic.
In promotional material released ahead of the show's February 15 episode, titled "The Worldwide Privacy Tour," it appears the storyline could be based on Harry and Meghan. The synopsis reads: "The prince of Canada and his wife try to find privacy and seclusion in a small mountain town."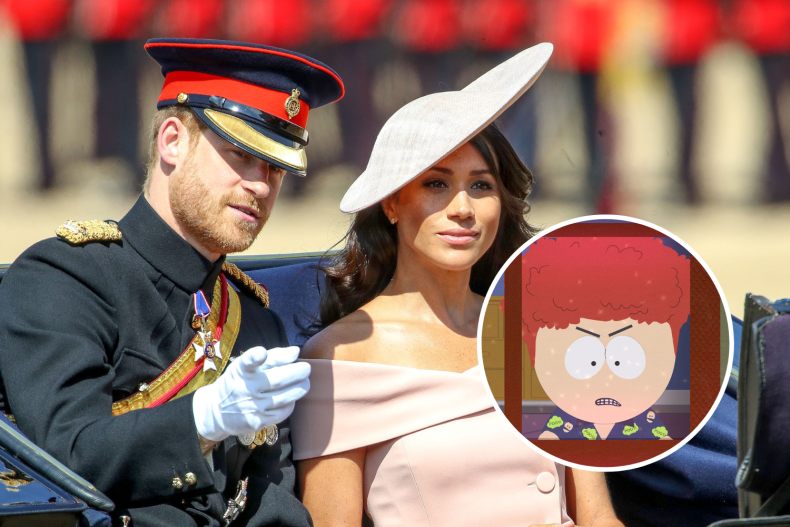 A clip released ahead of the broadcast shows a main character, Kyle, telling his friends: "It seriously is driving me crazy. I'm sick of hearing about them but I can't get away from them! They're everywhere."
The character Stan replies: "Look, Kyle, we just kind of don't care about some dumb prince and his stupid wife."
The episode follows an increased period of visibility for Harry and Meghan. It has been a year of media project releases and interviews: Meghan's Archetypes podcast; the couple's bombshell Harry & Meghan Netflix docuseries; and Harry's bestselling Spare memoir.
One of the main criticisms levelled at the couple since they unexpectedly quit their working royal roles and moved to the U.S. in 2020 is that they appeared to do so for privacy reasons. Harry and Meghan cited issues with the British tabloid press, but have since spoken to prominent U.S. news outlets and financially benefited from telling their royal story.
The couple have denied this after facing a backlash against their docuseries in December. A spokesperson for the couple said, per the BBC, that Harry and Meghan never stepped away from the monarchy for privacy reasons.
"The Duke and Duchess have never cited privacy as the reason for stepping back. This distorted narrative was intended to trap the couple into silence," the spokesperson said.
"In fact, their statement announcing their decision to step back mentions nothing of privacy and reiterates their desire to continue their roles and public duties. Any suggestion otherwise speaks to a key point of this series.
"They are choosing to share their story, on their terms, and yet the tabloid media has created an entirely untrue narrative that permeates press coverage and public opinion. The facts are right in front of them," the spokesperson added.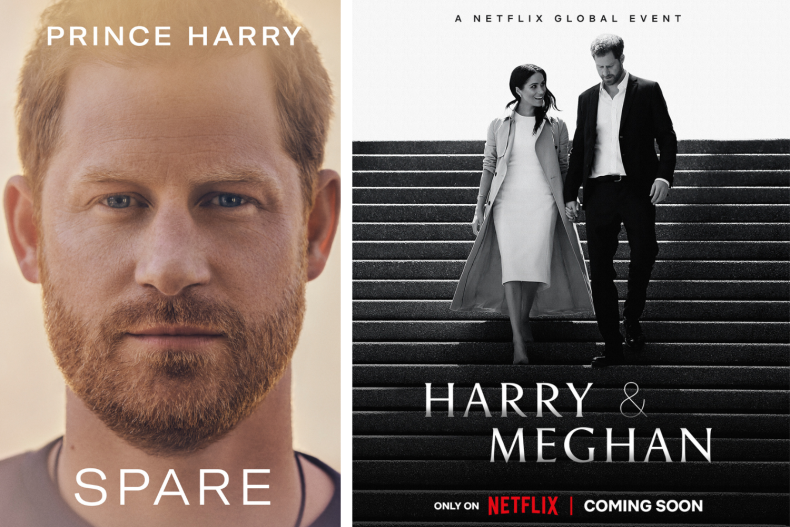 Whether the South Park episode will directly reference, spoof or depict Harry and Meghan is as yet unknown. The synopsis reference to "the prince of Canada and his wife" suggests the storyline will center around a fictional royal family. In past episodes, this has been physically portrayed to resemble the British royals.
In 2011, following Prince William and Kate Middleton's wedding, South Park aired an episode titled "Royal Pudding." It centered around a fictional Prince and Princess of Canada (who were shown to look like William and Kate on their wedding day).
Though the episode aired 12 days after the royal wedding, the British royals were spared the show's harsher spoofing. A number of celebrities including Kanye West, Paris Hilton and Jennifer Lopez have fared far worse.
A take-down by South Park would not be the first time that Harry in particular will have faced pop-culture ridicule in recent months. After the publication of his memoir, a number of late-night shows spoofed the royal and the intimate revelations made in his book. Most notoriously, there was the passage concerning a case of penile frostbite he tried to alleviate with a lip cream favored by Princess Diana.
To promote the book, Harry appeared on The Late Show With Stephen Colbert as well as filming separate interviews for ITV in the U.K. and 60 Minutes in the U.S.
Newsweek approached Comedy Central and representatives for Prince Harry and Meghan Markle for comment.
South Park's "The Worldwide Privacy Tour" episode will air February 15, 10 p.m. ET/PT on Comedy Central.
James Crawford-Smith is Newsweek's royal reporter based in London. You can find him on Twitter at @jrcrawfordsmith and read his stories on Newsweek's The Royals Facebook page.
Do you have a question about King Charles III, William and Kate, Meghan and Harry, or their family that you would like our experienced royal correspondents to answer? Email royals@newsweek.com. We'd love to hear from you.