The 'South Park' Joke Likely to Offend Meghan Markle More Than Any Other
Prince Harry and Meghan Markle's recent South Park roasting included one joke that stood a strong chance of riling the Sussexes.
The Comedy Central show took aim at the royal couple in a February 15 episode that showed the "Prince and Princess of Canada"—who looked and dressed distinctly like Harry and Meghan—on a "Worldwide Privacy Tour."
The Duke and Duchess of Sussex were portrayed as privacy hypocrites, while Harry's revealing self-portrait in his book Spare was turned by the show's creators into a memoir titled Waaagh.
Elsewhere, Harry's account of experiencing frostbite on his penis is mocked as the prince exposes himself to the South Park character Kyle.
But of all the snipes, one in particular references an insult Meghan has denounced as sexist.
The episode begins with the couple doing an interview on a Canadian breakfast show in which the host asks: "Isn't it true, sir, that your questionable wife has her own TV show and hangs out with celebrities and does fashion magazines?"
The host added: "Well, I just think some people might say that your Instagram-loving b**** wife actually doesn't want her privacy."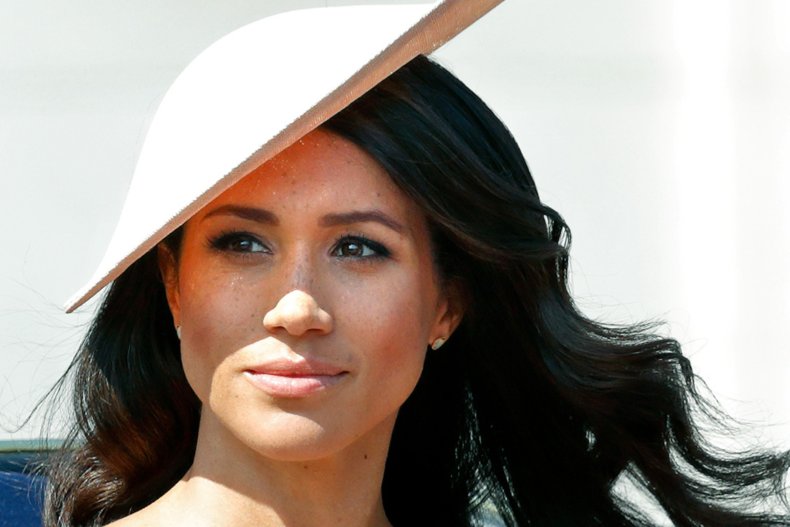 Referring to Meghan with what she calls "the b-word" may be typical of South Park's approach, but the term is of particular interest to the duchess and was discussed on her Archetypes podcast.
The podcast's concept was to unpack the negative labels that hold women back. One episode was titled "To 'B' or not to 'B,'" and the Spotify summary says the duchess explores "the origin and plague of 'the b-word' and its cousin 'difficult' and how these terms are often wrongly applied to a strong-minded woman, especially in business."
"I was and I still am a word nerd," Meghan said on the show, "and to that point, I can think of many words that begin with, well, I don't know, let's just go with the letter 'b.'
"Beautiful, blessed, brilliant, beguiling, blissful, bedazzling. And yet, when you hear someone say the b-word, I think we're all clear that none of the words that I just said is what they're talking about," she said.
Instead of saying the word, Meghan added: "It's referring to—instead, you know what, I'll just let someone else lead the charge here."
Elsewhere on the Spotify show, she said: "Perhaps the truth is that labeling a woman as the b-word or as difficult is often a deflection—a way to hide some of her really awesome qualities, her persistence or strength or perseverance, her strong opinion, maybe even her resilience."
Summing up at the end of the episode, she said: "For some women, it's all about embracing and reclaiming the b-word, taking the power out of it, maybe even using comedy to defuse it."
Meghan may see a role for comedy done by other women in reclaiming the word, but it is difficult to believe the South Park episode was what she had in mind.