Prince Harry and Meghan Markle Break Silence on South Park Lawsuit Claims
Prince Harry and Meghan Markle are not suing after being mocked by South Park as their spokesperson told Newsweek claims the saga "may have legal ramifications" are "baseless and boring."
The Duke and Duchess of Sussex were mocked in a new episode of the cartoon which showed the "Prince and Princess of Canada" on a "worldwide privacy tour."
The roast led to speculation they are considering legal action but their spokesperson said: "This is baseless and boring."
And U.S. royal commentator Kristen Meinzer told Newsweek it was easy to see why the couple were not taking legal action. She said: "I highly doubt Meghan and Harry are suing a satirical cartoon that famously ridicules everyone.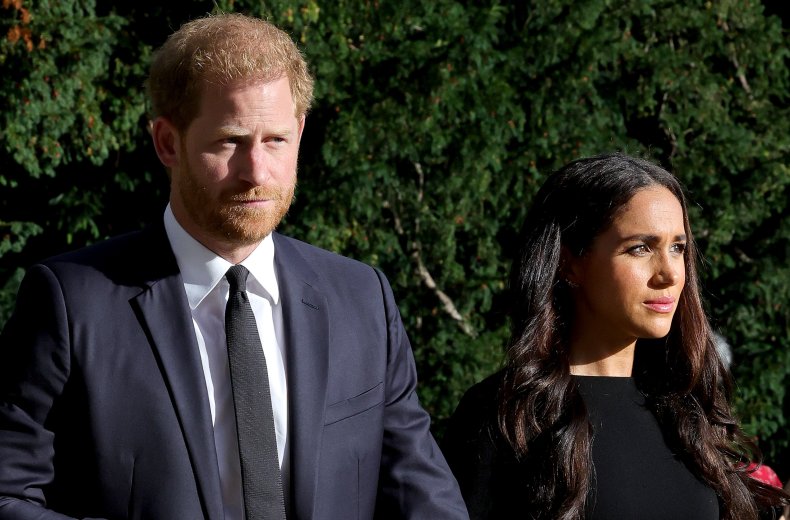 "If anything, they'll know they're in good company with other decent people who've been raked over the coals by the show.
"For example, South Park has repeatedly ridiculed Al Gore and his efforts to combat climate change. They made fun of Steve Irwin for being killed by a stingray just a few weeks after his death.
"They turned Rob Reiner into a punchline because of his weight. They've never been a bastion of good taste, and they've absolutely been offensive, but again, they're also a cartoon, not a news outlet—and Harry and Meghan are unlikely to take a cartoon to court."
How Meghan and Harry Were Depicted in 'South Park'
A royal couple who look and dress like Harry and Meghan are shown storming out of an interview with "Good Morning Canada" after the host says: "Isn't it true, sir, that your questionable wife has her own TV show and hangs out with celebrities and does fashion magazines?"
The interviewer added: "Well, I just think some people might say that your Instagram-loving b**** wife actually doesn't want her privacy."
South Park's Harry and Meghan roast adopts the long-standing U.K. media perspective that they are hypocritical for demanding privacy while also speaking publicly about their private lives.
However, there are also specific aspects that may strike a raw nerve including the Canadian host's use of the word "b****," which Meghan previously described on her Spotify podcast as a sexist trope used to "insult and dismiss someone."
The show's prince and princess are shown moving in across the road from the character Kyle, who then says he is sick of the couple.
In one scene, he says: "It seriously is driving me crazy. I'm sick of hearing about them but I can't get away from them. They're everywhere. In my f****** face."
Another character, Stan, replies: "Look Kyle, we kind of just don't care about some dumb prince and his stupid wife."
Claims Harry and Meghan's 'Legal Team Are Casting an Eye Over' Episode
The speculation began when Neil Sean, a royal commentator, wrote an article for Fox News saying the episode has "legal ramifications attached" and that the couple's lawyers have reviewed the show.
He wrote: "According to sources close to the ex-royals, it appears that, like so many things with Meghan and Harry, this may have legal ramifications attached.
"Their legal team are casting an eye over the episode to see what is wrong, and what could be turned into something more sinister.
"This appears to be their course of action rather than laughing it off, enjoying the moment and showing the world that they get the joke and understand this is how they may be perceived, and maybe, dare we say, change…dare we?
"Well, no, the duo are very unhappy with this, I am told via a good source, and again one wonders why."
"The makers of South Park have, as yet, received nothing," he added, "but I am told they are aware of this and have nothing to fear, simply because they have the legals all over this and know they could not have broadcast it without the watertight details flattened out."
Speculation quickly spread beyond Fox News with articles by other news organizations, including the Daily Mail. Megyn Kelly also posted on Twitter: "Could they possibly be this stupid? They'd be laughed out of court!"
Reason Harry and Meghan Suing 'South Park' Would Be a Bad Idea
The jokes may sting and have certainly served up ammunition to Harry and Meghan's critics but the duke and duchess would likely have an uphill battle attempting to sue South Park even if they wanted to, which clearly they do not.
Mark Stephens, a U.K. based attorney at Howard Kennedy, told Newsweek that suing in America would likely fail, though they might have more luck filing the case in Britain.
He said: "They can sue in any country that they wanted to because it was global on the internet. Satire is defamatory in the sting.
"My advice to people, though, is always don't sue on jokes because what people then say is 'you can't take a joke.'
"On the face of it they can sue but there's a long and dishonorable tradition of people who sue about jokes not being successful."
"If you're in the public eye, people feel you should be subject to comment and criticism, and satire is another form of comment and criticism," he continued. "That's another reason why people think you should take it because it is just comment."
Meghan's lawyer Michael Kump invoked the First Amendment right to free speech as recently as February 15 in defending the duchess during a libel lawsuit filed by her half-sister, Samantha Markle.
"The right to voice opinions, to even criticize, are even fundamental rights granted by the First Amendment," Kump said.
Kump's comments do not sound like the words of a man who is about to sue South Park on behalf of his clients.