How Prince Harry, Meghan Markle Made Themselves 'Fair Game' for TV Spoofing
Prince Harry and Meghan Markle could increasingly find themselves the subject of pop-culture parodies and spoofs after their increased media engagement, since leaving the royal family in 2020 has created "plenty of press-worthy soundbite fodder and commentary," an entertainment expert told Newsweek.
The royal couple, in particular Harry, has featured as a punchline on multiple late-night shows, awards show monologues, satirical cartoons and comedy shows in recent months after the couple released a large volume of media projects including a six-part Netflix show and a bombshell tell-all memoir.
On Wednesday night, the adult animated comedy series South Park took scathing aim at the royal couple, spoofing what the show termed their "worldwide privacy tour."
The show, which is well-known for widely spoofing A-list celebrities such as Paris Hilton, Kim Kardashian and Kanye West, has rarely taken aim at British royals save for a couple of episodes that featured Queen Elizabeth II or fictional royals made to look like Prince William and Kate Middleton. Even then, the shows did not spoof events in their own royal lives.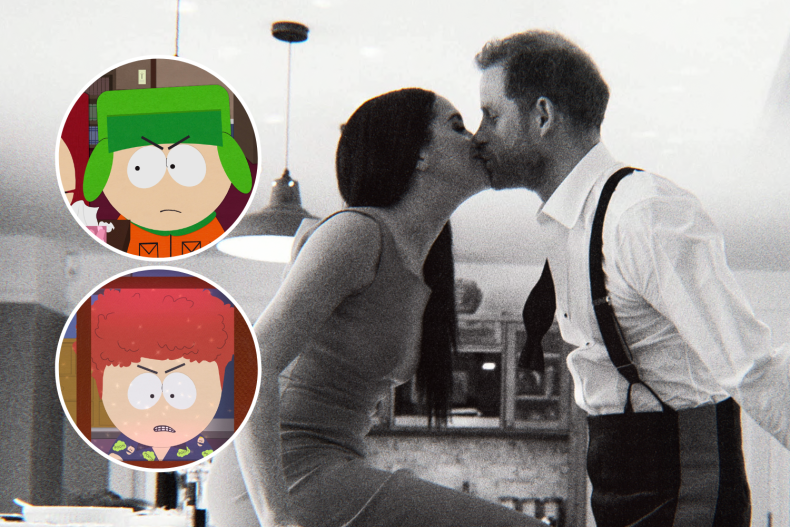 The South Park episode presented take downs of Harry's memoir Spare as well as the Sussexes' use of private jets and antipathy for the media, from the perspective of a fictional "Prince and Princess of Canada," created to look just like the couple.
This is something that entertainment expert and founder of MarkMeets, Mark Boardman, told Newsweek that the couple may have to get used to.
"It's a brave move by South Park creators to ridicule the hypocrisy of Meghan and Harry, but I have to say the recent episode 'The World-Wide Privacy Tour' is spot on, and in so many ways," Boardman said.
"The whole 'we want privacy' is milked throughout the show in a hilarious re-enactment, though in a comedic way shows viewers a true reflection of what has been spewed out in the media from Harry and Meghan in recent years."
Through increasingly giving interviews, appearing in documentaries and through the release of Harry's book, the couple, Boardman explains, has generated "plenty of press-worthy soundbite fodder and commentary," so this has become "fair game."
It is perhaps Harry's family members' "never complain, never explain" motto that has saved them from the level of spoofing or parodying Harry has faced in recent months, rarely speaking publicly or on the record.
The South Park parodying is not the first time that Harry and Meghan have been a primetime punchline.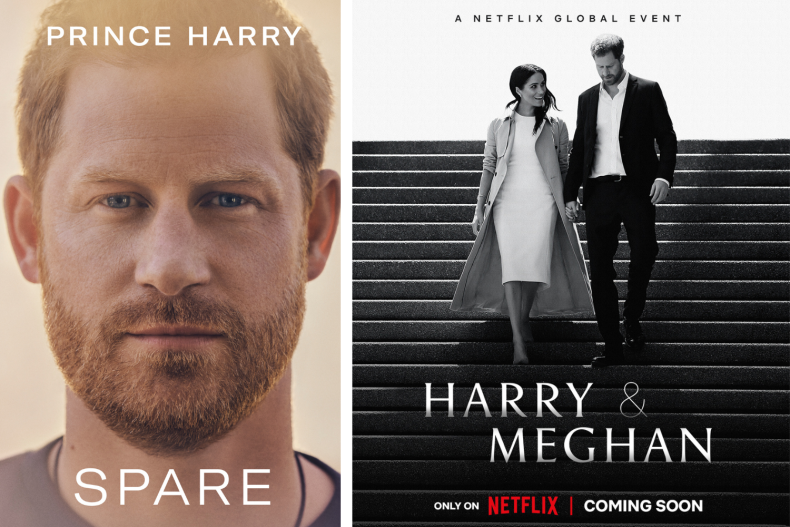 After the publication of Spare, the prince saw himself taken down by a number of late-night hosts including Jimmy Fallon, Seth Meyers, Stephen Colbert and even their close friend, James Cordon.
The host whose lampooning of the royal was the most extensive was Jimmy Kimmel, who recreated the prince's alleged Kensington Palace attack from his brother, Prince William, spoofed a clip from the royal's audiobook and also parodied the infamous penile frostbite anecdote with a mock children's storybook that also appeared to make Princess Diana the butt of the joke.
The Sussexes could see the parodies increase as they more firmly establish themselves in Hollywood and particularly as the American public has—according to polling—become more likely to view them negatively. But it would be unfair to suggest that the couple was not spoofed prior to the release of their docuseries or book.
As early as 2020, Harry and Meghan appeared as characters on the British satirical show Spitting Image, famous for its 1980s and 1990s series which regularly lampooned members of the royal family as well as political figures.
Though she regularly featured as a character on the show, actor Stephen Fry revealed in 2014 that Princess Diana loved it, despite that her husband's family hated it.
The couple was again spoofed in the 2021 animated comedy The Prince created by Family Guy writer Gary Janetti and produced by HBO Max.
In the show, the rational Meghan (voiced by Condola Rashad) was shown making a number of attempts to show her husband Harry (voiced by Orlando Bloom) how to live in the real world, outside palace walls.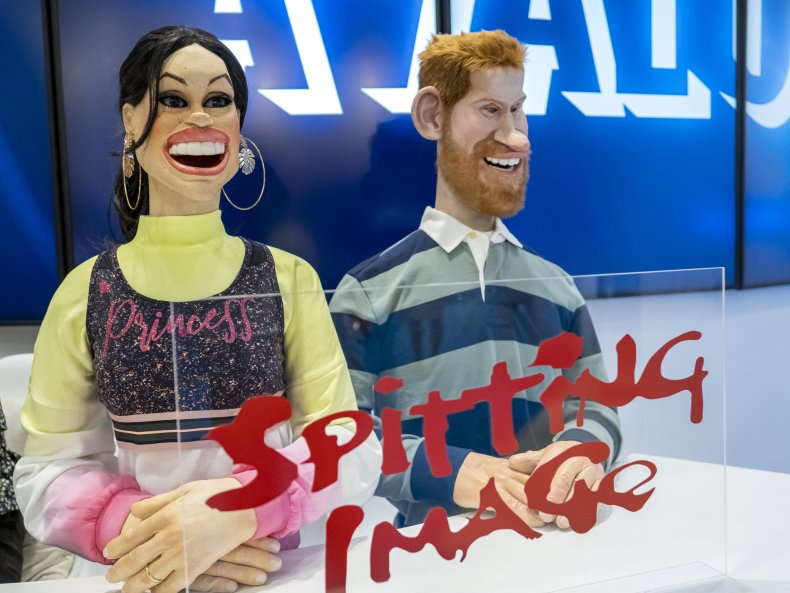 Though being portrayed in popular TV series' could be interpreted as keeping the couple relevant and simply illustrating how prominent they loom on the world's stage, there is a downside, according to Boardman, who says that the couple will be watching their portrayals to "see how they can improve the royal image."
"The cultural zeitgeist of being spoofed is one thing," he said, "but this is indeed public perception, and it appears the couple's attempt to make their own brand 'a good one' has not entirely gone to plan."
Harry and Meghan have one confirmed media project on the horizon in the form of a docuseries shadowing competitors of the Invictus Games, titled Heart of Invictus.
The show, produced through the couple's content creation deal with Netflix, has no official release date, but it is speculated to be slated to debut around the time of the 2023 games this September.
James Crawford-Smith is Newsweek's royal reporter based in London. You can find him on Twitter at @jrcrawfordsmith and read his stories on Newsweek's The Royals Facebook page.
Do you have a question about King Charles III, William and Kate, Meghan and Harry, or their family that you would like our experienced royal correspondents to answer? Email royals@newsweek.com. We'd love to hear from you.