Why South Sudan's Leaders Are to Blame for the Country's Famine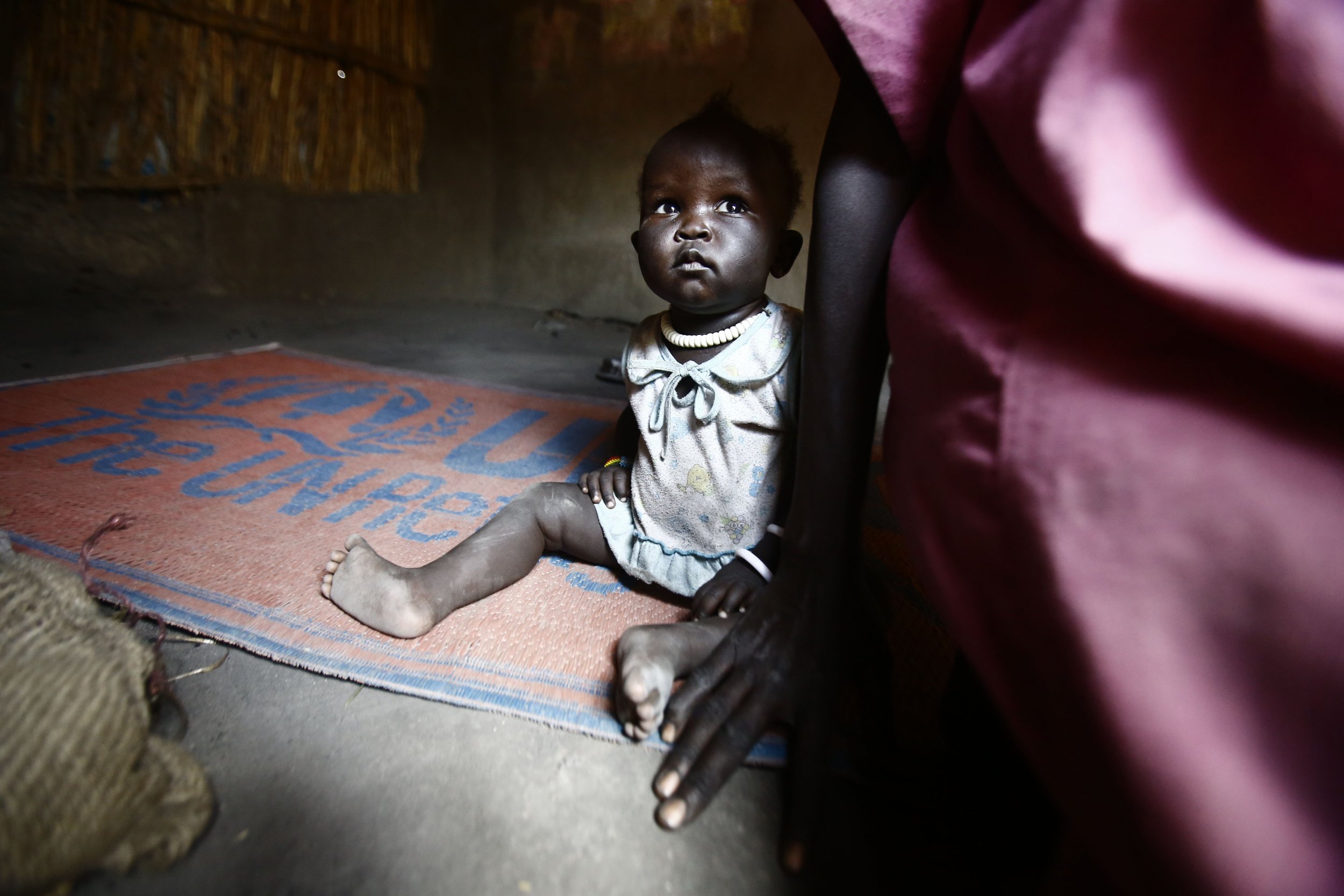 If there is one thing that the warring parties in South Sudan's acrimonious and destructive three-year long civil conflict can agree on, it ' s the need for humanitarian aid to save the lives of the long-suffering South Sudanese people.
In mid-February, I visited Leer in central South Sudan— the epicenter of this fledgling nation's newly-declared famine —where estimates suggest that some 100,000 people face starvation. It is the first time in almost six years that famine has been declared anywhere in the world, since the 2011 famine in Somalia.
I bumped along a dusty track to cross the front line between the government Sudan People's Liberation Army (SPLA) forces and the opposition forces, known as the SPLA In Opposition or just IO. In this dry and devastated center of the country, I heard pleas on both sides of the front line for the speedy return of United Nations humanitarian agencies and non-governmental organizations—and the food aid, water and sanitation services and medical care they deliver.
In the village of Thonyor, in IO-held territory, some 50 miles south of Leer, I was taken to an airless and suffocating grass-thatched hut, known as a tukul. It is guarded by a group of ragtag young rebels wearing football shirts, torn trousers and flip-flops and brandishing antique AK-47s, with rounds of ammunition hanging off their torsos. Inside the tukul, elders, local officials and men in uniform, warn that many people will die if aid is not brought immediately. The message from the state government that I had met earlier in the day was no different.
Bringing aid to the people of Thonyor and Leer has been sporadic in the months leading up to the famine declaration. A number of U.N. agencies and NGOs withdrew from the town after their warehouses storing food aid and other supplies were looted by armed elements, not once but multiple times. It simply became too dangerous and ultimately pointless for them to carry on working. This was despite increased patrols by a small contingent of peacekeepers of the U.N. Mission in South Sudan (UNMISS) operating from a temporary base outside Leer, patrols aimed at providing security for the delivery of aid and to deter the violence that has caused widespread displacement of civilians living in the area.
There are currently around 1,600 people who are sheltering at the UNMISS base itself, and who remain too scared to return home, if indeed they still have homes. A hardworking doctor who is part of the UNMISS Ghanaian contingent based there has delivered 34 babies. These displaced civilians—many of them women and children—make up a fraction of the 223,000 people across the country who have sought refuge in UNMISS protection of civilians sites, fearful they would otherwise be killed. With homes often burned to the ground as a result of the fighting, many literally have nowhere else to go.
The famine declared on February 20 by a consortium of U.N. and other agencies at the South Sudanese National Bureau of Statistics in the capital, Juba, affects 100,000 people in two counties, Leer and Mayendit to the south. Their report also says that 5.5 million people—almost half of the population of South Sudan—will need food aid by July, including an estimated 1.1 million malnourished children.
The silence of political leaders on all sides about the plight of their citizens is deafening. Their talk is dominated by military operations and political machinations, nothing to alleviate the humanitarian burden. To make matters worse, in recent days, humanitarian organizations have even been told by local authorities to leave some of the areas most affected by famine, and UNMISS patrols are frequently blocked from accessing villages experiencing the worst of the conflict. It is under these testing conditions that peacekeepers and our courageous humanitarian partners are striving to help the people of South Sudan.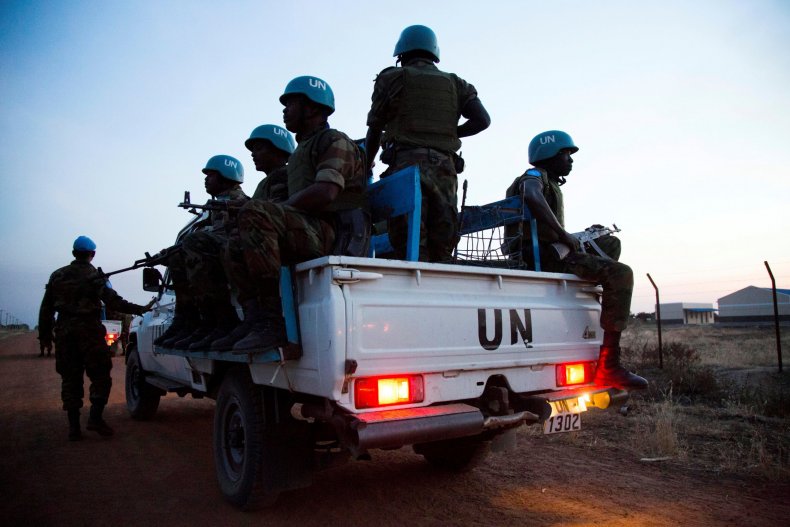 This tragedy needs and deserves the attention of the world. Now, more than ever, it needs foreign aid. But more importantly, it needs the leaders of the world's youngest nation, who fought for decades to win independence, to understand that their cherished sovereignty comes with responsibility—to protect and provide for their citizens, not simply expect those needs to be met from outside.
Fast forward a week and I arrived by plane in the town of Yambio, in the lush southwestern corner of South Sudan. As we landed, I noticed the widespread and intensive cultivation of crops in neatly ordered small-holdings: there was cassava, ground nuts, beans and pineapple.
I was struck by the contrast between the parched and inhospitable lands I had seen around Leer and the fecundity of Yambio, where people were busy working the land to bring in two harvests each year. Gargantuan mango trees were everywhere, laden with improbably-large fruit. It's not surprising that this part of South Sudan has traditionally been the food basket for the rest of the country.
Despite the industriousness of the farmers, it is clear that these two places, Leer and Yambio, have more in common than what sets them apart. While agricultural production continues in the town of Yambio, just 10 miles outside, rival militias and government forces have been engaged in looting, rape and killing, driving people off their land. This same scenario is being played out across this country, where the vast majority of the population of around 12 million is engaged in agricultural activities; a local conflict erupts, farmers flee for their lives and the land remains fallow.
Separated from their livelihoods, displaced people—who now number nearly 2 million inside South Sudan—depend on aid or, if they are unable to access that aid and have exhausted their own coping strategies, face hunger.
With the planting season just two to three months away, farmers need to get back to their land to produce food and feed themselves and the rest of the country. If they cannot, then the cycle of aid dependency will continue another year.
Wherever I have travelled throughout South Sudan to towns like Leer and Yambio, I hear the same message from South Sudanese people. They want to return home and resume a normal and productive life but they can only do so if there is peace, if the fighting stops.
And for the fighting to stop, it needs strong leadership, political will and a genuine desire for peace, which at this point appears to be lacking. That is why South Sudan's famine is wholly man-made.
David Shearer is the Special Representative of the U.N. Secretary-General in South Sudan and heads the U.N. peacekeeping mission in the country, UNMISS. The UNMISS Twitter handle is @unmissmedia .