Southern California Hit With 3 Natural Disasters in Just 2 Days
Three natural disasters have hit Southern California in only two days. Miraculously, no injuries were reported in any of the disasters, although one person is still missing following flash floods.
On Sunday, mudslides trapped dozens of cars near Los Angeles. The following day, a 2.6-magnitude earthquake rumbled through Canoga Park, also in Southern California, and later that afternoon, San Bernardino police rescued a mother and her children from flash floods. A National Weather Service meteorologist told Newsweek the earthquake was unrelated, but the mudslides and flash floods resulted from Hurricane Kay storms as the hurricane pulled offshore.
The Mudslides
On Sunday night, drivers had to be rescued from their vehicles after the cars became trapped in mud and debris on Pine Canyon Road near Lake Hughes, 65 miles north of Los Angeles. The Los Angeles County Fire Department deployed two Firehawk helicopters to assist in rescues, according to a tweet from the agency. The helicopters utilized night vision technology to rescue eight adults and six children across five sites affected by the mudslides.
It is estimated the mudslides trapped 24 vehicles and 53 people, but no injuries were reported.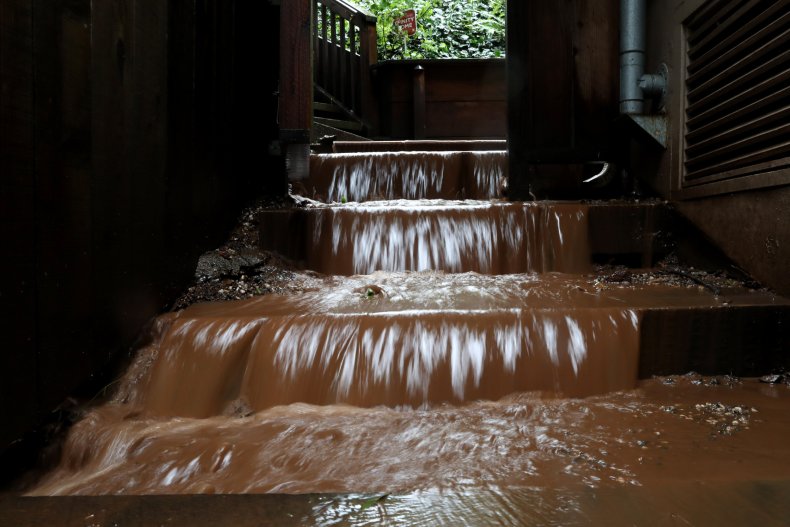 The Earthquake
An earthquake hit Canoga Park, California, on Monday. Ranked a 2.6 magnitude, it had a depth of roughly 2 and a half miles. The U.S. Geological Survey (USGS) said earthquakes usually aren't felt if they're less than a 2 magnitude on the Richter scale. A quake is considered "small" when its magnitude is between 3 and 3.9. USGS said earthquakes typically don't cause damage until they have a 4 or 5 magnitude. Earthquakes can trigger mudslides and flash floods, but Monday's quake was unrelated to the other disasters.
Flash Floods
A woman called police for an unrelated problem Monday afternoon and, after hanging up and heading back to her car, a flash flood caused a sudden river roaring in her direction. It took three officers to help the mother, who fell while trying to cross the flood. A video, which was tweeted by SoCal News Outlet, shows officers then helping two children and other people who were stranded on one side of the flash flood. No injuries were reported.
"Our officers do not encounter swift-water floods often, however it doesn't stop them from jumping into action and saving lives," San Bernardino police wrote on Twitter.
Flash floods also affected other parts of San Bernardino County. San Bernardino County Fire posted on Facebook that floods were so severe, there were multiple reports of missing persons.
One person is still missing, according to Fox Weather. Search teams are still combing the area looking for the missing person.