Waterfalls Appear in Death Valley, the Hottest and Driest Place on Earth
Flash flooding in the aftermath of Hurricane Kay has caused waterfalls in the arid Death Valley.
The influx of water into Death Valley, which is the hottest and driest place on the planet, comes with Hurricane Kay's downgraded tropical storm, causing torrential rain over the area on September 10, according to the U.S. National Park Service.
Badwater Road is fully closed, and the CA-190 highway is closed from the CA-136 junction to Stovepipe Wells Village after floodwater caused significant damage to the road surface.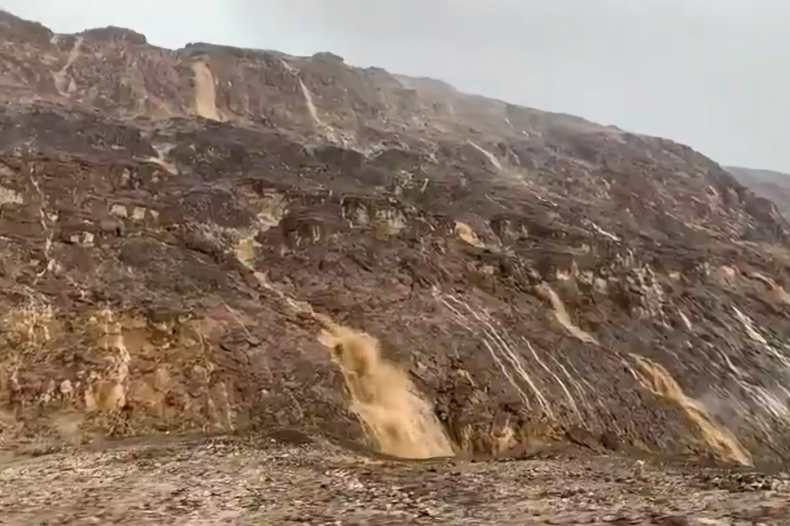 Death Valley, situated on the California-Nevada border around 130 miles west of Las Vegas, is thought to be the hottest place on Earth, currently holding the record for the highest temperature ever recorded at 134 degrees Fahrenheit. According to the National Oceanic and Atmospheric Administration, on average, Death Valley receives a mere 2.2 inches of rainfall annually. In August, it received three quarters of that in just a few hours, with more falling in September as a result of Kay.
Hurricane Kay was the closest a hurricane from the Pacific had got to making landfall in California for more than 50 years, according to Accuweather, having been downgraded to a tropical storm just before it hit Southern California.
This unprecedented storm may come as a result of the intense heat wave that scorched most of California last week, leading to electrical shortages and wildfires across the state.
"Our ocean water comes down from Alaska," Pat Abbott, a geology professor at San Diego State University, told Accuweather in a video interview. "That cold water drains the energy out of these tropical storms and hurricanes. Right now, we've just gone through an extended heat wave so we have ocean temperatures out here around 80 degrees, so that provides some energy that allows these tropical storms to come further north."
Extreme weather events, including tropical storms, intense heat waves, wildfires, droughts, hailstorms and tornadoes, are expected to increase in frequency as the effects of climate change worsen.
"On the hydrometeorological hazards side, heat waves are getting, and are further projected to get, even hotter, cold snaps persisting even if growing less frequent, heavy precipitation getting heavier, and so on," Auroop R. Ganguly, director of the Sustainability & Data Sciences Laboratory at Northeastern University, previously told Newsweek.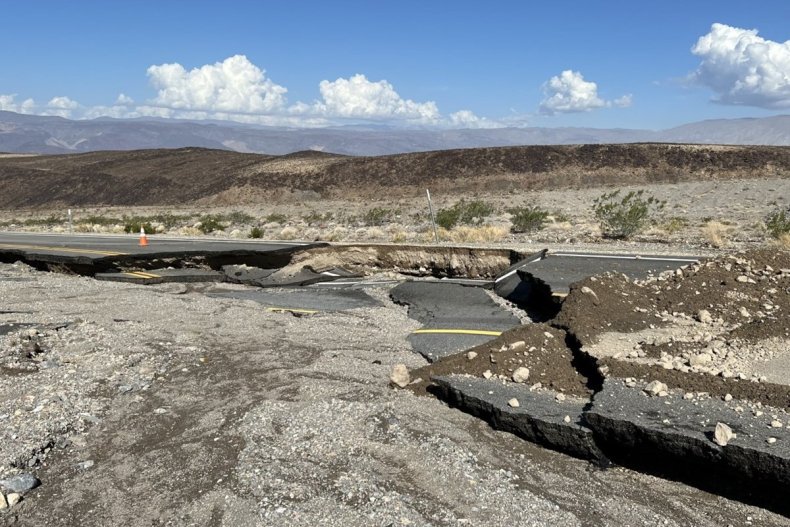 "The impacts can be far-reaching across multiple sectors such as ecosystems and coastal processes, aspects of the water-energy-food nexus, infrastructures and urban lifelines," he said.
Hurricane Kay was a category one hurricane when it came ashore in Mexico, working its way up Baja California over the course of the last week. According to Reuters, it may have killed three people in the southwestern state of Guerrero when their vehicle was swept away by floodwaters.