California Heat Wave Map, Update as Temperature Could Hit 115° on Labor Day
The heat wave that's gripping California and the West is expected to get more severe, as an update from the National Weather Service (NWS) warns that temperatures could rise to 115 degrees Fahrenheit on Monday across parts of southern California, Sacramento and the San Joaquin Valley.
Last Thursday, Death Valley—one of the hottest places on the planet—reached 127F, breaking the record for hottest temperature ever recorded in September anywhere in the world, set when 126F was reported in California's Mecca in 1950.
In Gilroy and King City in the Bay Area, record temperatures of 107F and 104F respectively were reported on Sunday, September 4.
NWS Los Angeles reported that four locations broke their record high temperature for September on Sunday, with 106F reported at Camarillo Airport, 101F in Oxnard, 109F at Long Beach Airport and 110F at Burbank Airport.
NWS San Diego reported seven locations where record high temperatures were broken on the same day, and 11 where the record was broken or tied.
The heat wave, which began on August 30, is expected to last for another three days, with an Excessive Heat Warning issued by the NWS in place for most of Southern California through September 7.
Temperatures are expected to peak between Sunday and Tuesday.
The NWS Sacramento branch wrote on Twitter that the best chances of exceeding September's all-time highs were at the beginning of this week, with 109F forecasted for downtown Sacramento on Monday and 114F on Tuesday.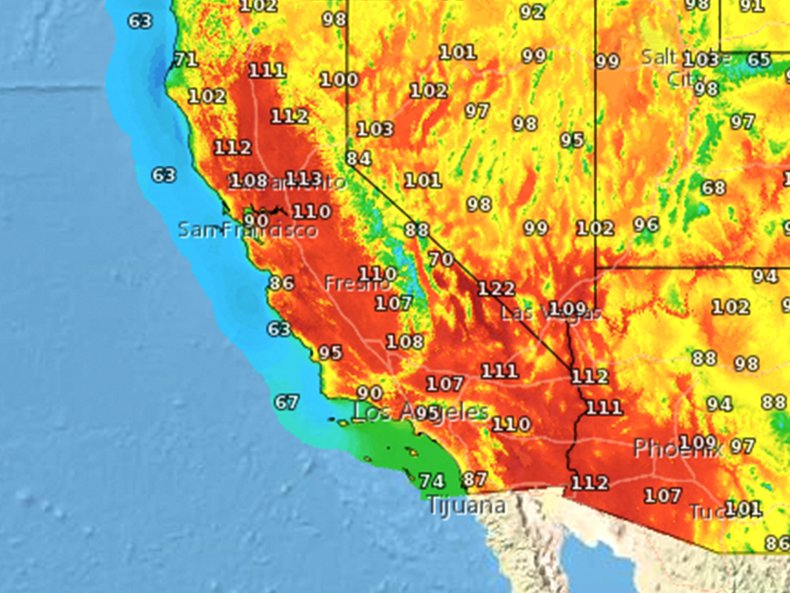 The NWS has warned that extreme temperatures increase the risk of health-related illnesses, with young children and infants, pregnant people, the elderly and those with chronic medical conditions at higher risk of suffering heat exhaustion and heat strokes.
NWS Sacramento advised residents to plan their day to avoid being outdoors during the hottest times of the day, drink lots of water and check on those vulnerable to heat illnesses. It also reminded people never to leave pets or children locked in a car.
In total, more than 40 million people across California, Nevada, Oregon, Washington, Montana and Idaho were put under excessive heat warnings through Labor Day weekend.
The heat wave has also increased the risk of wildfires, with firefighters already battling blazes in Los Angeles County.
The NWS Bay Area branch has warned that temperatures could reach triple digits in several cities across the Bay Area and Central Coast.
Temperatures are expected to cool down in the second half of the week, offering some respite to people as well as to power grids put under pressure by an unprecedented demand.
On Sunday, the California Independent System Operator (ISO) overseeing the state's power grid issued the fifth consecutive "Flex Alert" asking consumers to reduce usage between 4 p.m. and 9 p.m. to avoid energy outages.