California Heatwave to Bake Death Valley Just a Month After Record Rainfall
California's Death Valley is set to bake in a dangerous heatwave, just a month after it experienced record-breaking rainfall.
Death Valley is known as a location of extremes. It is the hottest place on Earth, setting the world record highest air temperature of 134 degrees Fahrenheit (57 Celsius) in July, 1913.
Plus, it experienced its hottest month on record in July, 2018, with an average temperature of 108.1F, including overnight lows.
Death Valley is also the driest place in North America—though August 5 this year marked the park's rainiest day on record when it received three quarters of its 2.20-inch average annual rainfall in just a few hours.
The sudden rain caused flash flooding and damage to roads, some of which remained closed for several weeks.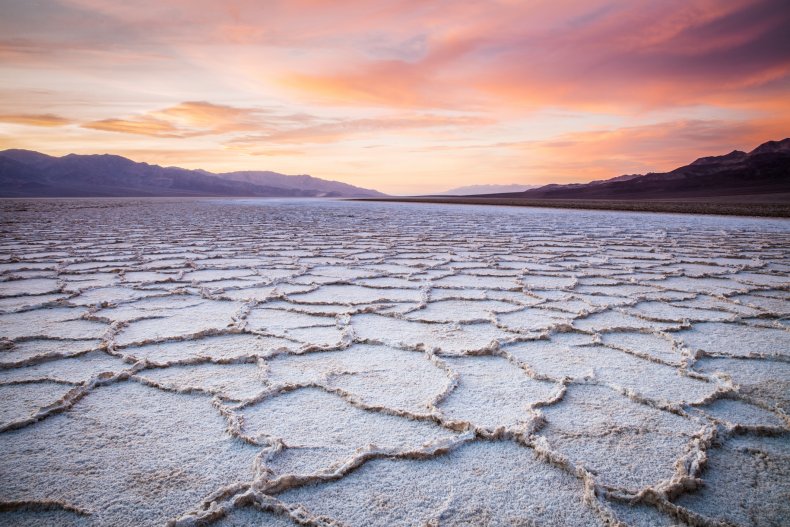 While climate change may be heavily associated with global warming, it can also affect the intensity and frequency of rainfall. Warmer oceans increase rates of evaporation, meaning more moisture is available in the air to become rain.
Heavy precipitation does not necessarily mean that the total amount of rainfall at a given location changes, however—just that it occurs in more intense bursts.
This weekend, Death Valley is set to experience even harsher weather. As of around 11 a.m. ET on Friday morning, the weather forecast for Furnace Creek—the specific location within Death Valley where the world record temperature was set—predicted highs of around 122F (50C) on Saturday, September 3, according to the National Oceanic and Atmospheric Administration (NOAA).
While this is not a record, the NOAA has released an excessive heat warning for Death Valley plus southern Nevada, southeast California, and the Colorado River Valley.
The heat warning states that dangerously hot conditions will be expected until 8 p.m. PDT (11 p.m. ET) on Tuesday.
"Minimum temperatures will struggle to fall below 80 degrees for many locations, which could set early September records, including in Las Vegas," the September 2 heat alert reads.
"This, coupled with the increased recreation due to the upcoming holiday weekend, make this heat event particularly unique and potentially impactful."
The NOAA stated the heat will "significantly increase the potential for heat-related illnesses" particularly for people working outside, and that people should know the signs of heat exhaustion and heat stroke.
The agency said people should drink plenty of fluids, stay in air-conditioned rooms, stay out of the sun, and check up on relatives and neighbors. Young children and pets should never be left unattended in vehicles under any circumstances, it added.
Professor Michael Mann is a climate expert and director of the Penn Center for Science, Sustainability and the Media at the University of Pennsylvania, and he told Newsweek: "Indeed, both events are manifestations of the increase in weather extremes with a warming climate. A warmer planet obviously means greater extreme warmth.
"But a warmer atmosphere holds more moisture so on those rare occasions where conditions are conducive to rainfall in Death Valley, there is the potential for greater amounts of rain in short periods of time.
"Our own work suggests that, if anything, climate models are actually underestimating the increase in extreme weather events because they're not fully capturing the impact of climate change on the jet stream, and how this creates the potential for more persistent extreme weather."