California Power Utility Warns of Possible Outages From Heat
A California power utility warned customers Friday it might have to implement "rolling power outages" amid the heat wave that the state is facing.
California Governor Gavin Newsom declared a state emergency this week in response to the heat wave in an effort to "increase energy production and reduce demand."
But in a statement on Friday, Glendale Water & Power, a municipal utility in Glendale, California said that power outages could be possible during the record-breaking heat wave.
"Without major conservation efforts during the week of scorching temperatures, GWP may be forced to implement the utility stated.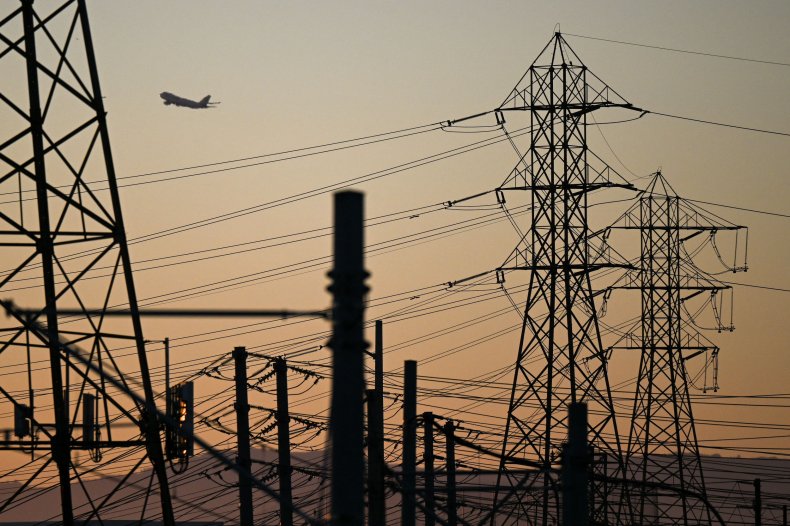 Glendale Water & Power is urging its customers to limit their use of appliances during "peak hours," adjust their thermostats to 78 degrees while they're at home (and 80 degrees when they're not at home), and close their curtains and blinds to lower indoor temperatures.
"Power outages are common during continuous days of high heat, as the electrical system is working continuously to meet demand, which can result in transformers overloading, and putting enormous strain on the electrical system. GWP crews are on standby and will be prepared to respond to heat related outages if they do occur," the utility wrote.
Newsweek reached out to Glendale Water & Power for comment.
In a statement on Wednesday, Newsom said that the declaration of the state of emergency would allow "power plants to generate additional electricity, permits use of backup generators to reduce the amount of energy they need to draw from the grid during the periods of peak energy demand during this heat wave."
"These are emergency, temporary measures, and the state will implement additional mitigation measures to counteract the increased emissions they will cause," Newsom added.
On Wednesday, the National Weather Service (NWS) predicted that temperatures could reach as high as 115 degrees Fahrenheit in some parts of the state.
California's power grid operator, California Independent System Operator (CAISO), also warned that residents would likely need to conserve energy: "The power grid operator expects to call on Californians for voluntary energy conservation via Flex alerts over the long weekend," it stated.
As California faces record high temperatures, firefighters are also combating wildfires throughout the state.
In a speech on Wednesday addressing the heatwave, Newsom also criticized Texas over its energy use, which he said has worsened climate change.
"In the state of Texas, year to date, they have consumed some 22.9 million tons of coal, polluting the planet, making conditions worse, impacting climate, exacerbating the very conditions they're trying to mitigate in terms of their energy reliability," Newsom said.