California Fire Map, Update as Route Fire in Castaic Sparks Evacuations
Evacuation orders are in place after a bush fire erupted near Castaic, in LA County, California, burning its way through more than 4,600 acres.
The blaze, dubbed the Route Fire, began on Wednesday as much of southern California is being baked in a 100-degree temperature heatwave.
A mandatory evacuation order was imposed for an area running from Lake Castaic to the western side of the Interstate 5 highway, including more than 100 homes.
California Highway Patrol closed all lanes of travel on Interstate 5, after fire spread to both sides of the road.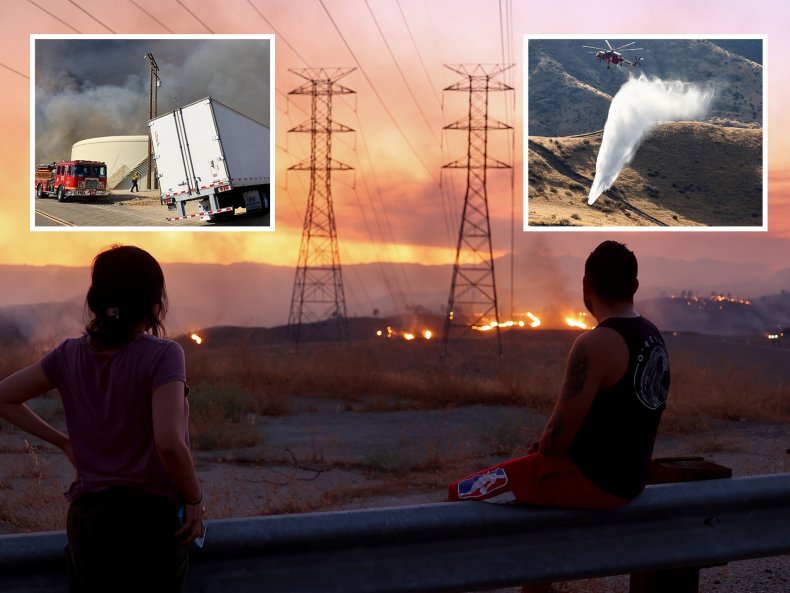 Areas evacuated included the Paradise Mobile Home Park, situated just off Interstate 5.
West Ranch High School and Frazier Mountain High School are both being used by the Red Cross as shelters for those who've been evacuated. The Castaic Animal Care Shelter, situated at 31044 Charlie Canyon Road, is taking in any animals which may be in danger.
Firefighters have been digging lines in a bid to control the blaze, whilst aircraft and helicopters dropped water on it from above.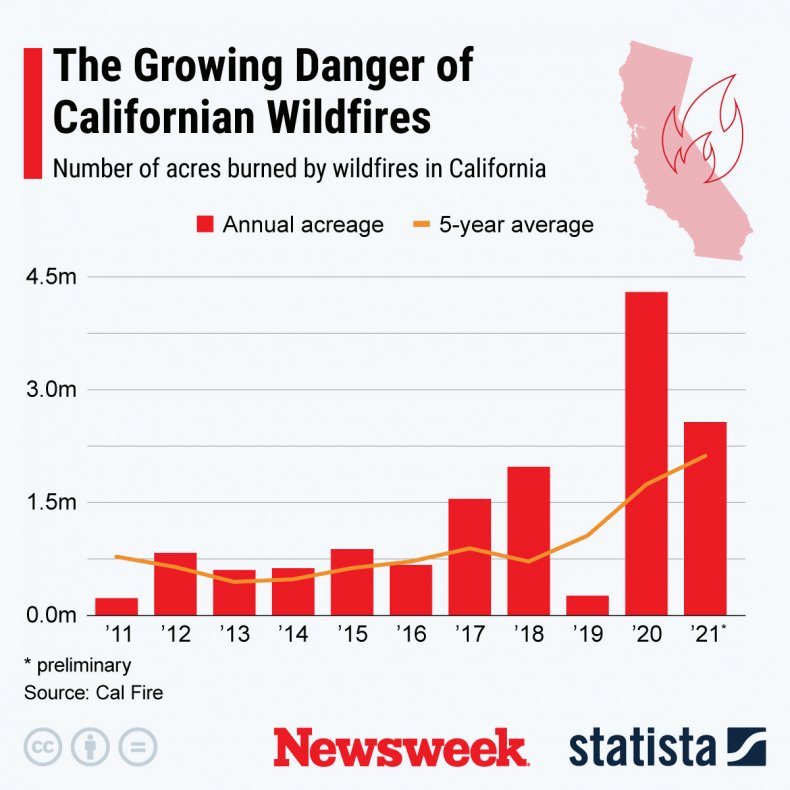 This chart, provided by Statista, shows the number of acres burned by wildfires in California.
According to the California Department of Forestry and Fire Protection, the fire is zero percent contained, as of midnight PT.
The Los Angeles County Fire Department said eight of its firefighters had been struck with heat-related injuries, six of whom required hospital treatment.
Tom Ewald, the department's deputy chief, said: "We're really at Day One of a nine to 10-day, fairly extreme heat period. If you can imagine wearing heavy firefighting gear, carrying packs, dragging hose, swinging tools...the folks out there are just taking a beating."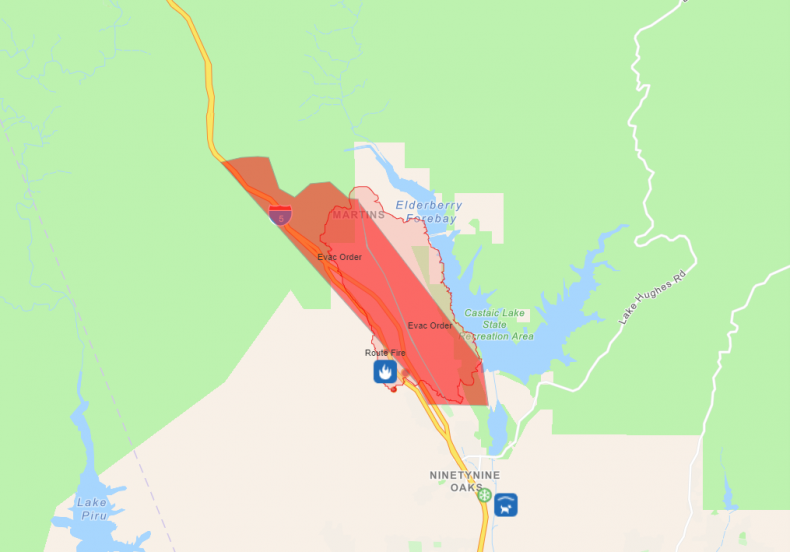 The L.A. County Fire Department said it was first called to a blaze by North Bound 5 Lake Hughes Road at 12:01 p.m. PT on Wednesday, at which point it had burned an area of 60 acres.
The fire spread rapidly until it had burned through around 4,600 acres of mainly rough grassland. Authorities don't know how the blaze started at this point.
An excessive heat warning went into effect on Wednesday for a swarth of southern California. This will remain in place through Monday, with some valley areas expected to approach all time heat records on Sunday and Monday.
On Wednesday, NBC4 forecaster Belen De Leon said: "We're halfway through the week, but this heatwave is just getting started. If you think [Wednesday] is hot, the weather over the holiday weekend is going to get even hotter."
At the beginning of August four people were killed by California's McKinney Fire, which burned through over 50,000 acres.
In late July several homes were burned in Mariposa County, California, when a separate wildfire ripped through the area.
Police in Utah arrested a man who told officers he managed to start a 60 acre fire whilst trying to burn a spider with a lighter.