Why Is It so Hot in California? Heatwave Explained
A powerful "heat dome" is responsible for the blistering heatwave currently scorching California.
Triple digit temperatures are forecast in some areas of the state this week due to another heatwave, coming after months of extremely hot weather. Heatwaves are periods of over two days involving unusually hot weather.
"One of the worst heatwaves in modern history has arrived in California," tweeted Colin McCarthy, an extreme weather expert, on September 5.
"In SoCal, widespread temperatures eclipsing 100F are being exacerbated by tropical humidity. In the Central Valley and NorCal, life-threatening 110F+ heat is smashing all-time records."
This sweltering heatwave is being caused by something called a "heat dome," which is a lid of atmospheric pressure trapping the hot air over California.
According to the San Francisco Chronicle, they are formed when an area of high pressure settles in a certain area, and is then heated up by the sun on clear days.
The area gets continually hotter in the high-pressure zone, which stops clouds from forming and therefore exacerbates the heating, persisting for as long as it takes for it to either fall apart or get blown away by winds, such as the jet stream.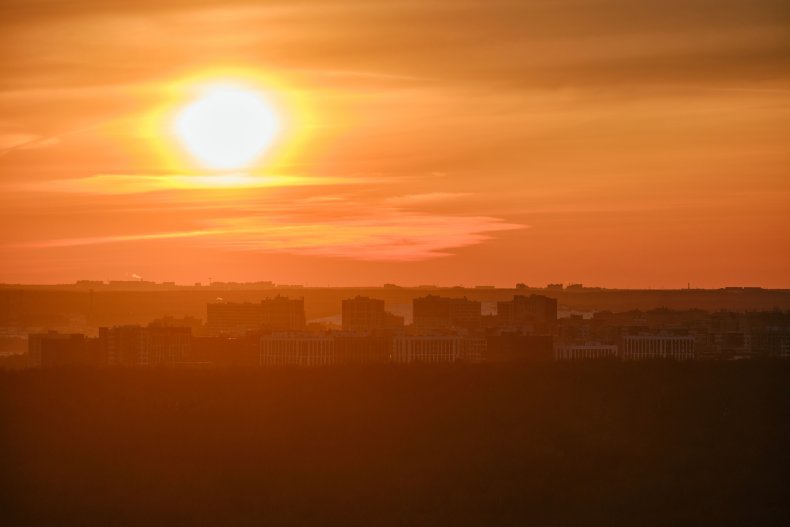 This high-pressure heat zone can be strong enough to overcome the effects of the cooler sea breeze, leading to heatwaves in usually milder areas, such as San Francisco.
"It initially looked like Sunday and Monday would be the hottest days of the heatwave, and now it's Monday and Tuesday with Tuesday [September 6] being the hottest day," Matt Mehle, a forecaster with the National Weather Service's Monterey office, told website SFGate.
"The persistence of it is definitely lasting longer than what was advertised last week. This heatwave is going to be a marathon, not a sprint."
Heatwaves can be dangerous to life, as high temperatures can cause people to get heatstroke, resulting in hot weather being responsible for more deaths worldwide than all other extreme weather events.
However, the way people stay out of the heat is also a problem. According to Elliot Mainzer, president and chief executive officer of the California Independent System Operator, the surge in air conditioning use during the coming week will result in California's energy demand is outpacing its supply from September 5, and on September 6, California will approach its highest power demand ever.
California residents have been advised to not charge their electric cars, and to keep their AC temperatures above 78 degrees Fahrenheit, to avoid the excess strain on the power grid. Even so, there is the possibility of rolling blackouts in the coming days.
This heatwave is just one symptom of the ongoing megadrought that has covered California and other southwestern states for years.
Wildfires have been continuously baking California and Oregon, with wildfire season considered to be nearly year-round. The Mill Fire in Northern California claimed the lives of two people in the town of Weed this week.
Additionally, important reservoirs such as Lake Mead and Lake Powell have evaporated to such a degree that they have been approaching dead pool levels, at which point the water flow across their dams' hydroelectric turbines will cease, and the dams will stop generating electricity.
"Climate change is here, and it's time to stop fiddling," Matthew Casale, Environment Campaigns Director at nonprofit group PIRG, previously told Newsweek.
"Our planet is hotter, our forests are burning, and we're losing more lives and homes every year. The overwhelming scientific consensus is that this dangerous rise in global temperatures is caused by human activity, primarily from burning fossil fuels."
Heatwaves in particular are expected to worsen as climate change takes hold. As well as increasing the temperatures of the atmosphere, climate change is also expected to affect the jet streams, meaning that heat domes may stick around for longer periods of time before they are blown away.