The scorching heat wave gripping California is expected to last longer and be far more ferocious than previously expected, according to meteorologists.
"The coming week is shaping up to be a pretty crazy weather week in California, TBH --even more so than previously thought," Daniel Swain, a climate scientist at UCLA, tweeted on September 4. "Ongoing heatwave expected to be longer & peak even higher, & now we have potential influence of a soon-to-develop hurricane to consider."
California and many other states in the southwest of the U.S. have been plagued by a megadrought for years, but 2022 has seen some of the hottest temperatures since records began. The coming days are expected to be hotter than ever, with forecasters predicting the heatwave will go on.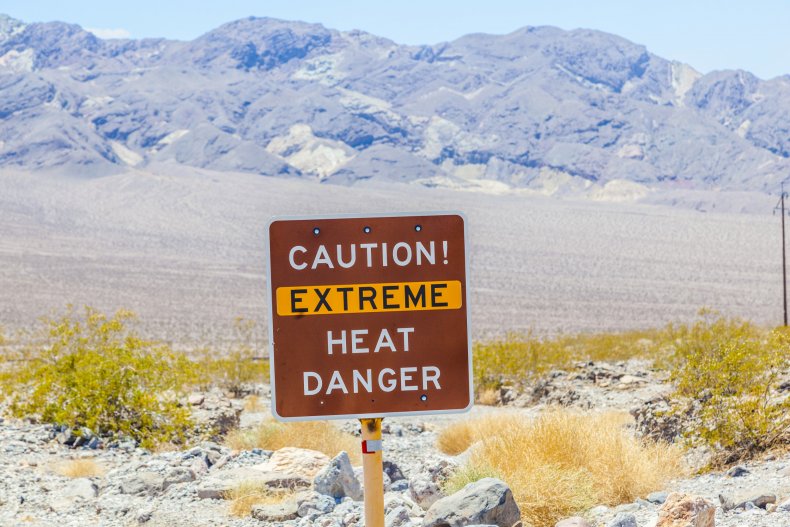 "Dangerously hot conditions expected through the week," the National Weather Service (NWS) warned on September 1.
"It initially looked like Sunday and Monday would be the hottest days of the heat wave, and now it's Monday and Tuesday with Tuesday [September 6] being the hottest day," Matt Mehle, a forecaster with the National Weather Service's Monterey office, told SFGate. "The persistence of it is definitely lasting longer than what was advertised last week. This heat wave is going to be a marathon, not a sprint."
High temperatures, which have been present for most of the summer, have caused unprecedented water shortages, wildfires and electricity outages, with no clear end in sight.
When the weather is hotter, people naturally want to use their air-conditioning units more to stay cool. According to Elliot Mainzer, president and chief executive officer of the California Independent System Operator, this surge in AC use will mean that California's energy demand is expected to outpace supply from September 5, with the state approaching its all-time record for power demand on September 6. California residents have been advised to not charge their electric cars, and to keep their AC temperatures above 78 degrees Fahrenheit.
According to the San Francisco Chronicle, there is even a possibility that parts of California will face rolling electricity blackouts.
Other effects of the heatwave include the wildfires that have been popping up all over California and Oregon, with the recent Mill Fire in Northern California claiming the lives of two people in the town of Weed, according to Siskiyou County Sheriff Jeremiah LaRue.
Lake Mead and Lake Powell on the Colorado River, the country's largest reservoirs, are both drier than they have been since they were constructed, and are inching toward dead pool level. When their water levels drop to this point, the flow of water from the reservoir into the river will cease, meaning that their hydroelectric dams will no longer be able to generate power for California, Arizona, Nevada and parts of northern Mexico.
According to Swain, even in the aftermath of this week's heatwave, the tropical remnants of the hot weather could also have a major impact.
"There is presently an incipient low pressure system off the Pacific coast of Mexico that is expected to develop into a hurricane later this week," he tweeted. "Model ensembles are in strong agreement that it will take a northwestward path largely parallel to Baja California."
"Best case scenario? The hurricane's remnant swirl and moisture brings widespread light to moderate (and mostly stratiform) rain in SoCal with little lightning & minimal flash flooding. I'd put the odds of that around 10-15%. Worst case scenario? Storm comes close enough to contribute strong/dry downslope winds across SoCal & enough elevated moisture/instability to generate dry t-storms across northern CA, but not close enough for significant rain. Fire weather nightmare. Odds? 10-15%," he said.
However, Swain did make clear that a hurricane won't be hitting California.
"Despite what misleading news headlines will inevitably read this week, a hurricane *will not* hit California this week. Full stop. Its remnants may cause some unusual and potentially significant weather, but that is very different," he tweeted.
Extreme weather events like the California heat wave and subsequent tropical storms are just one effect of climate change on the planet.
Auroop R. Ganguly, director of the Sustainability & Data Sciences Laboratory at Northeastern University, previously told Newsweek that this so-called "global weirding" will only continue to worsen as greenhouse emissions skyrocket.
"On the hydrometeorological hazards side, heat waves are getting (and are further projected to get) even hotter, cold snaps persisting even if growing less frequent, heavy precipitation getting heavier, and so on. The impacts can be far-reaching across multiple sectors such as ecosystems and coastal processes, aspects of the water-energy-food nexus, infrastructures and urban lifelines," he said.