CA Labor Day Heatwave Updates: Flex Alert Issued Again on Friday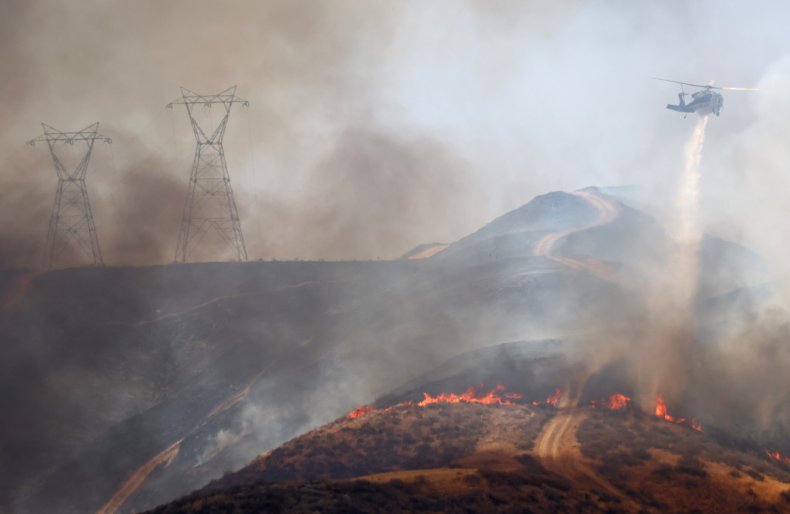 Live Updates Have Ended.
Flex Alert Issued Again on Friday
Officials in California are asking residents to conserve energy Friday afternoon and evening amid the West Coast's ongoing heat wave.
Friday marks the third day in a row that residents have been asked to conserve energy between 4 and 9 p.m., a block of time the California Independent System Operator (ISO) identifies as a peak for energy use on hot days.
The conservation request, known as a Flex Alert, is meant to help the state balance its power grid during anticipated times of stress so that blackouts can be avoided.
Officials say residents can limit their energy use by cooling their homes earlier in the day, avoiding use of major appliances during the five-hour conservation window and charging electronics or electric vehicles in the morning or early afternoon.
According to reports from KTLA-TV, the recommendation related to electric vehicles frustrates some Californians who worry about keeping their vehicles charged during peak wildfire season, which tends to overlap with the time Flex Alerts are issued. California recently adopted a new policy set to go into effect in 2035 that will ban sales of gas-powered vehicles within the state.
California Gas Prices Drop Ahead of Labor Day
Southern California drivers will see some relief at the pump this holiday weekend, compared to earlier this summer. Still, California prices are much higher than the rest of the nation.
In California, the average price of regular gas is $5.24, down five cents from last week, according to AAA. This price is also a significant drop from the beginning of the summer, when prices across the region exceeded $6.
The average price for gas for this holiday weekend, however, will still be a record high for the holiday, according to the Auto Club's Weekend Gas Watch.
As of Thursday, the average price for regular gas in the Los Angeles-Long Beach area is $5.25 per gallon, down six cents from last week and 39 cents from last month. This price is 85 cents higher than it was last year.
In San Diego, the average price is $5.22, which is five cents lower than last week, 35 cents lower than last month and 87 cents higher than last year.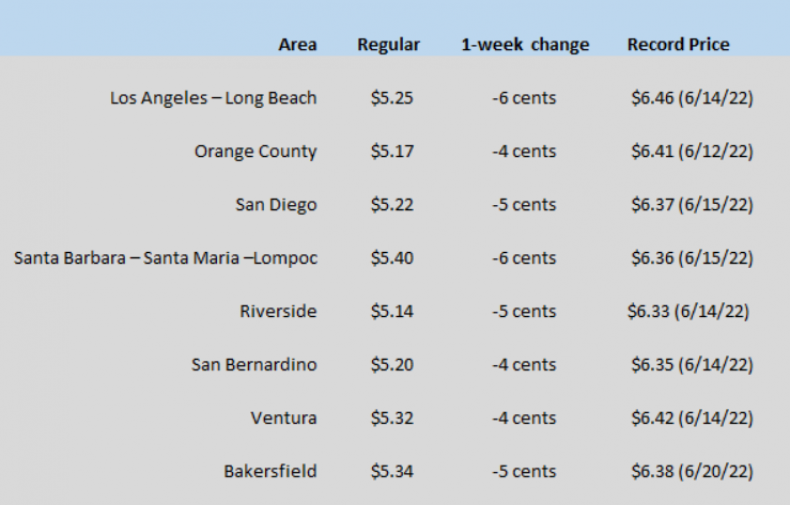 The average price on the Central Coast is $5.40, down six cents from last week, 30 cents from last month and $1.05 higher than last year.
In Riverside, the average per-gallon price is $5.14, which is five cents lower than last week, 39 cents lower than last month and 82 cents higher than a year ago.
The average price in Bakersfield is $5.34, is five cents lower than last week, 50 cents lower than last month and 99 cents higher than last year.
The average price for gas in California is still far above the national average of $3.81.
According to an Auto Club survey, 32 percent of Americans plan Labor Day vacations this year, with 12 percent traveling 50 miles or more away from home.
Over 80 percent of those traveling will drive, Auto Club spokesperson Doug Shupe said in a statement.
"It appears the demand to travel will also continue even after Labor Day, because the same survey found 73 percent of U.S. residents says they will take at least one leisure trip during the autumn months," he said.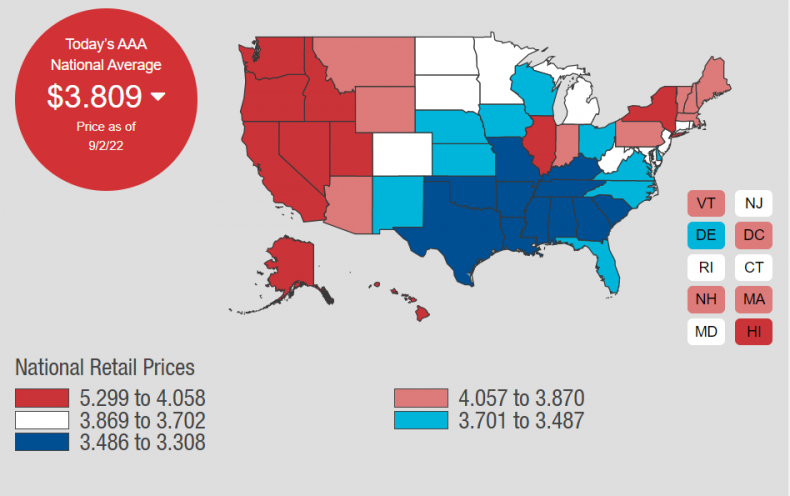 Route Fire Threatens Over 500 Structures
Crews are making progress containing the Route Fire burning north of Los Angeles, according to incident updates from Cal Fire and the Los Angeles County Fire Department (LACFD).
The fire near Castaic was holding at 5,208 acres burned as of Friday morning, meaning its size has not changed in the last 24 hours. Containment Thursday morning was at 12 percent, but grew to 37 percent by 7 a.m. on Friday. The fire started on Wednesday.
The LACFD said it expects full containment by September 7.
No civilians have been injured in the Route Fire, but the LACFD has reported seven firefighter injuries in connection with the blaze. Two structures have been destroyed and 550 have been threatened.
All evacuation orders related to the fire were lifted as of Friday morning as firefighters continued battling hot spots. As firefighting efforts continue, the LACFD said in a Friday morning incident report that firefighters will "continue mopping up hot spots 300ft in from containment lines" in the morning before temperatures spike.
"Excessive heat, low humidity and steep terrain will continue to pose the biggest challenge to firefighters," the LACFD said, adding that anticipated wind speeds of 6 to 12 miles per hour combined with the potential for stronger gusts of wind could also threaten containment efforts.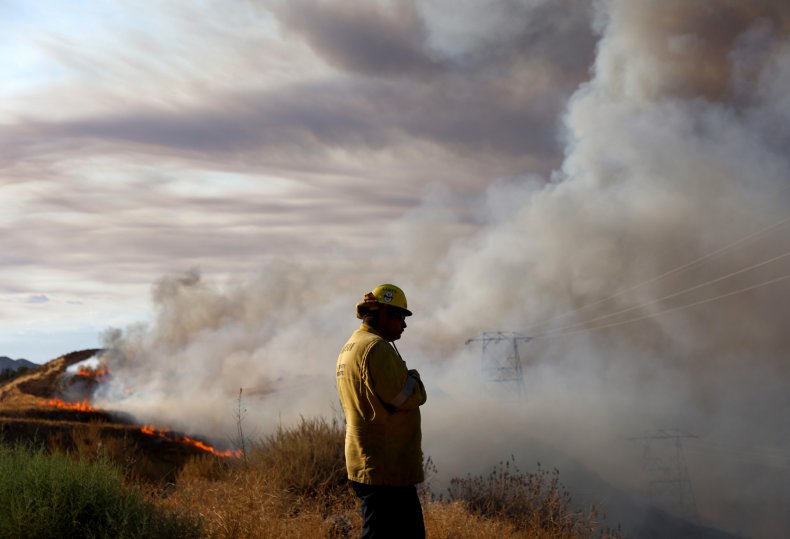 Border 32 Fire Now 20 Percent Contained
The Border 32 Fire is now 20 percent contained, as of Friday morning.
CalFire and the San Diego County Fire Department provided the latest update just before 7 a.m. PT.
The cause of the fire is still under investigation.
Dozens of Animals Rescued from Border Fire
Dozens of animals were rescued from the Border 32 Fire in San Diego County Thursday.
San Diego County Animal Service worker rescued nearly 50 dogs tied up and caged at one property, unable to escape the surrounding flames, according to KNSD-TV.
This discovery prompted an animal cruelty investigation, according to a county spokesperson.
Animal Services Lieutenant Talia Padilla told KNSD that rescue staff could hear the dogs barking and howling in the dark as teams pulled them to safety. Large livestock, chickens, peacocks and ducks were also rescued from the property.
Padilla said it was "actually pretty surprising" that no dead animals were found due to the "amount of burn on that property."
KNSD spoke to a woman at the property who said she own the animals and was unable to collect them.
"They would never let me up," she said. "I got the alert but no one would let me in."
The animals remain in Animal Services custody.
The San Diego Humane Society is urging residents take advantage of emergency boarding for animals in evacuation zones and the food, supplies and cooling zones provided.
The Humane Society said its emergency Response Team rescued at least 15 animals from the fire overnight.
Border 32 Fire Burns Over 4,000 Acres
The Border 32 Fire continues to burn in San Diego County Friday.
The fire has burned 4,438 acres since starting on Wednesday Aug. 31 and is 14 percent contained, as of Cal Fire's latest report Thursday evening.
"Mild fire activity today gave firefighters an opportunity to mop up hot spots and build containment line around the fire," according to CalFire. "Firefighters will continue reinforcing containment line through the evening."
So far, 10 structures have been damaged in the blaze and at least 300 firefighters are battling the flames, according to the San Diego County Emergency Site.
The San Diego County Sheriff's Department, in collaboration with CAL FIRE San Diego and the San Diego County Office of Emergency Services, issued a limited repopulation order for residents who were evacuated due to Border 32 Fire.
Residents who live near West of Cochera Via Drive and East of Potrero Valley Road were allowed to return to their homes Thursday night.
Evacuation orders and several road closures off of Sate Route 94 remain in effect Friday.
Tecate Border Crossing Closed Amid Fire
U.S. Customs and Border Protection (CBP) was forced to close a border crossing in San Diego County, California amid a growing wildfire.
The Tecate border crossing was closed early Wednesday night due to the Border 32 Fire. It remained closed through Thursday night.
CBP said the crossing is expected to re-open Friday morning at 6 a.m. PST.
"U.S. Customs and Border Protection officials will continue to work with local fire officials to monitor conditions that will allow for a re-opening that is safe for the traveling public, CBP personnel, and emergency services personnel, and will provide updates on re-opening when they are available," according to a statement from the agency.
Border officials continue to work with fire officials to wait for conditions for a safe re-opening, CBP said. Travelers are being told to use the Otay Mesa and San Ysidro ports of entry to cross the U.S.-Mexico border. These crossings are west of Tecate, closer to San Diego and Tijuana.