Lake Mead Water Use Reductions Essential to Stop 'Catastrophic Collapse'
Lake Mead is at risk of "catastrophic collapse" if nothing is done to reduce water use at the manmade reservoir that straddles the Arizona/Nevada border, U.S. government officials have warned.
Water levels are forecast to drop further before the end of August and measures have been unveiled to minimize damage to the ecosystem and the strain on local communities.
According to the U.S. Bureau of Reclamation, Lake Mead's water is 1,042.38 feet above sea level, as of August 16. The USBR predicts the water level will drop to 1,042.35 feet before September.
Longer-term USBR forecasts suggest the water level will decline to 1,019 feet by August 2023 and 1,013 feet in July 2024. The USBR is asking people to use as little water as possible and has announced that the reservoir—the largest in the U.S.—will operate under its first Level 2a Shortage Condition in 2023.
This means downstream releases from the Hoover Dam will be reduced in 2023 to Arizona, Nevada and Mexico. California's water allocation will not change, however. The Level 2a condition will also include processes to maximize the efficient use of urban and agricultural water, and the investigation and management of system losses such as evaporation and seepage.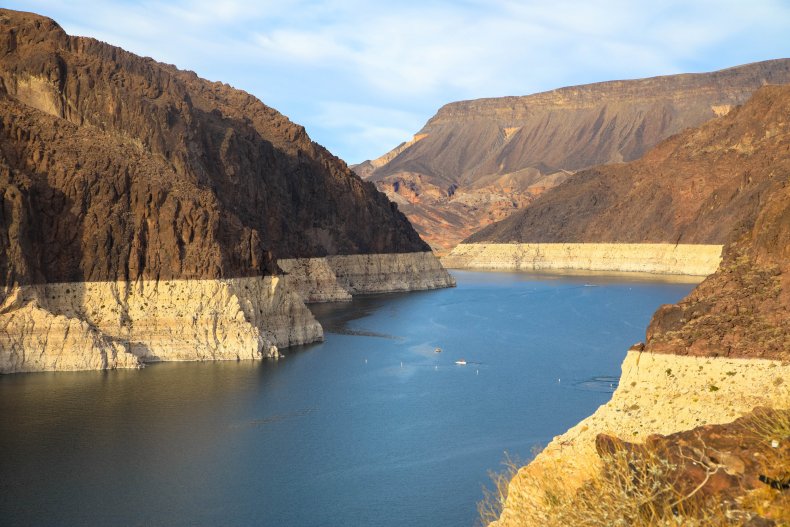 Lake Mead, which was formed from the Colorado River by the construction of the Hoover Dam in the 1930s, has broken its own lowest water records nearly every year. As of August 15, it was at just 27 percent of its water capacity.
The drop in water levels is a symptom of the megadrought gripping most of the southwestern states. Lake Powell, further up the Colorado River, is experiencing massive water losses too. Downstream release cuts are also planned for Lake Powell's Glen Canyon Dam, which means less water will enter Lake Mead from upstream.
"The worsening drought crisis impacting the Colorado River Basin is driven by the effects of climate change, including extreme heat and low precipitation," said Deputy Secretary of the Interior Tommy Beaudreau in a USBR press release.
"In turn, severe drought conditions exacerbate wildfire risk and ecosystems disruption, increasing the stress on communities and our landscapes."
Lake Mead supplies drinking water and agricultural irrigation to 20 million people across seven states, including Arizona, California and Nevada, as well as parts of Mexico.
It also generates hydroelectric power via water flowing back into the Colorado River via the Hoover Dam. If the lake reaches deadpool levels, this flow will cease and the dam will stop producing electricity. At 950 feet, the dam will hit deadpool.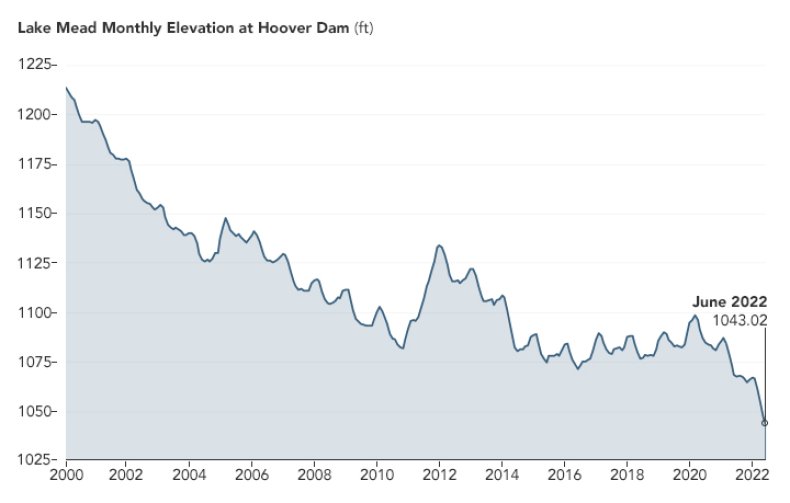 Assistant Secretary for Water and Science Tanya Trujillo said in the USBR statement: "Every sector in every state has a responsibility to ensure that water is used with maximum efficiency. In order to avoid a catastrophic collapse of the Colorado River System and a future of uncertainty and conflict, water use in the Basin must be reduced.
"The Interior Department is employing prompt and responsive actions and investments to ensure the entire Colorado River Basin can function and support all who rely on it. We are grateful for the hardworking public servants who have dedicated their lives to this work, and who are passionate about the long-term sustainability of Basin states, Tribes, and communities."
The Biden administration has announced investment in drought resilience and water management via the Bipartisan Infrastructure Law. An $8.3 billion fund will be used to help face challenges resulting from drought. The Inflation Reduction Act also includes $4 billion for water management and conservation.
Beaudreau said: "The Biden-Harris administration is taking an all-of-government approach to mitigating the drought, and the Interior Department is committed to using every resource available to conserve water and ensure that irrigators, Tribes and adjoining communities receive adequate assistance and support to build resilient communities and protect our water supplies."