Southwest Airlines Faces Boycott Threats After Pilot's Reported Use of 'Let's Go Brandon'
Southwest Airlines is facing boycott threats after one of its pilots reportedly uttered a phrase over the plane's public address system that has become known as an anti-Joe Biden slogan among conservatives.
During a flight from Houston to Albuquerque on Friday, an Associated Press reporter said the pilot used the phrase "let's go Brandon" when signing off after greeting passengers. Earlier this month, the phrase become a code for saying "F--- Joe Biden!" after a video went viral among a crowd at Alabama's Talladega Superspeedway.
At the time, a journalist who was interviewing NASCAR driver Brandon Brown live on-air mistakenly thought the crowd was chanting in support of the driver, stating: "You can hear the chants from the crowd, 'Let's go Brandon!'" Moments later, it became increasingly clear that the crowd was actually yelling out against Biden.
The incident quickly went viral, sparking a flurry of memes and support from Republican lawmakers and supporters of former President Donald Trump, who have used the phrase as a "G-rated substitute for its more vulgar three-word cousin," the AP reported.
Last week, South Carolina Rep. Jeff Duncan wore a "Let's Go Brandon" face mask at the Capitol, while Florida Rep. Bill Posey ended a House floor speech using the phrase. Texas Sen. Ted Cruz also posed with a "Let's Go Brandon" sign at the World Series. And Kentucky Sen. Mitch McConnell's press secretary retweeted a photo of the phrase on a construction sign this month in Virginia.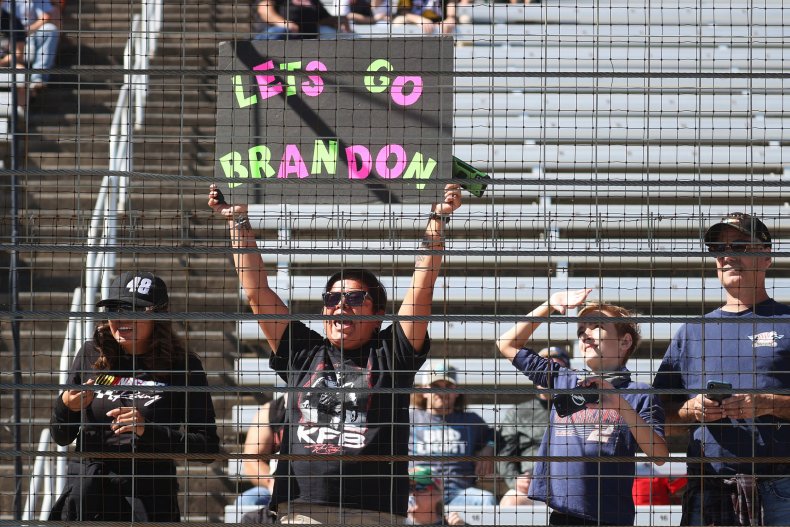 Southwest has since faced a wave of backlash on social media as some users are calling for the airline to be boycotted or reprimanded for the pilot's reported use of the phrase.
TV writer and journalist Bryan Behar tweeted on Sunday: "It's bad enough Southwest Airlines doesn't offer assigned seats. I don't also need MAGA pilots mocking the passengers and stirring up hate in the cabin."
Harvard professor and CNN analyst Juliette Kayyem added that "every passenger on that flight has standing to file a complaint with the FAA" over the incident, urging Southwest to investigate the pilot.
Former Democratic California congressional candidate Regina Marston went even further, stating that the pilot should be fired "right now."
Several other online commenters stated their intention to boycott the airline, with some writing that they would fly with "anyone but Southwest."
"I will never fly Southwest again because they allow their employees to disrespect the Office of the President with no consequences. If Southwest wants to openly support a party, then everyone should boycott the airline," another user wrote on Sunday.
In a statement to Forbes, Southwest addressed the issue by stating that the airline "takes pride in providing a welcoming, comfortable, and respectful environment," and that "behavior from any individual that is divisive or offensive is not condoned."
"Southwest is conducting an internal investigation into the recently reported incident and will address the matter directly with any employee involved," the statement added. "The airline apologizes for this event – an action that was not reflective of the Southwest hospitality for which we are known and strive to provide each day on every flight."
Newsweek contacted Southwest for additional comment but did not hear back in time for publication.
Updated 12:15 p.m ET, with an additional statement from Southwest to Forbes.