Southwest Pilots Blame 'Poor Planning' for 3,500-Plus Delays, Cancellations This Weekend
Southwest Airlines pilots blamed poor planning for thousands of flights being delayed or cancelled over the weekend, resulting in massive frustration among passengers. No other airlines faced a large number of delays or cancellations.
Twenty-eight percent of Southwest flights were cancelled Sunday, totaling to 1,019, while another 691—or 19 percent—were delayed by 5:30 p.m., according to FlightAware, a service that tracks commercial flights. On Saturday, the airline had 808 cancelled flights and 1,187 delayed flights.
The company, for its part, pointed to air-traffic control problems and poor weather in Florida.
"ATC issues and disruptive weather have resulted in a high volume of cancellations throughout the weekend while we work to recover our operation. We appreciate your patience as we accommodate affected Customers, and Customer Service wait times are longer than usual," Southwest Airlines said Saturday.
In a memo obtained by The Wall Street Journal, Alan Kasher, Southwest's executive vice president of daily operations, said, "To protect our overall network from compounding issues, additional cancellations are occurring today."
The FAA responded in a tweet on Sunday, not naming Southwest Airlines, saying that there were "no FAA air traffic staffing shortages" reported since Friday.
"Flight delays & cancellations occurred for a few hours Friday PM due to widespread severe weather, military training, & limited staffing in one area of the Jacksonville en route center," the FAA said in the tweet. "Some airlines continue to experience scheduling challenges due to aircraft and crews being out of place."
In a statement Saturday, the Southwest Airlines Pilots Association (SWAPA) pointed to poor planning as the actual cause of the cancellations.
"Our Pilots will continue to overcome SWA management's poor planning, as well as any external operational challenges, and remain the most productive Pilots in the world," the union said in a statement. "They will continue to be focused on their highest priority—safety. SWAPA Pilots are true professionals and will always maintain the highest level of responsibility to their crews, their passengers, and our airline."
The union said the pilots were "not participating in any official or unofficial job actions."
It also blamed a schedule that leaves no margin for recovery when things go wrong, The Wall Street Journal reported. The airline flew a busier schedule than many other airlines, making it difficult for it to recover following the bad weather and technical issues.
Only 4 percent of American Airline flights were cancelled Sunday, with 11 percent being delayed. Less than 1 percent of Delta flights—three in total—had been cancelled, with 10 percent being delayed by 5:10 p.m., according to FlightAware.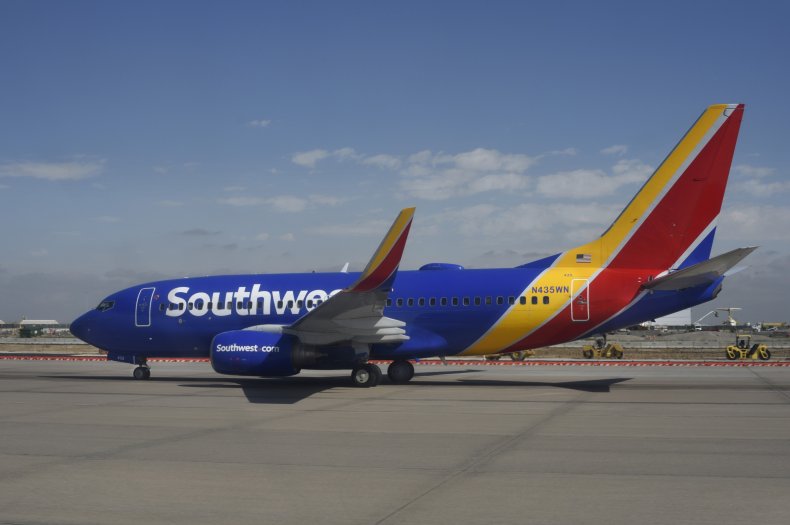 The cancellations come at a difficult time for the Southwest due to the COVID-19 pandemic.
Southwest said in August that it no longer expected to make a profit in the third quarter due to a poor travel outlook, as rising COVID cases fueled by the highly-contagious Delta variant halted many peoples' travel plans. The company was profitable during both June and July without government assistance, for the first time since the pandemic began.
In the first half of 2021 alone, U.S. commercial airlines reported $4.3 billion in pre-tax losses, according to Airlines for America, an airline industry advocacy group.
In an October 8 report, the organization warned, "After several months of steady increases, new ticket sales have subsided in large part due to a resurgence of COVID-19 cases and hospitalizations."
Some Southwest workers have recently voiced concern over the airline's vaccine mandate, with the pilots union filing a lawsuit and authorizing its workers to demonstrate against the mandate. The union has also authorized $1 million in support of those protests, which could begin this fall.
Newsweek reached out to both Southwest Airlines and the pilots union for comment Sunday afternoon but had not heard back by publication. This story will be updated with any response.