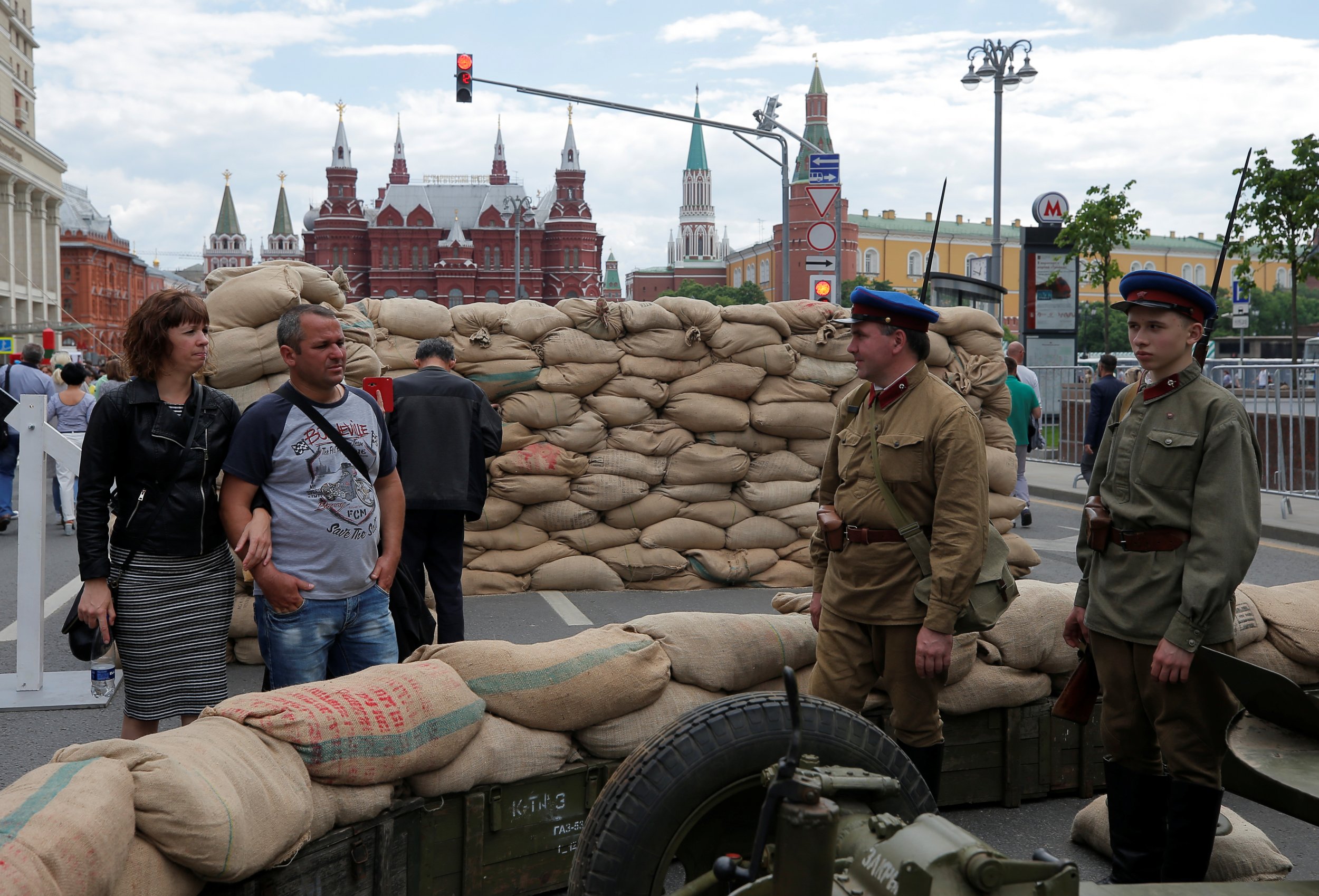 Reality and history clashed in central Moscow Monday, with police detaining Russia's most prominent critic, Alexei Navalny, for encouraging protesters to march to the walls of the Kremlin, where Soviet troops, Cossacks and Vikings awaited.
The Russian capital's central street, Tverskaya, became the scene of a historical and political spectacle. Anti-corruption activists marched peacefully down the street, which was decked out with historical reenactment tents and Muscovites in costume. The venue had been booked for a street festival for Russia Day, a national holiday.
Read more: Moscow police gear up for "provocations" ahead of Putin critic's mass rallies
Navalny, who for the second time this year summoned a wave of mass anti-government protests, chose the same date for a protest against government corruption. His recent documentary, alleging that Prime Minister Dmitry Medvedev had a robust secret system of acquiring luxury assets and properties, has garnered millions of views.
Navalny organized protests in over 100 cities in response to the documentary's findings. He'd originally intended to lead the march in Moscow down an avenue leading away from the city center. On Sunday evening, he announced a change of venue to Tverskaya, accusing the government of seeking to diminish the visibility of his protest after he was apparently widely refused the option to hire stage, lighting and sound equipment, for no given reason.
One company had agreed to let him hire its equipment, only to cancel on the eve of the protest. Vowing not to carry out the protest in a way that would "humiliate" his movement, Navalny announced a last-minute change of venue: Tverskaya, which is within earshot of the Kremlin.
Navalny's wife posted images of his detention in front of their Moscow home, where eight policemen awaited him as he left to attend the protest. "Happy Russia Day," she captioned the photo of Navalny's arrest, only a few steps from their front door.
Authorities also raided Navalny's offices, where his internet connection was shut down. Navalny's team urged protesters to head toward Tverskaya regardless. Moscow police announced that they would not permit anyone with political banners or symbols down the street—parts of which, ironically, were outfitted with sandbags and turrets by World War II reenactors.
Warriors from many eras of Russian history roamed Tverskaya, ranging from Red Army troops, Napoleonic-era pikemen, Vikings and Cossacks.
Police arrested more than 400 people almost as soon as the colonnade of protesters reached Tverskaya, independent protest watchdog OVD Info reported —though some managed to enter the main part of the street. The Independent news site Meduza spotted and photographed an altercation between one protester who'd made it past police and a Soviet sniper reenactor. The situation became almost farcical as reenactors simulated arresting criminals while police detained protesters only meters away.
Navalny's supporters flooded the street up to the barricades set up for the reenactment, and police refused them entry.
At least 300 were reportedly arrested in the St. Petersburg protest, while social media users reported detentions in a handful of other cities. Navalny's team and authorities will announce total numbers for all protests once all the marches conclude.