S&P Says Beijing Unlikely to Step in as Evergrande Steps Closer to Default
After stock markets across the world posted their worst day in months yesterday, financial analysts have scrambled to get an idea on whether a major source of the woe, China's second-largest property developer the Evergrande Group, will be left to fend off its massive debts alone or if it will receive a bailout from the Beijing government. Today, they received some semblance of an answer.
S&P Global Ratings, one of the top three credit-rating agencies, issued a report today signaling that the property developer will likely be forced to find its own way to make payments on its $89 billion worth of loans or file bankruptcy.
"We do not expect the government to provide any direct support to Evergrande," S&P credit analysts wrote in its Monday report. "We believe Beijing would only be compelled to step in if there is a far-reaching contagion causing multiple major developers to fail and posing systemic risks to the economy."
S&P followed this up with a signal that Beijing likely won't face pressure to provide Evergrande with this relief, writing, "Evergrande failing alone would unlikely result in such a scenario."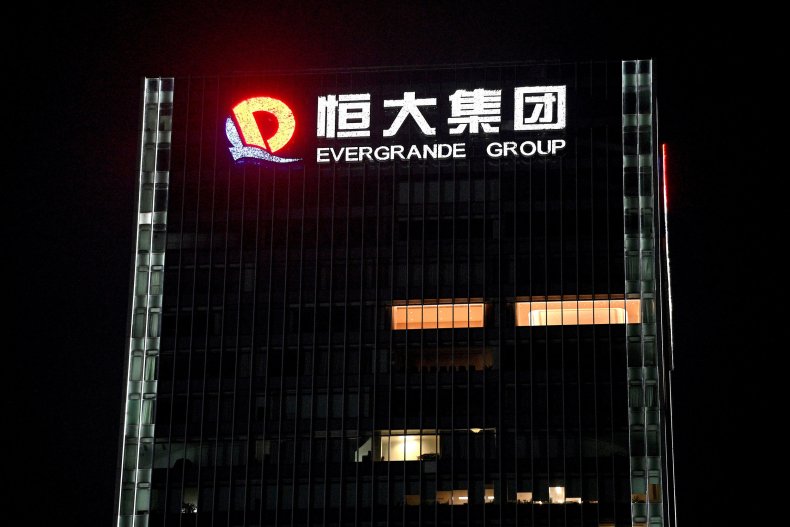 Evergrande ranks as the world's most indebted property developer. Its $89 billion worth of loans and bonds stand as just part of a larger $300 billion package worth of debt that it has incurred over years of heavy borrowing as it looked for years to expand its interests alongside China's growing economy. This Thursday, it faces its greatest challenge yet, as it begins payment on the $83 million in interest attached to a March 2022 bond.
On Tuesday, shares of Evergrande in Hong Kong fell by 4 percent, sinking the stock to 33 cents a share—its lowest value seen in the last ten years. The company's billionaire chairman and founder tried to rally company morale by writing in a letter to employees that the firm would "walk out of its darkest moment." His plan on how he expects to do so remains to be seen.
Analysts have debated over what a potential failing of the real estate giant may mean. Newsweek reported that some see the fall of Evergrande differently from the S&P, viewing it as a matter that may mirror the 2008 collapse of America's one-time fourth-largest bank Lehman Brothers, which precipitated the Great Recession. Others say that because it is a bank, the effects of a collapse will not have as wide-reaching of an effect on the Chinese economy.
"The government is willing to help, but also wants events to take their course," S&P analysts wrote. "Even in Evergrande's home province, the developer is insignificant to Guangdong's vast local economy—it is not too big to fail."