Space Jam 2 Backlash Over Decision to Include Droogs but Cut Pepe Le Pew
Space Jam 2 has been criticized for including a surprise cameo from Alex's Droogs, the violent gang at the center of Stanley Kubrick's film A Clockwork Orange.
The characters feature in A Clockwork Orange's most controversial scene in which they sexually assault a woman in front of her incapacitated husband.
Despite this, the Droogs can be seen courtside in Space Jam: A New Legacy during a cameo-laden set-piece featuring characters from several Warner Bros-owned films and franchises.
Their inclusion comes despite the project previously hitting the headlines after deciding to cut the character of Pepe Le Pew from the finished film.
According to Deadline, a scene involving the French skunk and Jane the Virgin actress Greice Santo was shot in June 2019 but ultimately ended up on the cutting room floor.
That decision came after New York Times writer Charles M. Blow said the character had "added to rape culture."
Fans and critics alike were quick to highlight the problematic inclusion of the Droogs in Space Jam 2.
The Chicago Tribune Film critic Michael Phillips tweeted: "The first SPACE JAM had ungodly amounts of Chicago swagger, thanks to Michael Jordan and Bill Murray. #SpaceJam2 has...droogs?"
Sports journalist Bruno Passos wrote: "I wanna hear from the exec who insisted most on the droogs from Clockwork Orange being in Space Jam 2."
Filmmaker Jesse Hawken sarcastically tweeted: "Some of the reviews of SPACE JAM: A NEW LEGACY are missing the point. This movie wasn't made for grown ups, it was made for kids. And if there's one thing that kids today love, it's references to Casablanca and A Clockwork Orange."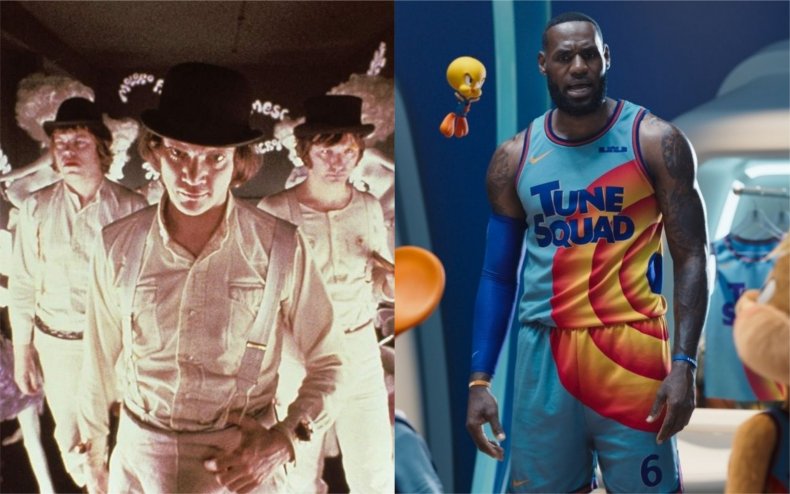 YouTuber and film critic Mathew Buck also highlighted another bizarre brief cameo in the film, this time from one of the nymphomaniac nuns who featured in Ken Russell's controversial and heavily cut film The Devils.
"Wait, so Warner Bros. is infamously afraid of ever-releasing Ken Russell's The Devils in an uncut form, but will have the nymphomaniac nuns from it do a cameo in Space Jam: A New Legacy?"
Buck also hit out at the apparent double standards of omitting Pepe Le Pew yet including these other characters.
"WB: We can't have Pepe Le Pew on account of him being a creep. Also WB: Let's include the Droogs from A Clockwork Orange, and Christ-defiling nuns from a film so controversial that we're afraid to release it 50 years later."
Video game developer Shane Bettenhausen championed another theory for the inclusion of characters from A Clockwork Orange and other Warner Bros. properties in the film.
He tweeted: "When the first pull-quote you read from a Space Jam sequel review confirms your suspicions:
'The film is a thinly veiled excuse for Warner Bros. to parade, and possibly renew, all of its various copyrights.'"
Screenwriter and independent film producer Scott Weinberg, meanwhile, was left thoroughly baffled by the movie's surprise inclusions.
He tweeted: "Trying to keep my Space Jam tweets to a minimum but this boggles my mind as well. the Clockwork Orange boys are freaking rapists. why put them in a kid's movie??"
Yet the strongest reactions came from the fans themselves, many of whom took to Twitter to slam Warner Bros. over the decision to include the characters while leaving out Pepe Le Pew with one tweeter dubbing it the "new definition of corporate irony."
Despite the backlash witnessed among many fans on Twitter, there were several who defended the inclusion of the characters as both funny and "ballsy."
Some sought to highlight the fact that the original Space Jam included a reference to Quentin Tarantino's Pulp Fiction while others ranked it as their favorite thing about the new sequel and described the decision to keen the Droogs in the film as a "watershed moment" in the battle against cancel culture.
Newsweek has reached out to Warner Bros. for comment.