Warner Bros set the latest Space Jam: A New Legacy, in the Warner 3000 Serververse. This means many of its franchises get a chance to be shown in different guises throughout the movie.
As LeBron James is trapped in the Serververse with his son Dom (played by Cedric Joe), he must bring together a band of Looney Tunes to help win the most important basketball game of his life.
First, before they can defeat the evil algorithm Al-G Rhythm (Don Cheadle) they must find the Looney Tunes who have been dispersed across the Serververse.
Ahead are some spoilers for Space Jam: A New Legacy.
All of The Space Jam 2 Easter Eggs Revealed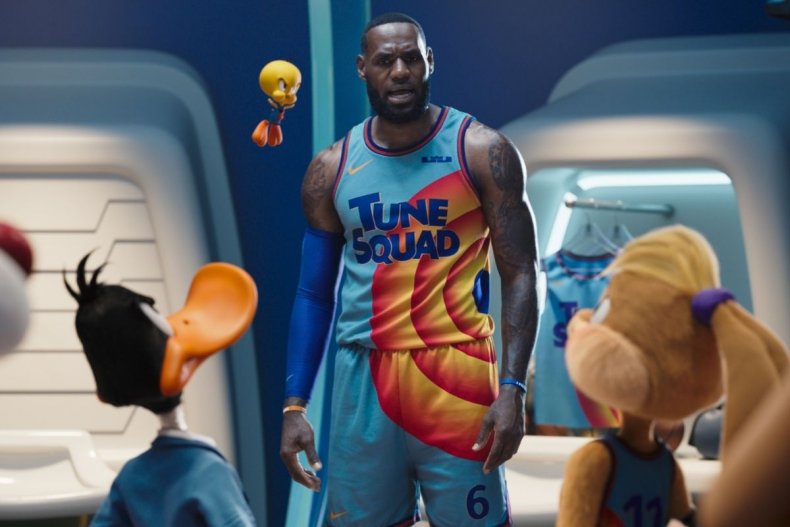 When James arrives in the Serververse, he is sent through various other worlds after Al-G Rhythm sent him to Tune World.
He flies past many of the different realms, donning a Mr. Freeze outfit on DC world, being intercepted by flying monkeys on the Wizard of Oz world, and getting caught up in a game of Quidditch in Harry Potter world.
After arriving in Tune World to discover only Bugs Bunny remains, one of his first tasks is finding the other characters, after a moment in a Wild West bar in the Looney Tunes universe.
Before they go, they steal a ship from Marvin the Martian to go on their quest, and Bugs takes on the name James T. Bunny, in a Star Trek reference.
Their first stop is the DC World, where Daffy Duck is attempting to get into the Justice League as a new hero, Super Duck, with the help of Porky Pig.
As they try to find Daffy, James takes on Robin's outfit while Bugs becomes Bugsman, driving in his Bunnymobile.
They pass a number of other DC franchises along the way, including Aquaman, Krypton and the Daily Planet offices, where Clark Kent works.
After convincing Daffy and Porky to come with them, their next stop is to track down Roadrunner and Wile E. Coyote, who have been living in the Mad Max universe.
Both are covered in tattoos, piercings and leather garb as they race across the desert alongside live-action characters.
James is also turned back to his live-action self for this montage, while he and Bugs are also sporting some interesting outfits.
After this, they head to Austin Powers world to find Elmer Fudd, who has replaced Mini-Me to become Dr. Evil's right-hand man.
He is also convinced to join them before James and Bugs go back in time to Casablanca, where the piano player, called Sam, is in fact Yosemite Sam.
While they may think they have many of their Tunes in place, there is no need to collect the Tasmanian Devil, as Rick and Morty show up to drop him off.
They then grab Foghorn Leghorn from the Game of Thrones universe, where he has taken on the mantle of Daenerys Targaryen.
Bugs is convinced one of their most important allies is Granny, who is living with Speedy Gonzales in The Matrix.
While Speedy does some epic bullet-avoiding bending, as seen by Neo, it is Granny who is The One as she dives up in the air and kicks the suited Mr. Smiths away, as Keanu Reeves' character did in the movie.
Bugs, as Morpheus, and James, donning the long, leather jacket, turn up to bring them to the ship but they realize they are still short of one important person: Lola Bunny.
Lola Bunny is also operating within the DC world, but in a different area: Amazon.
She then recreates the beginning sequence from Wonder Woman: 1984, where she is trying to earn the respect of the Amazonians through a difficult assault course.
As she completes the course, Bugs and James are desperate to convince her to join him, which they are ultimately successful in doing.
After all the Tunes are back together and riding around the Serververse in Marvin the Martian's ship, they train to become ready to take on the Goon Squad.
The game takes place at Tune World, but with some additions from other franchises thrown into the mix.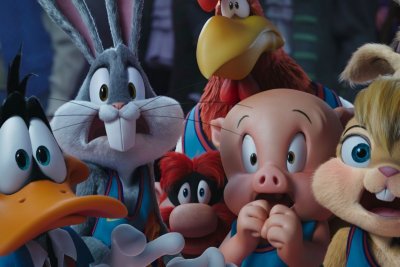 At this stage, Al-G Rhythm brings in spectators from all over the Serververse, including Pennywise from the Stephen King universe, King Kong, The Iron Giant, Scooby-Doo, The Gremlins, Jaws, The Flintstones, The Jetsons, Catwoman, The Mask and Alice in Wonderland, to name a few.
At one point, even the gang from A Clockwork Orange and The Godfather are brought into view.
He also brings in real people, threatening them with a future inside the computer if James and the Looney Tunes do not win.
Among these people are actor Michael B. Jordan, commentator Ernie Johnson Jr. and comedian Lil Rel Howery.
Of course, Al-G Rhythm also has some referencing tricks up his sleeve, and before the game even begins, he jokingly turns himself into Steve Jobs in an Apple reference.
With Space Jam: A New Legacy, Warner Bros are clearly bringing out the big guns, representing some of their biggest franchises on-screen.
Space Jam: A New Legacy is out in movie theaters and HBO Max.