NASA, led by Elon Musk's private company SpaceX, has successfully taken astronauts to and from the International Space Station (ISS).
All eyes were on the the Gulf of Mexico for the first nighttime splashdown involving astronauts since 1968 as SpaceX's Crew Dragon capsule, named Resilience, headed back to Earth on Sunday.
Thankfully, the crew—NASA's Shannon Walker, Victor Glover, Mike Hopkins, and JAXA 's (Japan Aerospace Exploration Agency's) Soichi Noguchi—returned home safely after the mission dubbed "Crew-1."
A SpaceX video showing their safe arrival has been viewed more than a million times only seven hours after it was posted at 3 a.m. ET, minutes after they dropped into the sea off the coast of Panama City, Florida.
"Splashdown of Dragon confirmed – welcome back to Earth," the caption read.
Earlier, the astronauts boarded the 13-feet-wide capsule on Friday afternoon. The autonomous craft carried out a series of maneuvers in preparation for re-entry.
Around 2 a.m., after leaving the ISS and heading into the Earth's atmosphere, the Crew Dragon ditched its "trunk" section, which would burn up, and plummeted to back to the planet.
Thrusters were fired for about 16 minutes to help the craft drop out of orbit.
The Crew Dragon capsule's main parachutes were deployed at an altitude of about 6,000 feet to slow it down from speeds of about 119 mph.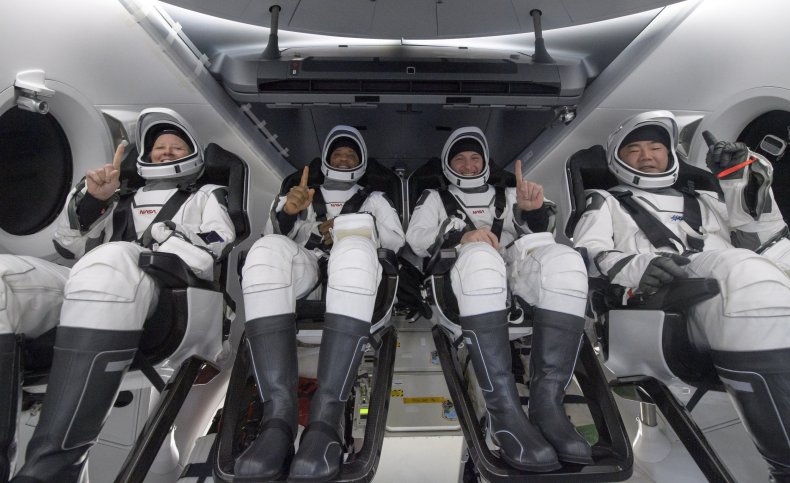 "We welcome you back to planet Earth, and thanks for flying SpaceX," Michael Heiman, a mission control official, told the astronauts. "For those of you enrolled in our frequent flier program, you have earned 68 million miles on this voyage."
"We'll take those miles," quipped spacecraft commander Mike Hopkins. "Are they transferrable?" SpaceX replied by jesting that astronauts check with the company's marketing department, AP reported.
Hopkins, who was the first one out, enjoyed a little dance as he emerged from the capsule.
About one hour after landing, the astronauts had left the capsule and were preparing to return to land.
They were being given medical checks before flying from Pensacola, Florida, to Houston, Texas, NASA said in a statement shortly after the splashdown.
The crew's return marks the end of the NASA and SpaceX mission, which launched in November 2020 and involved the crew spending 5 months in space—a record for a crew launched on an American-made spacecraft (SpaceX Falcon 9).
It was the second astronaut flight for Elon Musk's SpaceX company.
In August 2020, NASA astronauts Douglas Hurley and Robert Behnken returned to Earth after a 63-day voyage aboard the Crew Dragon spacecraft in the first splashdown in almost 50 years.
The "Crew-1" mission is the first of six crewed missions involving NASA teaming up with SpaceX as part of the agency's Commercial Crew Program
The last NASA crew to splashdown on Earth during nighttime was Apollo-8, which was the first manned mission to the moon, on December 27, 1968.