SpaceX Inspiration4 All-Civilian Crew Complete Their First Day in Space
SpaceX has given an update on history's first all-civilian space crew, saying the Inspiration4 team is "healthy, happy, and resting comfortably," adding they had completed almost six orbits of Earth.
Inspiration4 blasted off from Kennedy Space Centre on Wednesday in a Dragon spacecraft positioned atop a Falcon 9 rocket. The rocket deposited the spacecraft in a low-Earth orbit at around 370 miles above the planet.
The 3-day mission made history as it is the first space mission to send a crew comprised entirely of private citizens to such an altitude. Previous missions from Virgin Galactic and Blue Origin nearly skirting the boundary of our atmosphere and space reaching altitudes of between 50 and 65 miles above Earth.
On Thursday evening SpaceX offered their first update on the condition of the crew, which includes Jared Isaacman, Sian Proctor, Christopher Sembroski, and Hayley Arceneaux.
Via Twitter, the company updated the crew's status at around 1 a.m. EDT adding that the Dragon spacecraft carrying the Inspiration4 crew had as of that time completed over 15 orbits of Earth. Circling the planet approximately once every 90 minutes requires the Dragon craft to travel at around 22 times the speed of sound, or around 17,000 miles per hour.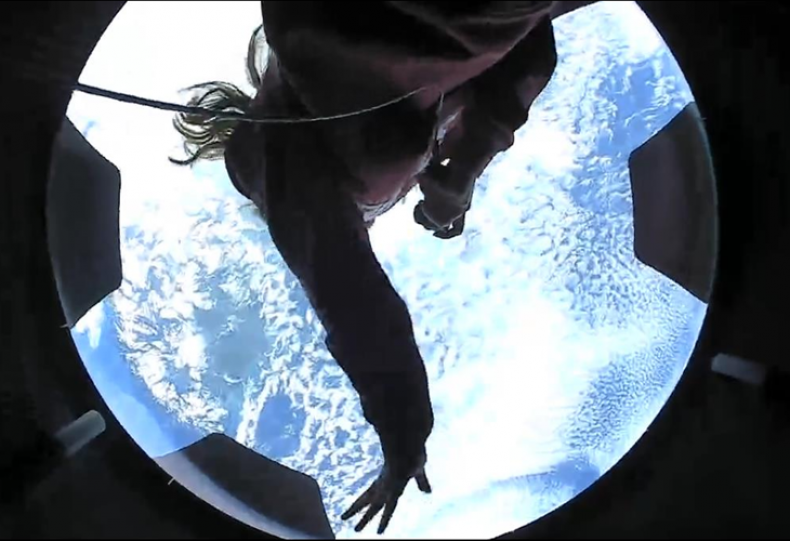 During the first day, the crew took time out to speak to patients at St. Jude's Children's Hospital. St. Jude's said that one of the questions the team was asked was "are there cows on the moon?"
The mission has a strong connection to the hospital with its primary goal being to raise $100 million for the facility. The Inspiration4 mission website reports that currently donations stand at just over $39 million.
This is on top of the $100 million already donated to St. Jude's by mission commander Isaacman, the billionaire owner and CEO of Shift4Payments.
Arceneux is an employee of the hospital who St. Jude's selected to go on the mission. She was also treated at St. Jude's as a child suffering from bone cancer.
Those wishing to follow the progress of the Inspiration4 mission can track more than the donations raised for St. Judes. The "Follow Dragon" application on the SpaceX website allows space enthusiasts to follow the craft as it orbits the Earth.
During their second day in space, the crew will further take advantage of the Dragon craft's dome-shaped viewing cupola to get some spectacular views of the planet from orbit.
The Inspiration4 crew is set to return to Earth on Saturday 18 September when the Dragon craft re-enters the planet's atmosphere. The craft will descend slowly to the ocean off the coast of Florida supported by its system of six parachuettes.
While this return to earth will be a first for the members of the Inspiration4 crew, according to SpaceX it will mark the Dragon craft's 27th "splashdown."