Spain Prepares For Debates—and a Significant Absentee—Ahead of Fraught General Election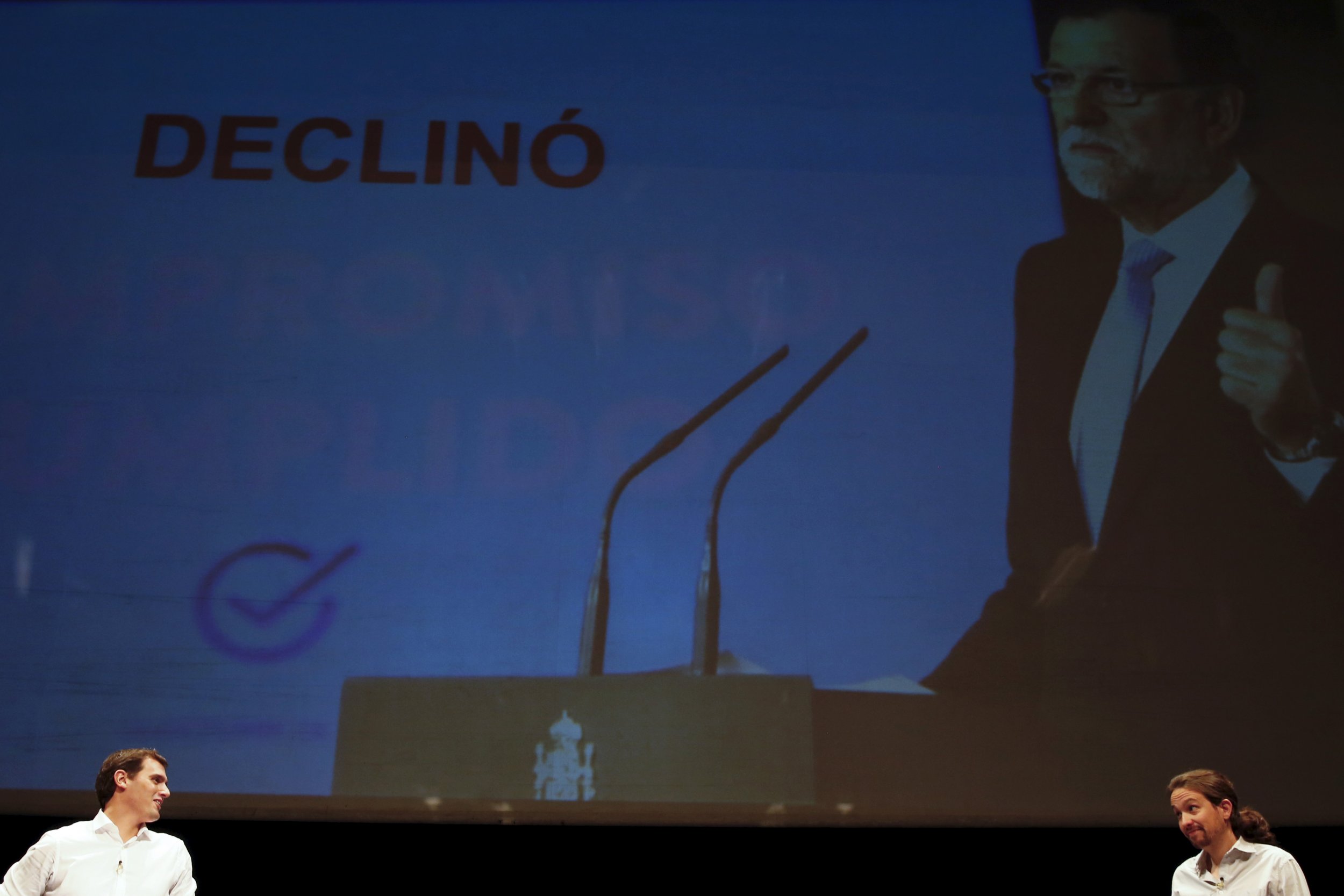 With only three weeks to go until Spain votes to elect its next government, the country faces a three way stand-off. The ruling People's Party (PP), opposition Socialist Workers' Party (PSOE) and newly established Ciudadanos (Citizens party) are all polling at just over 22 percent.
Spaniards will cast their ballots on December 20 after a turbulent few years for Spanish politics. The country's two main parties have been rocked by corruption scandals while both the far-left Podemos and the Catalan independence movements have surged.
A poll by Spanish survey company Metroscopia, published in national daily El País, shows that as things stand conservative PP would win the election by the smallest of margins, winning 22.7 percent of the vote. The centre-right Ciudadanos would come second with 22.6 percent, while PSOE would come third with 22.5 percent.
Despite polling as Spain's most popular party on several occasions over the past year, Podemos now holds 17 percent of the vote. However neither they nor Ciudadanos currently has any seats in parliament as both parties prepare for their first general election.
The poll comes as the leaders of the three opposition parties go head to head in a debate to be broadcast online by El País on Monday night. PP leader and incumbent Prime Minister Mariano Rajoy will not appear, as the leaders of socialist PSOE, centrist Ciudadanos and far-left Podemos vow to offset the dead heat in their favor.
The four men invited to the debate are as follows:
Mariano Rajoy—PP
The incumbent prime minister will not be appearing in the debate despite pressure from his rivals to engage with them directly. While his government frequently boasts that the apparent success of its austerity programme spared Spain from an even worse crisis, following the government of socialist José Luis Rodríguez Zapatero, growth has been slow and unemployment remains high.
Rajoy entered office in 2011, aged 56, as Spain cast a punishing vote against the PSOE in the wake of the global financial crisis. The prime minister does not enjoy the reputation of a dynamic speaker, but boasts a record of serving in five different ministerial positions before heading his party and leading the PP to victory.
In June a Metroscopia poll found that half of all PP voters would rather the party was headed by another candidate, with members of the party, such as Deputy Prime Minister Soraya Sáenz de Santamaría, enjoying a higher approval among Spanish voters. Last summer one survey found Rajoy was given a negative -44 approval rating while Sáenz de Santamaría was among the highest ranked officials in government with -12.
After refusing to attend the debate, an empty podium will appear on the stage.
Pedro Sánchez—PSOE
In the summer of 2014, Spain's PSOE party, still searching for a leader to rejuvenate the party, elected economist Pedro Sánchez. Now 43 years old, Sánchez has been tasked with the uneasy objective of opposing the PP while also resisting the loss of votes to the increasingly popular far-left Podemos.
Certainly he has managed to endear himself personally to Spanish voters: He sits as the country's second most popular politician in a year when past and current members of the PSOE have been linked to numerous corruption scandals. He has been critical of the PP's welfare cuts and endorsed a constitutional reform to federalism—an attempt to keep Catalonia as part of Spain.
The PSOE leader has also capitalized on his position as leader of the opposition to reach out to the likes of Podemos and Ciudadanos and negotiate pacts in municipal elections over the past year. Sanchez has made regular public appearances and last December told Spanish television channel La Sexta that he was open to debating with Pablo Iglesias, leader of Podemos, as well as Artur Mas, Catalan independence leader.
Albert Rivera—Ciudadanos
As things stand, Albert Rivera, the Barcelona-based lawyer who leads Ciudadanos, looks to be the man with the most momentum. Despite his party only featuring in regional Catalan elections until 2013, he has quickly acquired a following on the national scene thanks to dynamic campaigning on social media and a position less radical than Podemos but unmarred by corruption such as the PP and PSOE.
As Podemos' popularity has begun to wane, after peaking earlier in the year, voters disillusioned with the main parties appear to have flocked to Ciudadanos's more moderate position. The party has vowed to reduce income tax and VAT but Rivera's rhetoric has focused heavily on combatting corruption.
Rivera himself has twice ranked as Spain's most popular politician, with a June survey showing him with an approval rating of +12.
Pablo Iglesias—Podemos
Possibly the most bombastic public speaker of the four, Pablo Iglesias, who leads Podemos has been touted as possibly the biggest surprise in the build up to the election. Capitalizing on Spain's mass Indignados protests against cuts in 2012, Iglesias and other politics professors and activists formed Podemos. By January the party topped polls as Spain's most popular party and has striven to portray itself as a political force run from the bottom up, using crowdfunding to organize campaigns and vowing to reverse public spending cuts at the expense of la casta—the ruling class.
Iglesias personally endorsed Greece's anti-austerity SYRIZA party after the latter's victory in the Greek elections earlier this year, however his and his party's popularity has waned since Spain's local council elections. Iglesias's personal popularity has tailed off behind that of rival opposition party leaders, while the party currently polls fourth.
In speeches, the 36-year-old has issued withering criticisms of Rajoy and opponents, brading the prime minister's government "useless" while challenging him to a debate. He has also been critical of the PSOE, as he urged Sanchez, after the last local elections to "show more humility" when discussing a pact with Podemos. "You have just endured the (PSOE's) worst election result since 1979," he reminded the socialist leader.