Spain's Transit Mascot 'Bussi' Delights, Baffles Internet: 'Nightmare Fuel'
The internet is both baffled and delighted by Spain's transit company's new mascot.
Sadabell's transit company has introduced the world to its brand new mascot, "Bussi," and social media users shared their thoughts and opinions.
"Bussi is the new mascot of #Sabadell's urban buses. He wants to bring the little ones closer to public transport," the caption of the video wrote, translated by Google Translate.
"It was created by the TUS [Transport Urban Sabadell] cooperative and was presented taking advantage of the European Mobility Week," the text displayed in the video said, via Google Translate. "It was designed by Ariadna Lara, an illustration student at Escola Illa." Escola Illa is an art school in Barcelona, Spain.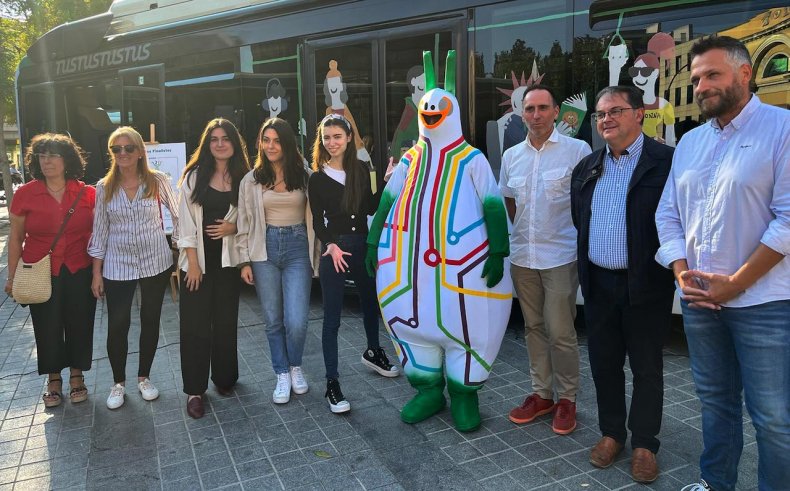 As seen in the video, Bussi makes its first public appearance stepping off of a Sadadell bus and posing for pictures. Joined by employees, they attempted to wow the crowd with a choreographed dance. Bussi has green ears, arms and feet while their body has a variety of colors with lines similar to a map of bus routes.
The tweet going viral has over 65,000 likes and 12,000 retweets and quoted tweets.
Read the internet's reaction below:
"You could never in a million years prepare yourself for what's about to walk off that bus," another user warned the internet.
"I...this might genuinely be the worst mascot I've ever seen," exclaimed one user.
"Well, that's terrifying," one said.
"I love it," another admitted.
A user said, "I would die for bussi."
"Their bus mascot is one of the Killer Klowns from Outer Space," one pointed out.
"LOVE THIS CREEPY LITTLE MONSTER SO MUCH," one user adored the mascot.
"This is delightful," echoed another.
"This clip just keeps building. Incredible work here," another user tweeted.
"The sheer terror of the child who tries to engage at 1:24 tells you all you need to know," one said.
One Twitter account wrote about the mascot's dancing, "Okay, Bussi's got some moves though!"
"The precise combination of scary/cute that makes it impossible to look away. If loving Bussi is wrong, I don't wanna be right," one explained.
"Excited to meet Bussi, who both promotes transit and haunts your dreams," another commented.
"LOL I CACKED! THE NAME, THE WAY BOY CAME IN AND POSED, THE SLOW CLAPS CAUSE NOBODY KNEW [what the f**k] THEY WERE LOOKING AT," one exclaimed.
Newsweek reached out to Petit_Sabadell for comment.
Newsweek has published several articles on the topic of mascots including the 15 colleges with the most unique mascots, a viral TikTok that prompted a school to suspend the use of a Native American Mascot and how a school board member was punched in the face during a meeting to weigh changing a high school's mascot.