Sean Spicer Dismisses Trump 'Meltdown' Accusations by CNN During Coronavirus Press Conference: 'He Was on Fire'
Former White House Press Secretary Sean Spicer dismissed CNN chyrons that accused President Donald Trump of having a "meltdown" at his latest coronavirus press conference on Monday.
Spicer claimed that his old boss had been "on fire" and described the president's briefing as "one of his best" in an appearance on Fox News last night.
The Trump appointee also accused media outlets of cutting away from the commander-in-chief's briefing because they didn't want their viewers to see the truth.
At the White House coronavirus conference yesterday, Trump aired a campaign-style video accusing the media of "minimizing" the risk posed by COVID-19. He also attacked the media's approval rating in a spat with CBS News White House correspondent Paula Reid.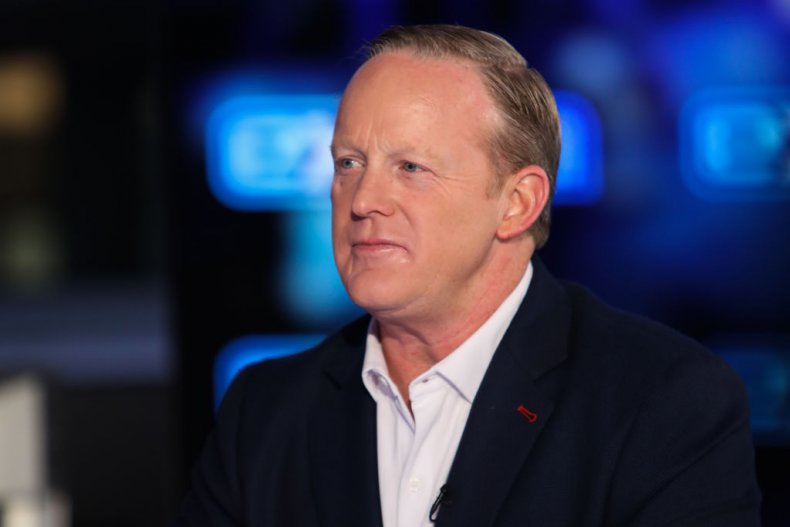 Responding to the unfolding briefing, CNN ran chyrons that accused Trump of being "angry," melting down in response to reports that he ignored early warnings about the virus, and "falsely" claiming that the media ignored the threat posed by COVID-19.
"Angry Trump turns briefing into propaganda session," one CNN chyron read.
Speaking to Fox News host Sean Hannity, Spicer said: "Look at those chyrons that you've shown and others have shown that CNN had up. They're calling him angry and unhinged.
"He wasn't angry. I thought he was in his element today. He was on fire. But they have to push back against him because they cannot allow him to be right.
"They cannot stand to be wrong and they're doing everything they can to go against him."
The former White House press secretary also said: "I've seen a lot of the president's briefings, I held a few of them myself. Today was one of his best. He hit back with the facts.
"And that was the key. It was their own words. It wasn't the president calling them names. It was their own reporting showing him and what he actually did, and showing the words of other reporters and other Democrats and what they said and when they said it.
"The facts may sting, but those are the same facts that those other networks claim to be all about. They cut away for a reason: they didn't want their viewers to see the truth."
Newsweek has contacted CNN for comment and will update this article with any response.
President Trump's Monday attack on the media came as he claimed the he had "total authority" to override state-level stay-at-home orders if wanted the U.S. to be reopened for business.
"I'm going to put it very simply, the president of the United States has the authority to do what the president has the authority to do, which is very powerful," he said.
Trump later added: "The authority of the president of the United States having to do with the subject we're talking about is total."