Special Electric Porsche Taycan GTS Celebrates 90 Years of Hockenheimring
To commemorate the 90th anniversary of the Hockenheimring, a racing circuit in southern Germany, Porsche is releasing a special edition of the 2022 Porsche Taycan electric sedan.
The plug-in Porsche Taycan GTS Hockenheimring Edition is meant to mesh the company's commitment to its racing heritage and its electric future.
"With this exclusive special edition, we are not only delighting fans of our all-electric sports car, but also highlighting our attachment to the Hockenheimring," Porsche Chairman Alexander Pollich said in a press release. "We congratulate the legendary racetrack on a rich, 90-year history. With the Porsche Experience Centre there, the Hockenheimring has become even more of a home for our brand since 2019."
The Taycan features a lot of the sporty styling cues already present on the GTS variant, with some tweaks.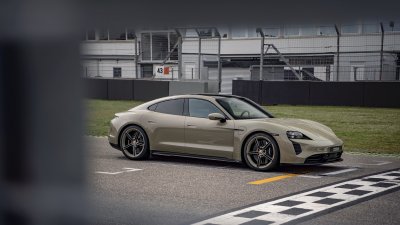 The car is painted in Stone Grey with Bronzite accents that are available through the company's custom color program. Those accents are present on the side sill trim, rear diffuser inlay and the model designation on the rear.
It comes with 21-inch Mission E Design wheels that also distinguish this Taycan from the others, with wheel centers painted in Bronzite and outer edges finished in Stone Grey. The hub is also painted in Bronzite and features the Porsche crest. Brake calipers are painted black.
The GTS trim of the Taycan comes with a 93.4-kilowatt-hour battery with two electric motors, one mounted at the rear axle and one on the front axle. Those combine to deliver 590 horsepower. Zero to 60 is company-rated at 3.5 seconds.
On the inside, a number of the themes present on the outside repeat. Side air vents, selector lever, cup holders and center air vents are all painted in Bronzite. The color also accents the steering wheel.
Black leather is highlighted by Island Green stitching throughout the cabin with an Island Green mark at the 12 o'clock location on the steering wheel.
The special edition's logo, a "90" next to an outline of the Hockenheimring track, is embossed on the center console.
Customers also get a special vehicle key with that logo, which Porsche says allows them access to the company's Experience Center, two years of free on-site charging during open hours, preferential parking at Porsche events at the track and monthly Porsche enthusiast gatherings. The Hockenheimring is one of several Porsche Experience Centers where customers can drive their cars on a real racetrack.
The company says that the special edition model will be sold in Germany and other select European markets but pricing details were not released. A standard Taycan GTS starts at $134,100.