Special Master's Proposed Helper Could Cost Trump $500 Per Hour
Raymond Dearie, the special master overseeing documents seized from Donald Trump's home, says he'll need help sifting through the more than 11,000 records—and it could come at a hefty financial cost to the former president.
Dearie, a New York-based federal judge, laid out his plan for the review of the documents in a court filing Thursday. The plan signed by Dearie proposes that he'll require help from James Orenstein, a retired magistrate judge, who will bill Trump at a rate of $500 per hour. The potential added legal fees come after a series of recent court setbacks for Trump.
Appointed special master last week, Dearie is responsible for sorting out records recovered from Trump's Mar-a-Lago home in August that are potentially protected by attorney-client or executive privilege. Trump's lawyers successfully sought the appointment of the special master and suggested Dearie, who has until November 30 to complete his review.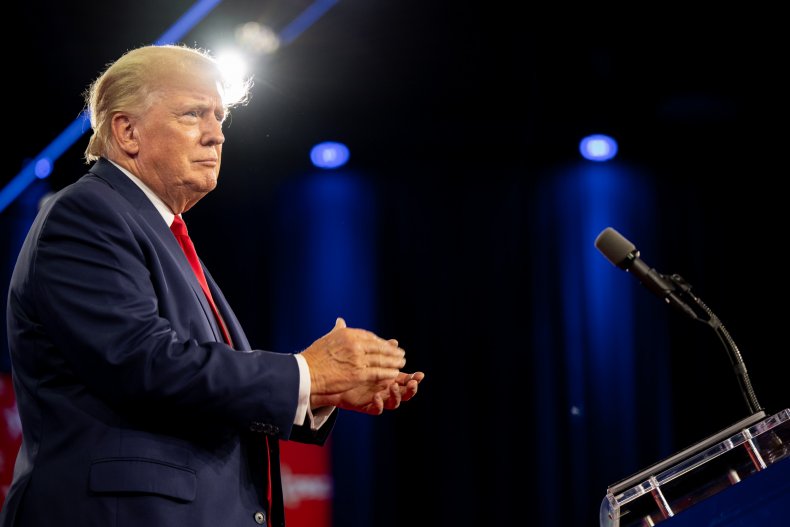 Dearie's plan says Orenstein "has experience with complex case management, privilege review, warrant procedures, and other matters that may arise in the course." Orenstein, who holds top secret clearance, has also served as an advisor to the Foreign Intelligence Surveillance Court, which oversees the scrutiny of foreign spies.
Under the plan, beginning October 1, Dearie will begin sending invoices for Orenstein's work, which Trump's lawyers can dispute. Dearie said that he will seek no additional compensation.
"OMG IM DYING!!!" Ron Filipkowski, a Trump critic and former federal prosecutor, reacted on Twitter.
Dearie's plan comes a day after the Department of Justice (DOJ) scored a notable win after the 11th Circuit Court of Appeals overturned a portion of a district judge's order that prevented federal investigators from reviewing classified documents retrieved from Trump's resort home in South Florida.
The ruling means the DOJ won't have to hand over documents marked classified to Dearie for review. The three-judge panel, which included two Trump appointees, also further undercut Trump's insistence that he declassified every document he took with him when he left the White House.
"[Trump] has not even attempted to show that he has a need to know the information contained in the classified documents," the panel wrote in its ruling. "Nor has he established that the current administration has waived that requirement for these documents."
During a Tuesday hearing, Dearie reportedly pressed Trump's legal team to justify the ex-president's statements that he declassified the documents, telling them that they cannot "have your cake and eat it too."
In the document review plan he signed Thursday, Dearie specified that Trump's legal team must explain why any seized document is protected by attorney-client or executive privilege, as well as any considered personal.
Dearie also directed the government to submit a detailed list of property taken from Mar-a-Lago and that Trump's lawyers will have a chance to dispute the list's accuracy by September 30. This gives Trump's legal team a last chance to back up the former president's claim that the FBI planted evidence during its search of his residence.
"This submission shall be Plaintiff's final opportunity to raise any factual dispute as to the completeness and accuracy of the Detailed Property Inventory," Dearie wrote in the plan.
Newsweek has reached out to Trump's legal team for comment.