'Spencer': Do Royal Family Really Weigh Themselves Before and After Christmas
Princess Diana and the royals are shown weighing themselves before and after Christmas in Kristen Stewart movie Spencer—mirroring a real life tradition.
Pablo Larraín's biopic shows the princess attempting to refuse a set of old, brass weighing scales as she arrives at Sandringham (the royals' Norfolk estate), but being told she must sit on them in keeping with tradition.
The bizarre moment reflects a real life royal tradition said to date back to the days of Edward VII, who reigned from 1901 to 1910.
Ingrid Seward, author of Prince Philip Revealed, told Grazia in 2018 the tradition derived from the king's concern that his guests should eat well.
That same year it was suggested that Meghan Markle might have to undergo the potentially embarrassing ritual during her second royal Christmas, though it was never revealed whether it actually happened.
In Spencer, the tradition is depicted as particularly charged in the context of Princess Diana's experience of bulimia.
Stewart's Diana is depicted bringing food back up again and not wanting to go to dinner, while Prince Charles asks her to do the chickens who laid her breakfast eggs the curtesy of not regurgitating them "before the church bells ring."
Princess Diana did experience bulimia in real life, saying it was a release valve from the pressure of her life.
She told her secret biographer, Andrew Morton, in tape recordings she smuggled out of Kensington Palace that Queen Elizabeth II viewed her eating disorder as the reason for the problems in her marriage.
Quoted in Diana: Her True Story, the princess said: "She [the queen] indicated to me that the reason why our marriage had gone downhill was because Prince Charles was having such a difficult time with my bulimia.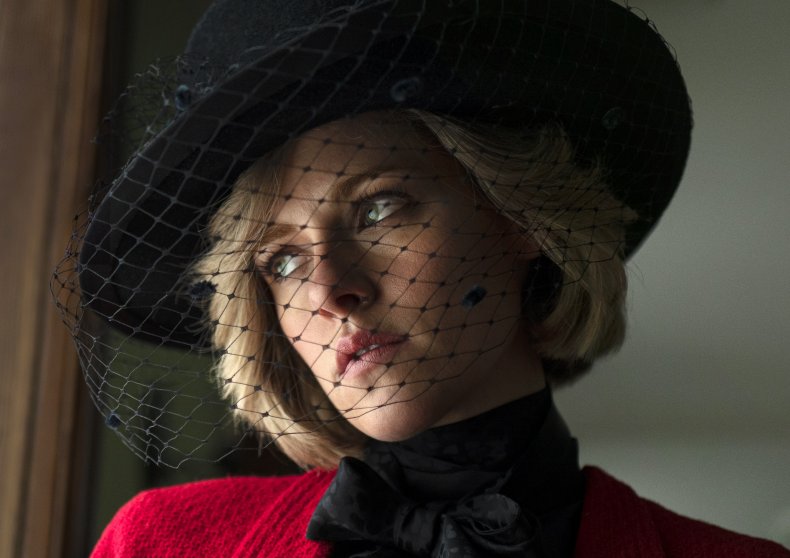 "She told me that. She hung her coat on the hook so to speak. And it made me realize that they all saw that as the cause of the marriage problems and not one of the symptoms."
The biography exposed Prince Charles' affair with Camilla for the first time and led to the couple's separation when it was published in 1992.
The queen is only in a handful of scenes in Spencer and has few lines in a depiction that is difficult to definitively read.
Diana is shown under pressure to wear clothes picked out for her by staff and then getting into trouble when she chooses the wrong outfit at the wrong time.
Elizabeth is then shown acknowledging she too did not wear the outfit she was told to wear either, in a seemingly supportive comment.
However, Diana appears troubled when the queen is portrayed adding: "They take a lot of pictures of you don't they? The only one that matters is the one they put on the £10 note. Then you understand who you are—currency."
Larraín said in publicity material: "We did extensive research about Diana, Royal Christmas traditions, and the anecdotes of ghosts at Sandringham House.
"Yet the Royal family is notoriously discrete. They may appear publicly on some occasions, but at some point, the doors close, and once they are, you don't know what is happening behind them. That gives a lot to fiction; that was our work.
"We didn't aim to make a docudrama, we wanted to create something by taking elements of the real, and then using imagination, to tell the life of a woman with the tools of cinema. That is why cinema is so fantastic: there is always space for imagination."