Government Shutdown Coming to an End? Senate to Vote on Opposing Spending Bills
Senate leaders announced Tuesday that they will hold votes to possibly end—temporarily—the ongoing government shutdown. However, the chances of either bill advancing and being passed by the House and signed into law by President Donald Trump are slim to none.
The Senate will take procedural votes on two opposing spending bills Thursday afternoon, Senate Majority Leader Mitch McConnell and Minority Leader Chuck Schumer said, allowing lawmakers to choose which measure they wish to back. One bill would fund the government through February 8 and does not include money for a border wall; the other bill is Trump's latest proposal, which includes $5.7 billion for the wall. Both proposals need 60 votes to advance, and it is unlikely either one will muster enough support.
Aides for the Senate leaders said the move to hold the votes is not a deal, but rather the lawmakers following chamber rules.
"[McConnell] is offering the president's plan as an amendment to a House bill. Under Rule 22, Senator Schumer is able to offer an amendment as well," McConnell spokesman Scott Sloofman told Newsweek.
Schumer's spokesman, Justin Goodman, labeled it as an "agreement to have votes on Thursday. Technically, you need agreements to do anything in an expedited fashion in the Senate," Goodman said in an email to Newsweek.
One spending bill will feature the proposal outlined by President Donald Trump over the weekend that includes $5.7 billion for the border wall and a three-year extension of protections for Deferred Action for Childhood Arrivals (DACA) recipients, who came to the U.S. illegally as children. It would offer the same temporary protections to immigrants who have fled natural disasters or conflicts in their countries and have temporary protected status (TPS). Earlier in the day, McConnell called it a "strong proposal," adding it was "the only thing on the table" that the president would accept.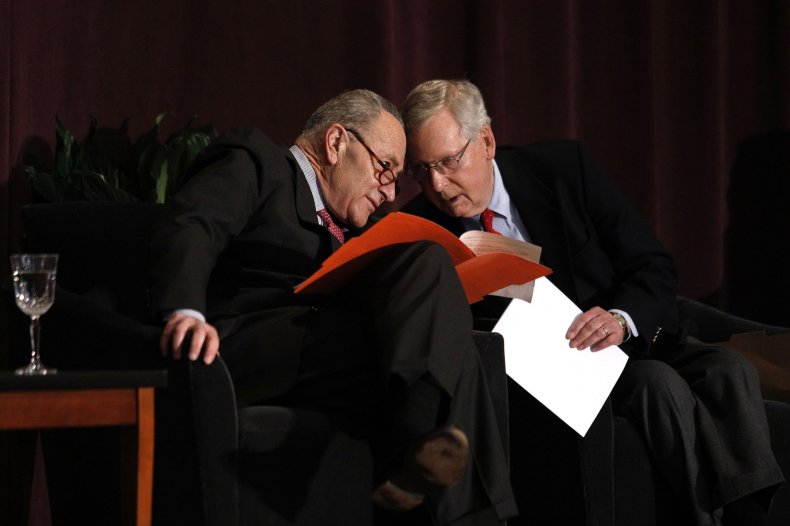 The other bill is a temporary funding measure that would provide disaster relief aid and fund the government through February 8, giving lawmakers more time to negotiate a long-term deal. It would not provide funding for the wall, but it would offer some brief relief to the roughly 800,000 federal employees who will soon go without their second paycheck. The same measure was already passed by the GOP-controlled Senate prior to the shutdown and has been passed by the House during this session of Congress.
"People are saying, 'Isn't there a way out of this mess? Isn't there a way to relieve the burden on the 800,000 federal workers not getting paid? Isn't there a way to get government services open first and debate what we should do for border security later?'" Schumer said on the Senate floor. "Well, now there's a way."
Democrats have already said they opposed Trump's proposal because it does not offer immigrants a pathway to citizenship. Despite Trump's efforts to rescind DACA and scale back TPS, the courts have prevented him from doing so. As a result, protections remain in place and render the president's offer less appealing to Democrats.
This article has been updated to include additional information clarifying that the Senate's plan to vote on opposing spending bills was not the result of a deal struck between Schumer and McConnell. It was further updated to provide comment from Schumer's spokesman, Justin Goodman.