Trump Reiterates his Demand for Wall Funding in 'Announcement', Offers DACA Protections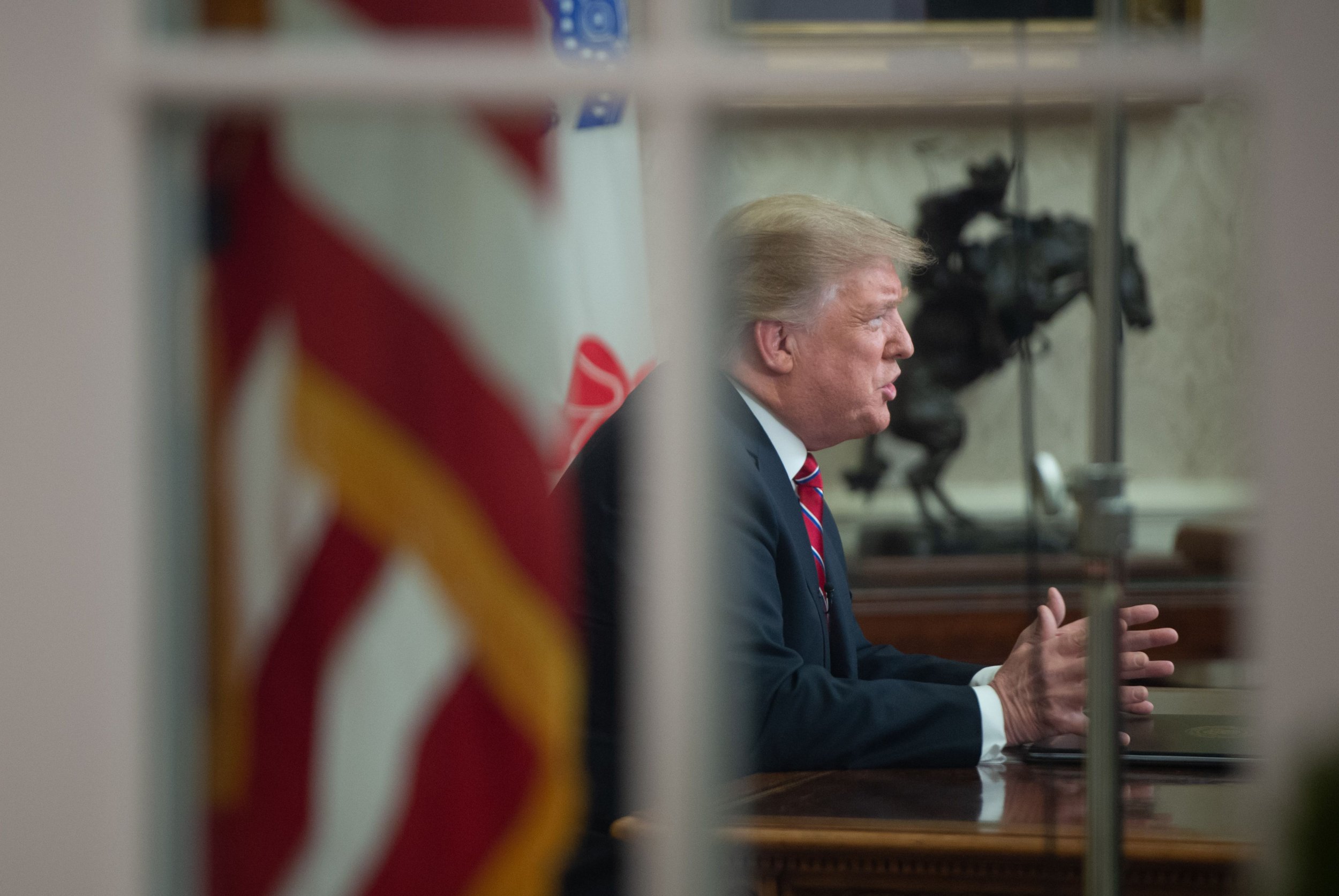 For the first time since the longest government shutdown in history began 29 days ago, the president, while repeating previous talking points, has offered a new deal to Democrats. However, Democrats have already labeled the proposal a "non-starter."
The president's proposal includes $5.7 billion for the wall, a three-year extension of protections for those in the Deferred Action for Childhood Arrivals (DACA) program and a three-year extension for immigrants with Temporary Protected Status (TPS). The immigration proposals would not provide a pathway to citizenship and would be temporary, a key factor of the reasoning for Democrats' disapproval.
DACA, the Obama-era program that the Trump administration in September 2017 attempted to rescind, protects those who were brought to the U.S. illegally as children. Trump's decision to end the program has since been playing out in the courts and was thwarted in November, leaving the program in place. TPS provides protections for immigrants who are fleeing conflict or natural disasters in their home countries, something that the courts have also prevented Trump from scaling back.
The shutdown will continue as Democrats have already come out against the measure. Once Trump's proposal was leaked to various news outlets before his announcement, House Speaker Nancy Pelosi in a statement called it a "non-starter" because it does not "include the permanent solution for the Dreamers and TPS recipients that our country needs and supports."
Senate Majority Leader Mitch McConnell said in a statement he was prepared to put the legislation up for a vote in the Senate next week, breaking his previous pledge to only vote on spending measures that were agreed upon by the House, Senate and White House.
Prior to Trump's announcement, Democratic aides with direct knowledge of negotiations told Newsweek they were not consulted about the proposal and rejected it as "inadequate," adding it could not pass both the House and Senate.
"Similar inadequate offers from the Administration were already rejected by Democrats. The BRIDGE Act does not fully protect Dreamers and is not a permanent solution," a senior House Democratic aide said. "This is not a compromise as it includes the same wasteful, ineffective $5.7 billion wall demand that shut down the government in the first place."
The BRIDGE Act, originally proposed by Democratic Senator Dick Durbin and GOP Senator Lindsey Graham, would provide temporary protection from deportation and and provide legal employment status for three years for DACA recipients, similar to Trump's proposal. But it's since been ditched by Democrats because it would not offer immigrants a pathway to citizenship. In previous negotiations over imimgation, long before the studown began, Republicans rejected proposals by Democrats for $25 billion in border wall funding in exchange for a pathway to citizenship for DACA recipients and other immigrants.
The senior House aide also said Trump "must" reopen the government in order to negotiate on "border security measures that work and not an expensive and ineffective wall that the President promised Mexico would pay for."
A separate Democratic aide, who also had direct knowledge of the negotiations, told Newsweek the offer was "clearly a non-serious product of negotiations amongst [White House] staff to try to clean up messes the president created in the first place."
Pelosi said she plans to again bring up and pass spending bills in the House next week that would fund the government and not provide Trump with border wall funding. It would, however, provide $1.3 billion for border security for some of the same things mentioned in the president's proposal.
The proposal also includes $800 million in "urgent humanitarian assistance," $805 million for "drug testing technology to help secure our ports of entry," 2,750 additional border agents and law enforcement "professionals," 75 new immigration judges to reduce court backlog, and a new system that would allow Central Americans to apply for asylum in the U.S. from their home countries.
The president, continuing to walkback his previous promise of a "concrete wall" that would stretch the entire U.S.-Mexico border, said the wall will be steel and see-through, adding it would only be constructed in certain areas and would not be from "sea-to-sea." He also continued to claim that a wall would reduce the "crime rate and drug problem" in the U.S. "quickly and greatly."
The majority of illegal drugs that come into the country enter through legal ports of entry and would not be deterred by a physical wall.