How Insomniac Games Brought Culture and Authenticity to 'Spider-Man: Miles Morales'
After playing, and absolutely loving, 2018's Marvel's Spider-Man, I was expecting a similar experience from Insomniac Games' follow-up starring Miles Morales: Swinging through New York City, fighting bad guys with the acrobatic prowess that Spider-Man is known for and all the superheroics that any comic book buff would gush over.
But that's not all Spider-Man: Miles Morales is.
Don't worry—there's plenty of that, but there's something more meaningful on the virtual streets of Harlem in Spider-Man: Miles Morales; a sense of culture and identity that runs deeper than I expected.
"We talk a lot about the themes of this game and what was gonna stand out and the big thing was the sense of family and home. Those are fundamental parts," Brian Horton, Creative Director on Miles Morales told Newsweek.
"Peter had a certain sense of identity in and of itself, but with Miles he was Brooklyn through and through and our story here was, 'how do we take this kid from Brooklyn and put him into a new spot? What if that personal drama of having a new home is wrapped up in becoming a superhero?' It's those world's colliding, of figuring things out of this new home and the people that are around there and then also figuring out what it means to be a hero that was the big difference [between Miles and Peter's story]. That focus on family, home, identity and what kind of Spider-Man Miles wants to be is all in the story."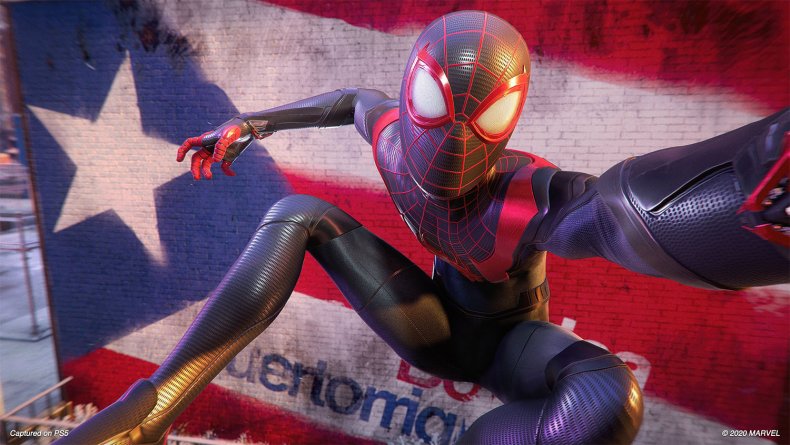 That sense of family and home permeates throughout Miles Morales especially in one particular scene that completely changed my experience of this game.
Early on in the story, Miles comes home to have Christmas dinner with his mother Rio and best friend Ganke. It's a poignant scene that really shows Miles' family dynamic, and the importance of his new home in East Harlem.
There's Christmas lights, a spread of food on the table, Miles' mom talking to her friend on the phone in Spanish, candles, salsa music playing in the background, flags and other embellishments throughout the apartment that really made it mirror the family dinner I had growing up.
From that scene on I knew this game would be about more than just the heroics. If 2018's Spider-Man was about New York City as a secondary character to Peter Parker's story, then, Miles Morales would focus on how East Harlem shapes the young hero and the people that live there.
"I lived in Harlem for five years and I fell in love with it," Evan Narcisse, Narrative Consultant told Newsweek. "The vibe is different when you live in communities of color, especially if they're communities that identify strongly with the Caribbean, different countries in Africa and other parts of the world. They invest in creating a sense of community in those places and the people who live there feed off of that."
When talking about his upbringing, Narcisse recalls arguing with friends over whether Brooklyn or Harlem had the best beef patty spot, an example of the "energy that a hyper dense, culturally-diverse neighborhood" can bring to a community and to this game. Coupled with the rich history of Harlem that includes, but not limited to, the Harlem Renaissance, Malcolm X, the rise of jazz and bebop made the neighborhood a special spot to put Miles in.
Narcisse, who consulted on Marvel's Spider-Man and has written Black Panther for Marvel Comics, was brought back when Insomniac Games was planning a Miles Morales game in the middle of the 2018 game's development. Horton and lead writer Ben Arfmann had a conversation about Miles with Narcisse and how they wanted to portray their version of the character. Because of Narcisse's knowledge of the character and his unique experiences, he was a perfect fit to bring on board for the follow-up and bring "authenticity" to this story.
"For me, as somebody who grew up in neighborhoods like Flatbush in Brooklyn and Harlem, I know what it's like to watch and engage with a piece of entertainment that kind of gets it wrong or doesn't even try and I didn't want this project to wind up like that," Narcisse said.
Miles is part Black, part Puerto Rican and being authentic to his family's culture as well as the culture and vibe of Harlem was a huge part of the development of Miles Morales. Just walking down the streets as Spider-Man you'll see people of different colors, Puerto Rican flags strung up on fire escapes, barbers talking with bodega owners outside their shops, it all feels real with incredible attention to detail, even down to Miles' Timberlands, a staple of New Yorker winter wear.
"The team is just passionate about getting it right. If we didn't have the experience within the team we had to go outside and Evan was a big part of that, but then we went further," Horton explained. "We actually interviewed families in New York of mixed race compositions to say, 'hey here's what we have so far. Tell us what we got wrong.' And we got responses like, 'oh he would never talk to his mom like that, his mom would smack him if he said that' or 'you better get those dishes right, these are the foods that you better have on the table if you're talking about a Christmas dinner' or 'hey, you better have a little ceramic frog in the corner here' because all these little embellishments, these things were super important to the culture."
"You know we had to get bodegas right. Bodegas aren't organized, everything you need is there but only the people who work there or if you're a regular know where it is," Narcisse added. "The community feeling of a barbershop, these are social hubs where people get to know each other and the character of a neighborhood bubbles up, so for me with first-hand experience of being in those spaces I wanted them to come to life in this game."
"We found the resources to ensure that we were getting it right and the team's attention to detail like with the Puerto Rican flags. We didn't have enough Puerto Rican flags, we were told 'where are the Puerto Rican flags?'" Horton continued. "We said all right, let's make sure we're staying true to East Harlem and these features. And it's not just the macro details, it's not just murals and big stuff it's the small stuff all the way down to the tiniest details. The team took on the challenge of imbuing our whole game with this research and expressing it in the game."
One of those "macro" details was the inclusion of a Black Lives Matter mural that can be found in the game.
In recent years, the conversation surrounding police brutality and race relations has ramped up, but were amplified in 2020 with the murders of George Floyd and Breonna Taylor. The Black Lives Matter movement has seen its message spread and with Miles' background and Harlem having a large African-American community, the Insomniac Games team felt it needed to be included.
"It was an important decision for us to acknowledge that [movement], especially for a character with Miles' cultural background," Narcisse said. "In a place like Harlem where a lot of political and cultural activism and accomplishment has helped galvanize Black communities all around the world, I just felt like we had to do it and it wasn't just me. It means a lot for my daughter to play a game like this and see that mural and to have something I worked on have that kind of symbolism in it."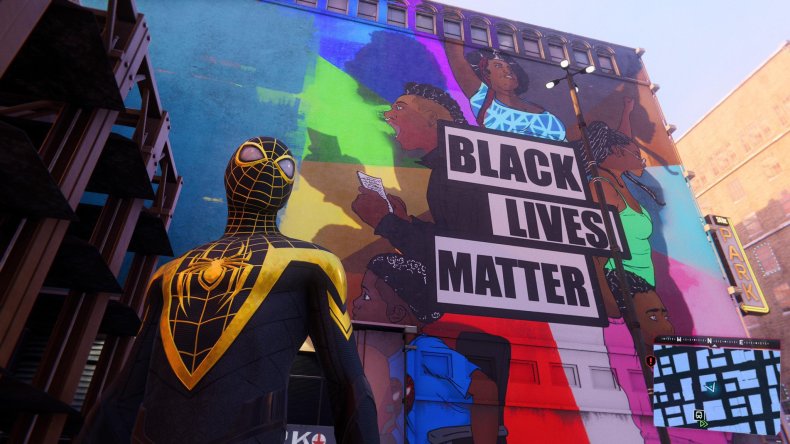 Those details and inclusions were also in the 2018 game. Remember the Pride Flags strung up across New York City? The BLM mural and other aspects of culture that can be found in Miles Morales are just continuations of what Insomniac Games hopes to bring to players; an experience that will stick with people, and it certainly has with me.
"At Insomniac our mission is to make a positive lasting impact on people's lives and we believe in creating characters of hope and goodness. We want to normalize that you should see any person, no matter what they look like, no matter where they come from embody these aspirational aspects and we love Miles Morales and we love Spider-Man and we think these games can do more than just entertain," Horton said. "They should be entertaining and should also say something and I feel like because the team, the love and respect into it that Miles Morales is more than the sum of his parts, it's more than just a superhero experience it's speaking to how do we aspire as a culture to move forward in a positive way."
"When you come from a black and brown community of color you know what it's like to yearn to see yourself, to see parts of your experience reflected with love and honesty. I know how I felt watching movies, reading a book, comic book, whatever and seeing and having that sensation of feeling seen and acknowledged and respected and I wanted people to have the same experience with this game," Narcisse explained. "We know what it's like to be in New York, we know how it's like to be in Harlem, we know how these communities in various fictions are stereotyped or understood in a really shallow way. We want to hopefully deepen our players' understanding of what it means to live in these places and to have Miles be the conduit to that. One reason Miles is such a great character is because you could be hood adjacent, but he doesn't have to be like the early Luke Cage comics. He was so thugged out in terms of his speech patterns and stuff, and I love Luke Cage but he wasn't a character that spoke to me like a kid who grew up like in Brooklyn and in the suburbs. I don't know anyone who talks like [Luke Cage]. What we want people to get from Miles is this is a kid who might be you, your son your nephew your cousin, who feels familiar and the way he moves through the world feels familiar and then, hopefully, we want the players and the audience to feel like you can be this same kind of hero. Heroes can look like you, anybody and can save the world and that's what we try to do with the game."
Spider-Man: Miles Morales is available now for PS4 and PS5.