'Spider-Man: Miles Morales' Treats Rio Morales Like a Hero, Too
When Spider-Man stories featuring Miles Morales are adapted from the comic books, typically, the young hero's mother, Rio, isn't represented well. Just look at her minimal screen time in Into the Spider-Verse or her very minor role in 2018's Marvel's Spider-Man—the matriarch of the Morales family is too often an afterthought.
In Spider-Man: Miles Morales, however, Rio takes on a much more important role in the young hero's life and journey. (This is your spoiler warning: Some story elements of Spider-Man: Miles Morales will be discussed in the story below.)
"We're making some deviations from the source material and Jefferson is gone, so this is a story about a single mom and her son and there's a lot to dig into," Ben Arfmann, the lead writer for Miles Morales told Newsweek recently. "It was really important that her character wasn't just about being a support blanket for Miles, she had to have her own thing going on, so we were excited to put her in this mode of running for city council, running to represent her neighborhood, being a hero in our own right, so that Miles can learn as much from her [about] what it means to be a hero for the people you love."
Brian Horton, the game's creative director, echoes Arfmann's thinking. "[Rio] played a role not only as mom, but she actually became an everyday hero. She's running for city council, she's coming back to her neighborhood and she sees that [the energy corporation] Roxxon's moved in and they're starting to tear away the fabric of the culture that she lived and grew up in."
Horton added, "So, seeing his mom fight the good fight running for city council who really pushes for ideals about what matters; family, culture, the people she cares about and that informs Miles."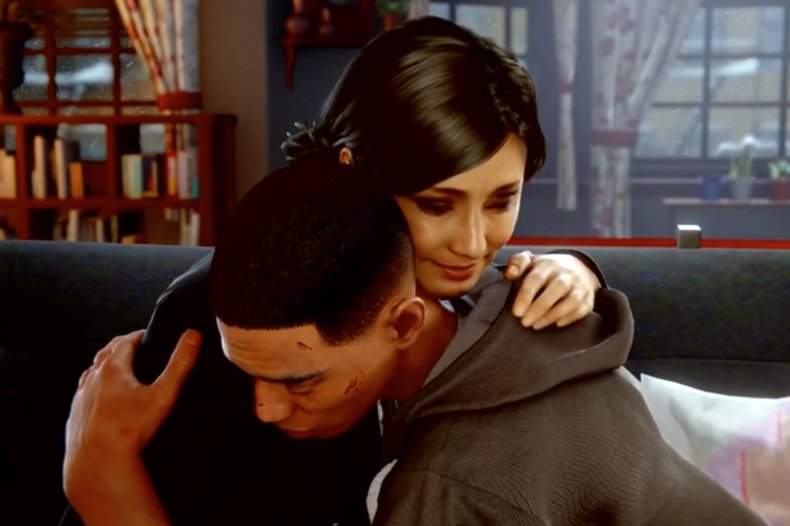 In the 2018 game, Miles' father, Jefferson, an NYC police officer, dies protecting the city and Rio is left to take care of her teenage son. So, in the follow-up, Rio moves the family to East Harlem, her childhood home, and runs for office in her community.
The choice to have Rio be involved in politics in a 2020 game was not lost on the creative team. Miles Morales was released on November 12, just nine days after the incredibly fraught 2020 presidential election.
However, it was actually the mood leading up to the election that led the Insomniac Games team to have Rio get involved with city politics.
"I think a part of [the decision] was, in the first game, the only form of politics we had was Mayor Norman Osborne, which wasn't necessarily super-positive—it was kind of cynical," Arfmann said. "When we started really getting into this game, there was an energy in the country, of people kind of waking up to the importance of local politics, being engaged with your community, making your own voice heard, but also helping other people make their voices heard. That really spoke to us on the team and it just seemed like a great avenue for Rio. Expressing this idea of being an everyday hero spoke to something that was happening [in the country]."
Bill Roseman, Vice President and Head of Creative at Marvel Games, told Arfmann and Insomniac Games that "the stories we tell at Marvel are about superheroes, but it should feel like it's happening right outside your window. In a world that you recognize."
Jacqueline Piñol, the voice of Rio Morales, was happy to see the game reflect real-world concerns. "With the timing, and from an actress perspective and only knowing what we knew at the time, I have to applaud Ben, Mary [Kenney] and the whole writing team, because they wrote a lot of this before all this stuff in recent months," Piñol said. "I remember doing voice-overs and thinking, 'I can't believe we're touching on this subject.' It was almost a little eerie and emotional for me because we are really living this [game] in real life and it goes to show you that there is a snowball effect when people in societies go unchecked. Or how we lose our sense of following rules and boundaries and respect for each other, so it was nice to see that in the writing."
Community plays a big role in Spider-Man: Miles Morales. The people, monuments and culture of East Harlem shaped Rio's character when she was growing up, and now all of those factors are helping to make Miles become a full-fledged hero in his own right.
"I get emotional talking about it. Coming from a Latina family, who didn't grow up with money, and as a Latina mom who grew up in communities around Hollywood and in New York, seeing our culture represented makes us feel a part of the world and being normal," Piñol said. "That really resonated with me because now I'm raising my son and it's different for me raising him because I'm able to give him more opportunities, to expose him to more things than I was as a kid. This [game] felt so all-inclusive, it was just really a special experience and I think that's what moved me."
Jefferson's death in 2018's Spider-Man forces Rio to serve as Miles' mom and dad—a fact that many families of color have to deal with.
"There was a lot of time and attention that was put to do a lot of in-home research with mixed-race families living in East Harlem," Arfmann explained. "We talked about all of our different characters with them and got takes on media representation, but a thing that we did talk about a lot with them, and we got great feedback on, was this dynamic between a mother and son, and a family from this background."
"Grief and dealing with grief is a big part of our story and that's real," Evan Narcisse, Narrative Consultant, said. "In communities of color, especially Caribbean, Black and brown communities, female figures are so important. Not just moms, but aunts and cousins, and godmothers. My godmother was basically a second parent for me growing up, and I think the way we approach Rio was a way to acknowledge all of that. This woman could just turtle up and be just about herself and her kid, and she'd be perfectly justified, but she decides to go for something bigger, because she knows that people around her are probably suffering in similar or different ways, and she's moved within herself to do something about it and Miles' sense of heroism comes from that, too."
Since Miles Morales is a superhero game, there's no shortage of action and plot twists that Rio figures into one way or another. But just as important are the little moments between mother and son.
"There's a scene that Mary Kenney, one of the other writers on the project wrote," Arfmann explained. "Earlier in the game, when Miles is at one of his lowest points ... and he is back in his room, and he's really questioning, 'Should I keep doing this and am I good enough to be Spider-Man?' At this point, Rio doesn't know that he's Spider-Man, she just knows that her son is having a hard time and she has a line, 'Our family doesn't give up, you know that Miles,' and it's those moments that I remember with my own mother, of being very direct, being very honest and telling you exactly what you need to hear is the most truthful thing in the moment that wakes you up. I always feel like I sit alongside Miles in that moment, listening to Rio saying that. Sometimes it seems dark outside, but the light is always coming and our job is to keep moving towards it."
For this writer, the most touching interaction between Rio and Miles comes after the credits rolls, when Miles is back in New York City and Rio calls. She asks how Miles is doing after the final moments of the story, after another character, Phin, has sacrificed herself and Miles isn't sure how to feel about what's gone down. Just like you'd expect from a caring mother, Rio gives Miles advice and says exactly what her son needs to hear.
"That's another Mary exchange between the two of them and the thing that makes me excited, not that I can say anything about the future, but these new, given circumstances—that Rio knows Miles' secret and can help him out with his Spider-Man life in addition to his Miles life," Arfmann explained. "I loved the fact that Jaqui was able to give mom advice about the superhero problem, about what to do about Miles' complicated feelings with Phin. A nice, good friend who did some things that he doesn't know how to process. It was really beautiful."
Spider-Man: Miles Morales is available now for PS4 and PS5.