Spirit Airlines Own Words Used Against Them in Bid to Block JetBlue Merger
The United States Department of Justice (DOJ) has filed a lawsuit to block the merger between JetBlue and Spirit Airlines due to concerns that the merger would lead to higher prices and fewer options for travelers.
This filing is part of the Biden administration's pushback against corporate consolidation.
Statista data shows that JetBlue's average ticket price is nearly double that of Spirit Airlines.
The DOJ argues that the merger would eliminate the 'Spirit Effect' in which Spirit's presence in the market forces other air carriers to lower their fares.
The United States Department of Justice (DOJ) parroted Spirit Airlines' own words in a lawsuit filed Tuesday to block JetBlue's acquisition of the low-budget airline.
Spirit Airlines agreed to the merger last summer, a move that would combine Spirit with JetBlue in a $3.8 billion deal. JetBlue competed with Frontier Airlines for months before succeeding in its acquisition of Spirit Airlines in July.
The DOJ took legal action Tuesday, suing JetBlue to block the merger. One of President Joe Biden's administration's goals is pushing back against consolidation, and the DOJ claims in its lawsuit that the merger would not be in the best interest of traveling Americans, likely leading to price hikes and less seats for cost-conscious travelers.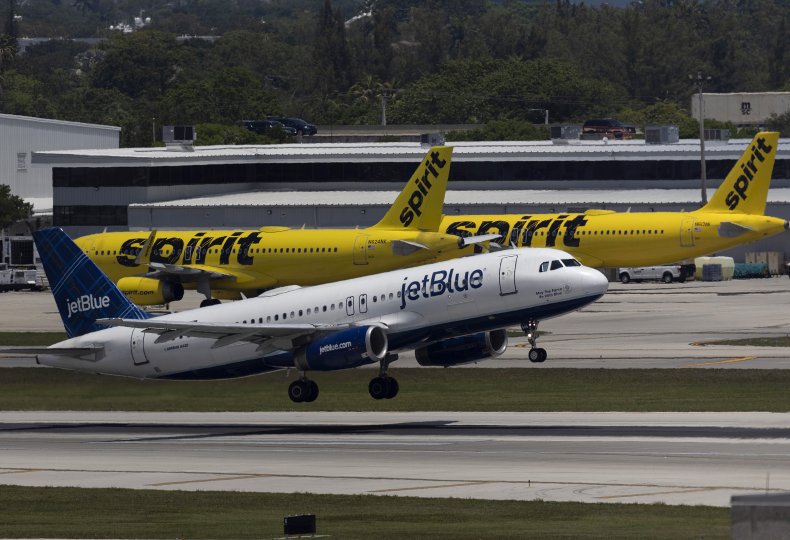 "JetBlue's plan would eliminate the unique competition that Spirit provides—and about half of all ultra-low-cost airline seats in the industry—and leave tens of millions of travelers to face higher fares and fewer options," the DOJ said in the complaint. "Spirit itself put it simply: 'A JetBlue acquisition of Spirit will have lasting negative impacts on consumers.'"
JetBlue maintains that the merger will be a "customer-centric, low-fare alternative" on its website and said the merger will bring "JetBlue's low fares and much-loved, award-winning onboard service to more customers and communities."
However, a report by Statista shared collective data that showed JetBlue's average fares were nearly double those of Spirit Airlines.
In 2021, the most recent data available on Statista, JetBlue's average airline ticket was a little more than $186. In 2020, JetBlue's average airline ticket exceeded $190. According to a Statista comparison of low-cost airlines in the United States, Spirit had an average domestic ticket price of $98, almost half of JetBlue's average.
The DOJ wrote that eliminating the fierce competition between JetBlue and Spirit would put higher-cost travel out of reach for many Americans who may opt for Spirit's "low-cost, no-frills flying option".
"JetBlue's acquisition of Spirit would eliminate the 'Spirit Effect,' where Spirit's presence in a market forces other air carriers, including JetBlue, to lower their fares. The deal also would eliminate half of the ultra-low-cost capacity in the United States. This will lead to higher fares and fewer seats, harming millions of consumers on hundreds of routes," the DOJ said.
Newsweek reached out to JetBlue and Spirit Airlines for comment.
Scott Wagner, an antitrust partner at Miami-based law firm Bilzin Sumberg, told Newsweek that he doubts the DOJ will pursue a settlement. Instead, if the DOJ continues with its ruling, Wagner said the merger won't succeed unless a judge rules otherwise.
Wagner said the DOJ has faced criticism in the past for allowing other airline mergers to proceed.
"So, I think it was very predictable that the DOJ would challenge this one," he told Newsweek.
Biden's administration has pushed back against consolidation, with Biden claiming the effort could help fight inflation, according to a report by Bloomberg.
Mergers In The News
In the fall of 2021, the DOJ sued to block a merger between Penguin Random House and Simon & Schuster. Penguin Random House would absorb Simon & Schuster in the merger, but DOJ officials argued the merger could negatively impact author pay.
The same year, according to an article by the New York Post, several House Democrats urged the administration to also investigate a merger between Live Nation and Ticketmaster that occurred in 2010. The lawmakers said the merger created an unfair monopoly for live ticket sales, and the claim gained steam in November 2022 when Live Nation's Ticketmaster system failed while millions of customers tried to purchase tickets to see Taylor Swift during her upcoming tour.
Update 03/08/23 5:02 p.m. ET: This article has been updated with comment from Scott Wagner.