'Spiteful' Bride Refusing to Let Stepdad Walk Her Down the Aisle Praised
Many women have dreamed about their wedding day since they were little girls, sometimes planning every detail in their heads, from veil choices to fancy cake toppers. But sometimes families, especially when they contribute to the expenses, try to force their own wishes on the couple, at the cost of ruining the big day for the bride and groom.
A woman was backed online after revealing that her mom called her "spiteful" for not accommodating her demands on her wedding day, saying she's not willing to compromise.
In a post shared Sunday on Reddit, the woman, under the username u/Unlucky-Aside-3033, said she lost her father when she was only 7. While she's still grieving that loss, her mom moved on pretty quickly, marrying her new husband two years later.
The poster said her stepfather tried in every single way to replace her father and ended up doing things that hurt her, driving her further away from him.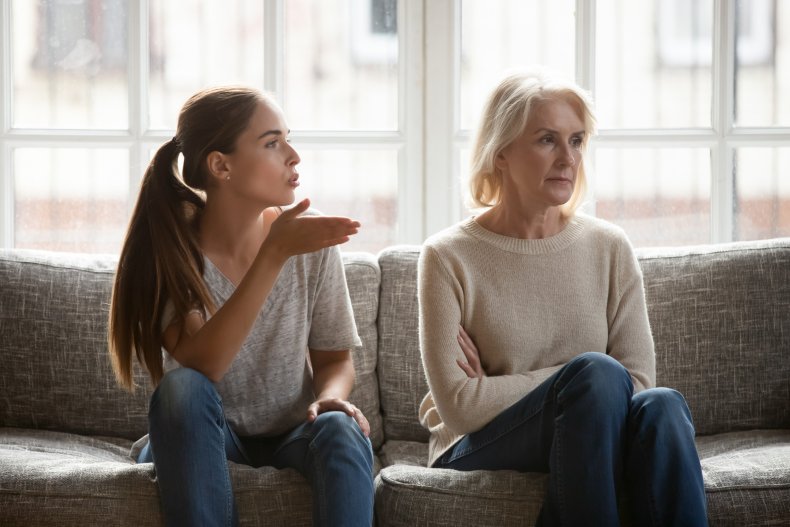 In 2021, among those 75 or older who had married at least once 58 percent of women and 28 percent of men had experienced the death of a spouse in their lifetime, according to the U.S. Census Bureau. Usually, there are more widows than widowers since women tend to live longer than men.
But after widowhood or divorce, many adults decide to go on with their life and remarry. Among those 70 or older, 22 percent of men and 19 percent of women had married twice, while 8 percent of men and 6 percent of women had married three times or more.
According to the Reddit post, the bride's mother incorrectly assumed her daughter would be asking her stepfather to walk her down the aisle. When her daughter told her that wasn't going to happen, she wasn't able to take the rejection.
"Over time she brought up how she and Luke [the stepfather] couldn't wait to see him walk me down the aisle and give me my father-daughter dance and how they were excited to be mom and dad of the bride. I told her none of that was happening. She told me it was always her dream though."
Not happy with her daughter's answer, the woman told her this had been her biggest dream since she discovered she was having a little girl. Her daughter politely explained to her that her dream will not come true because her father is dead.
"She told me it was still possible. There was still my [stepfather, Luke] and that he deserved it, they both did. I told her I was walking with my fiance and no father-daughter dance would happen. I told her he was not going to be listed as [the] father of the bride anywhere because he is not my father."
But her mom wasn't ready to let this go and showed up unannounced at her place, telling her how she had to make her dream come true. At this point, the bride-to-be, tired of her mom's relentlessness, told her the stepfather was "never going to be filling [her] dad's role," hurting her mom's feelings. The mother called her "spiteful," saying that her stepfather deserved better.
Chloe Carmichael, a clinical psychologist and author of Nervous Energy: Harness the Power of Your Anxiety, told Newsweek that on this occasion the bride's mother and her husband are being insensitive toward the young woman and her grief.
She said: "I can understand that everyone processes grief in their own way, and potentially for a young mother who had just become a widow perhaps it is helpful to give some latitude to her behavior during the writer's childhood.
"But at this point, the child has grown up and is getting married, so by now her mother should have matured and apologized for the way she handled things at the initial bereavement during the writer's childhood, but instead she seems to be doubling down. If there were ever a time for family therapy, this would be it," Carmichael said.
The bride can take comfort in knowing that her wedding day is the start of a new life with her partner, Carmichael said.
"She can let her mother and stepfather know what the boundaries are and take refuge in knowing that she has the love and support of a new family, where she can create healthy family dynamics. An old saying is that even if you did not come from a good family, you can still set your mind to create a good family, and now is her chance," Carmichael said.
Originally posted on the r/AmItheA**hole subreddit, where people discuss their actions with strangers, the post has so far received over 6,900 upvotes and 880 comments.
One user, Prize_Fox_9163, whose comment got over 9,200 upvotes, said: "[Not The A**hole]. You don't consider Luke as your father. Period. Your mom and Luke should accept it once and for all and your mom should also cease her emotional blackmailing."
And DatguyMalcolm added: "This! [Not the A**hole] to infinity! Maybe if Luke hadn't tried to replace your dad he'd be in a much better standing with you. Even if it was so, it is all down to YOUR decision. Be ready for the 'flying monkeys' to come at you about how you're being 'unreasonable' etc etc. I'd be ready [to] block the lot."
Another user, rainyhawk, commented: "I honestly can't get past the fact he cut up the Father's Day cards OP's dad had saved! OP is so [Not The A**hole]. Luke and your mom should have laid low those first few years and allowed some kind of natural relationship [to] happen between OP and Luke. The kids always are the last word on how they see/feel about a stepparent."
PearlJamSucksA** said: "This is seriously some next-level bulls***. My jaw dropped when I read that...dude is beyond clueless & delusional."
And Bitter-Conflict-4089 suggested: "I was at a lovely wedding once. The bride walked herself down the aisle carrying a photo of her late father. It really was beautiful."
Newsweek reached out for comment to u/Unlucky-Aside-3033 and could not verify the details of the case.
If you have a similar family dilemma, let us know via life@newsweek.com. We can ask experts for advice, and your story could be featured in Newsweek.