'Splatoon 2' Special Demo Gives Free Nintendo Switch Online for a Limited Time
Splatoon is one of the most recent first-party IPs in Nintendo's arsenal and the company is hoping to bring more people into ink-covered fold with a special free demo featuring Splatoon 2 .
For one week, Nintendo Switch owners will get to try Splatoon 2 for free. Players won't be able to access the full game, but there will be plenty of online features that give you a sense of what Splatoon 2 is about. With about 8 million owners, there won't be a shortage of players to team up with.
The Splatoon 2 Special Demo is available starting today in the Nintendo eShop. After downloading, players will receive an email with a Nintendo eShop code to activate a seven-day free trial for Nintendo Switch Online. You can use the code even if you've had a previous free trial.
Here's all the information you'll need to dive into Splatoon 2 including the start time and the special Nintendo discount you can receive.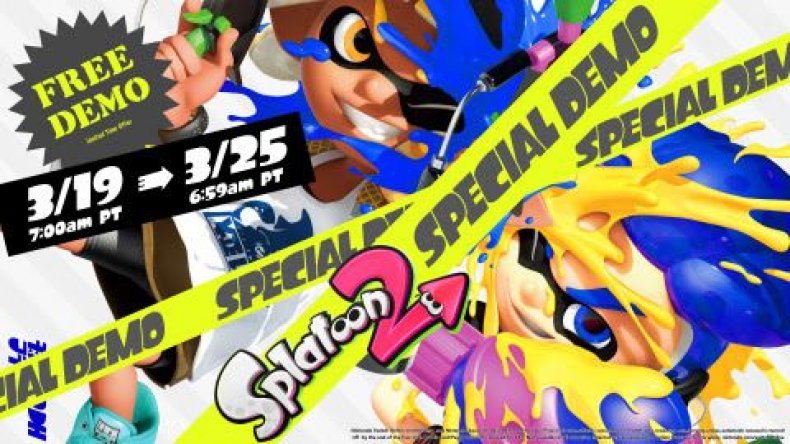 SPLATOON 2 FREE DEMO START AND END TIME
The special Splatoon 2 free demo will begin Tuesday, March 19 at 10 a.m. EDT and end on Monday, March 25 at 9:59 a.m. EDT.
WHAT CAN YOU DO IN THE FREE SPLATOON 2 DEMO?
There will be four online game modes to access during the free Splatoon 2 demo.
Four-on-four Turf War battles, the most commonly played mode, will be available as you and your team try and leave your mark on the battlefield. If your team's color covers the most area, you win.
Salmon Run pits you and your team of four against the terrible salmon of Splatoon. Take them out with your ink weapons while also collecting salmon eggs to earn money and gear.
League and Ranked Battles will also test your skills against some of the most competitive players and teams in the game.
Players will also be able to customize their character and weapons of choice.
SPLATOON 2 DISCOUNT
If you enjoy Splatoon 2 and wish to purchase the game digitally after the demo, you'll get a 20 percent discount. Also, your save data will be transferred to the full game so you'll keep all the money and gear you earn during the week-long trial.
What do you think of this special demo? Have you tried Splatoon 2 in the past but want to try again? Let us know in the comments section below.