Sponsors of Detained Migrant Children Forced to Pay Huge Transportation Fees
Those sponsoring the migrant families and children detained by federal immigration authorities are being forced to pay huge transportation fees to bring released children into their care.
One Rhode Island couple sponsoring a Guatemalan mother and child seeking asylum in the U.S. told Newsweek they were forced to pay for an expensive last-minute flight once they received approval of their sponsorship application from Immigration and Customs Enforcement (ICE).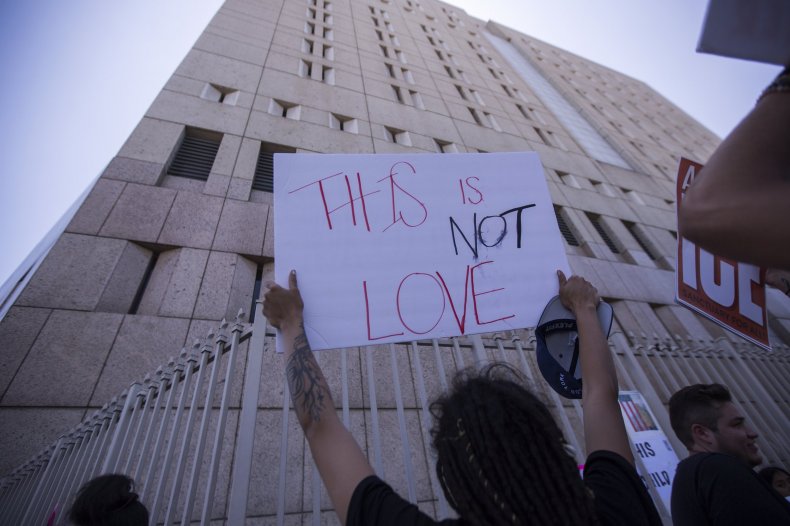 The couple, whose names have been withheld to protect the anonymity of asylum seekers with applications still being processed, said they had to submit documentation verifying their residence and income, as well as at least six letters of support from members of their community.
Not long after, they received a phone call from ICE confirming their application. They were told they would receive another call on how to get in touch with the asylum seekers they would be sponsoring.
The couple said they received a text message from ICE written in Spanish four days later instead, telling them "in somewhat threatening language" that they had a "very narrow window" of time to arrange flights for the mother and her child, or they could miss their chance.
The couple said they received the text message on a Monday and were given until Thursday to arrange a costly last-minute flight through Delta Airlines, which they said provided an escort to help the mother and child locate their sponsors once they arrived in Rhode Island.
The couple is far from alone in having to pay high transportation fees to be united with those they are sponsoring.
The New York Times reported on Sunday that families of migrant children separated from their parents and being held in the custody of the U.S. Department of Health and Human Services (HHS), are being forced to pay high transportation fees in order to take young ones into their care.
Families trying to obtain the release of detained children told the newspaper they have been forced to show documents proving they are related to the children they are meant to sponsor, as well as proof of income.
After providing the documents, families have then had to cover the costs of expensive and often last-minute flights, sometimes paying thousands of dollars.
In one case, a woman from El Salvador told the Times she was forced to pay $4,000 in order to fly her niece from a shelter in Texas to California. In another, a construction worker living in Los Angeles said he had to pay $1,800 to fly a relative from Houston to Los Angeles.
The construction worker, Marlon Parada, said he had asked for federal authorities to put his relative "on a bus," but said they refused and demanded that he arrange a flight.
Under the policy manual of the Office of Refugee Resettlement, a branch of the HHS, sponsors are required to pay for transportation costs of children and their escorts, along with any fees charged separately by airlines for the transport of unaccompanied minors.
The policy was also in place under the Obama administration, but it was waived in 2016 when the U.S. saw a surge in border crossings, boosting the number of people being held in migrant shelters and detention centers.
Related: Five immigrant children sue Trump administration over "jail-like" detention conditions
Under the Trump administration's recently rescinded "zero tolerance" practice of separating families caught crossing into the U.S. illegally at the border, as many as 2,300 children were separated from their parents.
While some of those children have already been reunited with their families, many are still believed to be in HHS care.
After a District Court ruling ordering the Trump administration to reunite children separated from their parents within 30 days, the HHS told Newsweek it would not be providing "detailed breakdowns" on how many children separated from their families were in its care.
The department would only provide the total number of unaccompanied immigrant children in its shelters, which the agency placed at 11,869 as of last Thursday.