Arsenal: Alexis Sanchez Wants Out, So Where Now For The Disaffected Forward?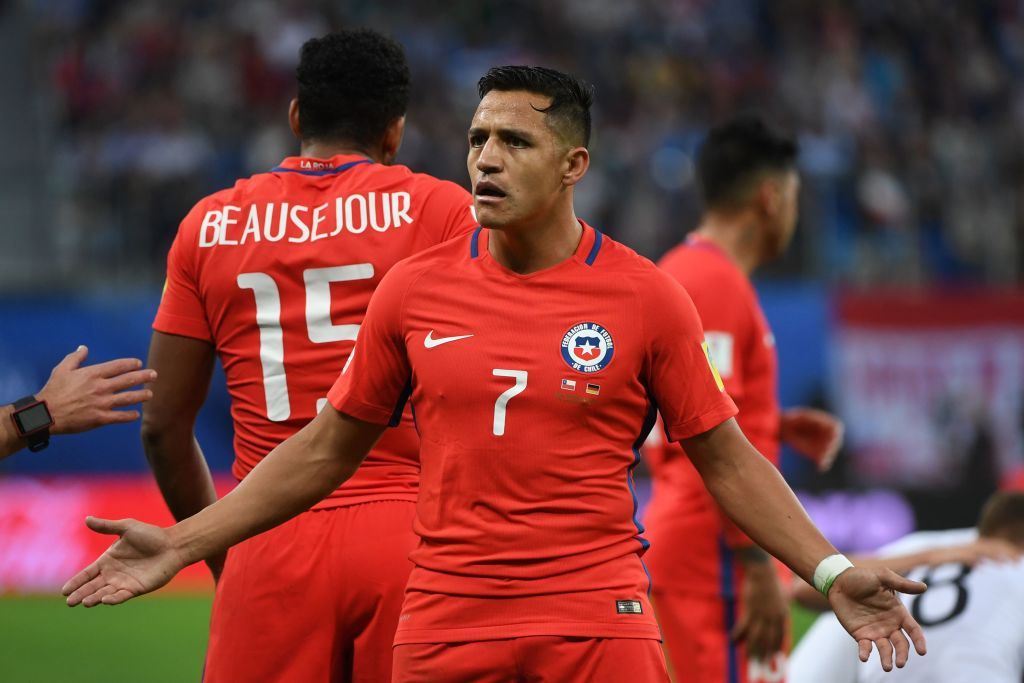 Alexis Sanchez has signalled his desire to leave Arsenal in order to play in the Champions League next season, according to reports.
The Chilean forward has just one year remaining on his contract at the Emirates Stadium, but has expressed his desire to win Europe's top club competition, which would not be possible with Arsenal until May 2019.
Arsene Wenger's team finished fifth in the Premier League last season and failed to qualify for the Champions League, leaving Sanchez's future uncertain. The former Barcelona forward has been linked with moves to Premier League rivals as well as abroad, but he says the future is not just up to him.
"The decision isn't only mine, but I have already made a decision," Sanchez said, as quoted by the Daily Mail. "Now, I'm waiting for Arsenal to reply and tell me what they want."
Related: How Will Arsene Wenger's New-Look Arsenal Team Line Up Next Season?
Asked what he wanted to do, Sanchez said: "Playing in the Champions League and to win it. It's a dream I have had since I was a kid.
"For now I'm at Arsenal, my contract ends next year."
So, where could the 28-year-old end up by the end of the summer? Newsweek takes a look:
Manchester City
In 2011, Sanchez was signed by Barcelona from Udinese by then-manager Pep Guardiola in a deal believed to be worth £23 million (about $30 million). The two men spent just one season together at the Camp Nou, winning the Copa del Rey before Guardiola left for a sabbatical. Now, they have an opportunity to be reunited in England. Guardiola's City is said to be keen on signing Sanchez but meets resistance from Arsenal, which wants to avoid strengthening a Premier League rival.
The problem at the Etihad Stadium, however, is a lack of space. Guardiola's attack is packed already, including Sergio Aguero, Gabriel Jesus, Kelechi Iheanacho, Wilfried Bony, Raheem Sterling, David Silva and Leroy Sane.
Chelsea
Unlike City, Stamford Bridge is desperate for a forward capable of scoring goals to defend the Premier League title. Antonio Conte's Chelsea missed out on Romelu Lukaku to Manchester United after the Italian told Diego Costa, the team's top scorer last season, that he was not in his plans for the following season. The prolificity that the Chilean offers—he scored 30 goals for Arsenal last season—would ease Chelsea's concerns.
To poach Sanchez from across London would be a coup for Conte, but, equally, extraordinarily difficult. Chelsea has the money but, like City, Arsenal will not want its greatest asset improving a rival club.
Bayern Munich
The giant of German football can offer Sanchez the Champions League football he craves, as well as the chance of lifting the trophy. Bayern has reached at least the semi-finals in five of the last six seasons, winning the trophy in 2013. Carlo Ancelotti's team offers a way out for Sanchez, a move that may appease Arsenal as it is not a direct rival to the Gunners.
The problem for Sanchez, however, is that Bayern signed James Rodriguez on a two-year loan deal from Real Madrid last month, meaning the Bundesliga club may not be able to afford the £400,000-a-week wages he is reported to be demanding.