Controversial Golf Commentator Peter Alliss Considers Calling It A Day After 56 Years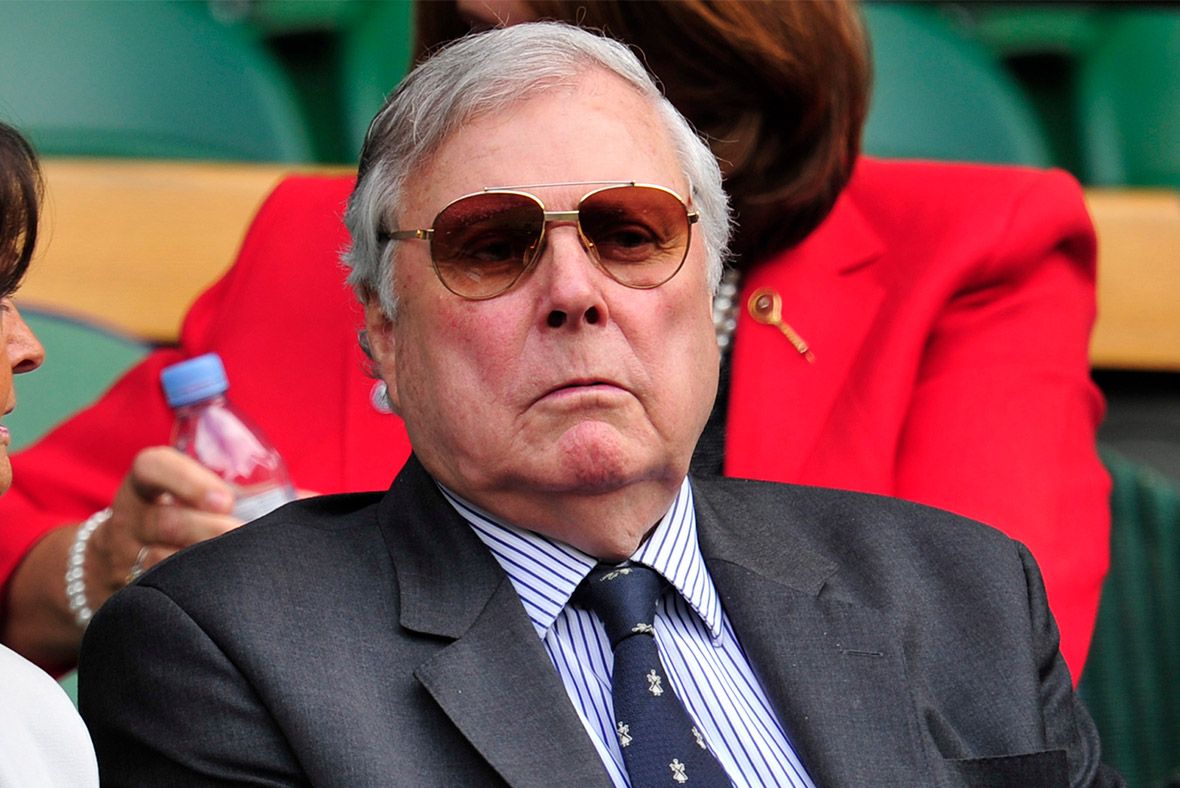 On a wet morning in late March, the door to Alliss' Bar at Hindhead Golf Club, in the south of England, opens, and in hobbles the man himself. Peter Alliss, widely regarded as the "voice of golf," makes his way across the room with a walking stick, his foot wrapped in a bandage and covered by a blue protective boot, before easing himself down onto a chair. With a wink, he says, "I'm still dangerous from the neck up, you know." His critics would no doubt agree.
In February, he marked his 86th birthday by having an operation to realign pins inserted into his ankle following a fall 12 years ago. But neither injury nor age is likely to stop him getting to the commentary box at Augusta National Golf Club in the state of Georgia for the start of the Masters, the first golf major championship of the season, which starts Thursday.
But it won't be easy. A lot of planning and effort—not to mention wheelchairs—go into getting him to each tournament now. Alliss has worked for the British Broadcasting Corporation (BBC) for 56 years but says this year could be his last. "When I get to the point where I see something and I can't respond, I'm interviewed and I have no words to say, and this is all getting fuddled," he says, tapping the side of his head. "I'll go before I'm pushed."
When that time comes, Alliss will leave behind a legacy as one of the most unique sports commentators of the past four decades. His distinctive purring has proved irreplaceable and earned him a place in golf's Hall of Fame. The Daily Telegraph once wrote: "When it comes to painting a picture with words, he's nothing short of Rembrandt."
His nickname as the "voice of golf" makes Alliss recoil in embarrassment, his heavy jowl shaking and grey eyes lowered. "I don't look for honors," he explains, evident through his rejection of an OBE for services to golf in 1993. "I didn't think I'd serviced golf. I still don't. That's just my job; that's how I earn a living." How does he want to be remembered, then? "Oh, I don't worry about things like that. I just want people to think, 'He was fun.'"
Not everyone would agree with that assessment. While Alliss remains revered by golf fans around the world, his reputation has been muddied in recent years by controversial comments that have led to accusations of sexism and racism.
In 2002, Alliss described Japanese golfer Shigeki Maruyama as "the wily Oriental" but insists he thought the term meant "a bit cute and clever." In 2015, as Zach Johnson closed in on the Open Championship at St. Andrews, and the camera focused on the American's wife, Alliss remarked: "She is probably thinking, 'If this goes in, I get a new kitchen.'" The comment sparked outrage on Twitter. LeslieAnne Wade, manager of Nick Faldo, wrote: "Can't believe he can say this! Sexist Alliss." Broadcaster Piers Morgan agreed, calling the commentator a "ludicrously sexist old duffer." The BBC subsequently apologized for Alliss' words but the man himself said nothing.
Two years on, Alliss tells Newsweek that he doesn't believe the reaction would have been the same if he had said "a new coat, or a new car, or we'd be able to move into that grand house. It's just nonsense." Alliss may be an icon of the sport but it can seem like the modern world has swiftly passed him by. He prefers to describe his views as "traditional" and insists he's "no dinosaur," as he has been described.
The latest controversy surrounding Alliss came last year when he suggested women who wanted to play at Scotland's Muirfield Golf Club, a male-only facility at the time, should marry a member to gain entry. In May, members of the club voted against widening allocation to women but then reversed the decision on March 14 this year, after being taken off the Open championship rota.
Muirfield may have changed its mind on the long-standing policy—but Aliss has not. "It was just a ridiculous situation there," he says. "They've always had a hundred women members…Well, 'members' — wives of members play for nothing. That's never reported, you see. Right or wrong, women don't exist at Muirfield. But the wives of members have all the facilities except the big room where the men have lunch on the big table and everything."
He recalls having a daily coffee with "the girls"—Alliss is referring to the wives of members—during the last Open held there in 2013. "So now they've done this, I said to one of the ladies, 'You're going to have all new members.' 'Oh God, Peter, we don't want any of them here.' 'Why?' 'Because it will cost my husband about 15,000 quid the first year, and we really don't have £15,000 to waste on me being a member when I can come here for nothing.'"
The only argument against this, Alliss says, is that women should be given equality through access to male-only clubs. "But men can't go wherever they want in women's clubs," he adds. "There are over 700 exclusive women's clubs in this country. Men don't batter down the bloody doors trying to get in. I've never seen crusades like this. There's just a few agitators who start it: you get the ball rolling and, 'Yeah, that's quite right.'"
Many would dispute that characterization of the situation, since the concept of "reverse sexism" ignores systemic gender inequality. (Today, women are still making less money than men and hold just 4.8 percent of CEO positions.) As one commentator puts it, "there has never, ever, ever been a national law or system put in place to systematically oppress men or push them to a lower status."
Critics say that Muirfield only overturned its policy after being removed from the Open championship rota, forcing the club to make the decision. Northern Irishman Rory McIlroy, ranked second best golfer in the world, seemed to agree when he said he wouldn't "have a great taste in my mouth" the next time the British major is held at Muirfield. "What a stupid thing for a bright lad to say," Alliss says. "Better [to] say nothing: 'Oh, well I'm pleased for them, whatever they want' and just walk away. I can get into arguments now because I'm eighty-bloody-six."
And Alliss isn't holding back. "No matter how you wrap it up, women will never be able to do things that men can do," he says, when asked what he meant by claiming that equal rights in golf was "causing mayhem." "If we want to be equal, are you going to get a woman fighting for the heavyweight championship of the world [in] boxing? Are you? Could you? If you want perfect equality. I don't like to see women punching each other in the chest. I don't like it. I think it will cause irreparable damage. They talk about footballers heading balls but punching each other in the breasts for six minutes doesn't seem a sensible thing to do. There's certain things that women do that we can't do, as far as I'm concerned."
His evidence for the theory comes from a television program called Ice Road Truckers. Alliss explains how the female presenter, Lisa Kelly, struggles with the weight of the load on her truck when it comes loose. "She can't do it totally on her own. She's a wonderful driver but you've got to accept there are certain things…" He's tapping his finger on the table. "I'm not talking about being a lawyer or an accountant or anything like that."
Next, he moves on to his dislike of tattoos and social media. He asks why someone like BBC presenter and former England footballer Gary Lineker "Twitters about every-bloody-thing." He doesn't really like the current world, he says. "I don't think it behaves particularly well. That's just the way I was brought up."
Alliss has concerns at the way media interviews will be perceived. "See, you're a dangerous fella, because you might write a load of old crap about me and you might say he's sitting there like an old dinosaur, and that's the risk I take talking to people." But Alliss doesn't seem to need prompting to offer controversial opinions.
"Those are my views," he says. "I think women are more delicate than men. I like holding chairs for women. I enjoy the company of women. I don't want to be bullied by them. I don't care for macho women, I don't care for them very much. And yet they're prevalent today, and very prevalent in some cases. And very forward."
The words are unfiltered—and its speaker unrepentant. Does he regret any of his controversial comments? "Not at all," Alliss says.
It's time for him to return home to have the dressing on his ankle changed. "Next time you hear from me I'll be in the GA [Georgia]," he says, as he pulls himself up to leave. "I'll try not to be too much of a dinosaur, but remember: Dinosaurs are making a comeback. We're going to clone them, you know."