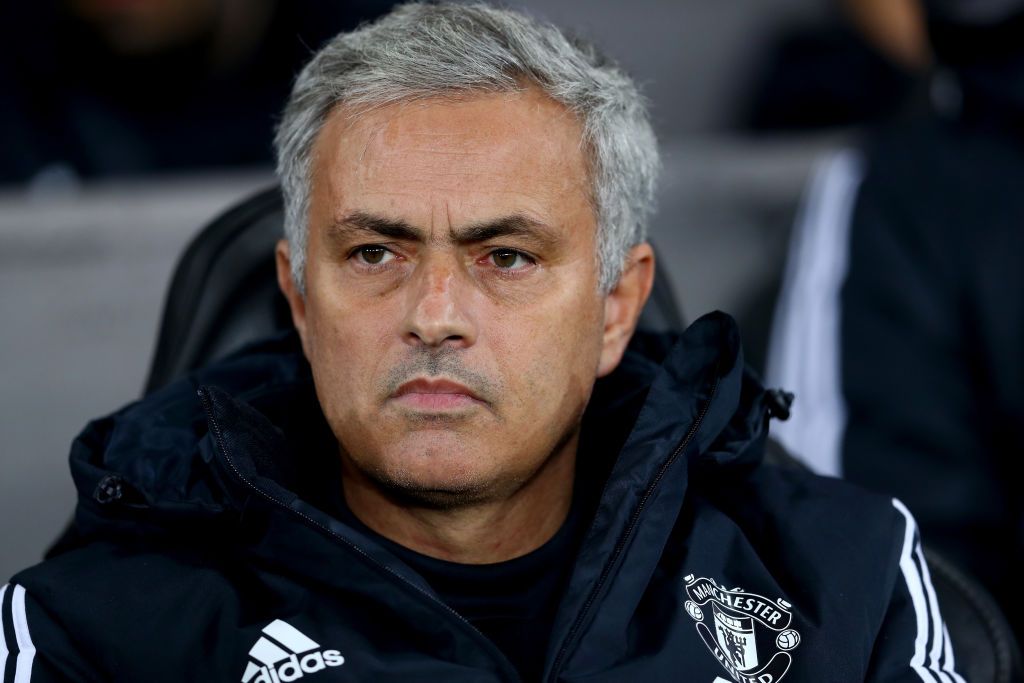 Alvaro Morata scored a superb header to see Jose Mourinho lose a third consecutive game at Stamford Bridge and fall eight points behind Premier League leader Manchester City.
The Spanish striker met a Cesar Azpilicueta cross in the 55th minute with a powerful header that looped over David de Gea and won the game for Chelsea with his eighth goal of the season.
City's 3-1 win over Arsenal earlier in the day meant United had to win in west London, but many now see the title race as practically over.
Antonio Conte's team is within a point of Manchester United in the table now, in fourth. Here are five things Newsweek learned from the game:
David Luiz Dropped For Andreas Christensen—And Rightly So
It could have been any of Conte's back line. So far this season the Chelsea defense has been a shadow of last season, with the trusty Cesar Azpilicueta showing signs of uncertainty and Gary Cahill prone to mistakes, but it was David Luiz who was cut. Not just from the team but the squad. A sign of how frustrated Conte has been this season with how his resolute defense of six months ago looks to be strangers. So in came the Dane Andreas Christensen, and fully justified it was. Composed and trustworthy, the 21-year-old kept the back line in order with Cahill to his left and Azpilicueta to his right. He could have even helped Chelsea at the other end when he headed over from a corner just before halftime. It will have made worrying viewing for Luiz, though.
What Mourinho Says And What He Means Can Be Entirely Different
The memories of Chelsea fans will, Mourinho says, eventually fade. Before his second return to Stamford Bridge since becoming Manchester United manager, Mourinho insisted his time in west London will soon be forgotten and the significance of his return will wane. "In a couple of years it will be even more natural and in four or five years probably no one will remember that I was Chelsea manager and it becomes absolutely normal," he said. But until then, he will make sure he's remembered. Mourinho appeared from the tunnel at Stamford Bridge well before kick-off on Sunday, standing at the entrance. He greeted each and every Chelsea player as they arrived, and waited for Antonio Conte to shake hands, his dominance asserted.
Related: Jose Mourinho still texts me and I could have joined Man United, Says Alvaro Morata
Álvaro Morata vs. Romelu Lukaku—How Different it Could Have Been
In an interview with Newsweek this week, Álvaro Morata revealed that he could have been playing at Old Trafford this season and that he has remained in touch with Jose Mourinho, his former coach, via text message. "It's good and I appreciate these things because he was my first coach," Morata said, "but now he's—not my enemy—my rival." And so it proved to be, his bond with Mourinho insignificant when Cesar Azpilicueta delivered a whipped cross in the 55th minute. The friendship didn't matter when Morata met the ball and sent it looping over a helpless David de Gea and into the net.
Mourinho's Plan B? Send on Fellaini, Send it Long
Moments after Chelsea took the lead, Mourinho was ready to react Marouane Fellaini and Anthony Martial was prepared and sent on to Phil Jones and Henrikh Mkhitaryan, the intention clear. Immediately, United began to send the ball up toward the fluffy frame of Fellaini. Marcus Rashford almost benefitted when the towering Belgian knocked the ball down to him, only to see his shot deflected away. Fellaini's cameo was short and rather painful. Although not fully fit, the Belgian was booked for catching Morata with an elbow and almost allowed Chelsea to double the lead when Bakayoko nicked the ball from him but sent his effort wide. The story could have been entirely different, though, as Thibaut Courtois saved low from a Fellaini shot with just a minute remaining.
Chelsea Rediscovers Balance With Kante Return
The headline news for Antonio Conte ahead of kick-off was the return of N'Golo Kante to his starting line-up. Kante has watched from the sidelines for almost a month as Chelsea verged on implosion; the defeat to Crystal Place, fortunate victory over Watford and embarrassment in Rome. And his importance to this team was clear on Sunday. Not only his industrious nature in midfield that saw United overwhelmed and outnumbered, but his link to attack. He is both the pen and eraser. Romelu Lukaku was given the job to reduce his impact, Mourinho imploring the Belgian striker to drop in onto Kante when Chelsea had possession.
Uncommon Knowledge
Newsweek is committed to challenging conventional wisdom and finding connections in the search for common ground.
Newsweek is committed to challenging conventional wisdom and finding connections in the search for common ground.