'Things That Make White People Uncomfortable': Michael Bennett Talks New Book After National Anthem Protest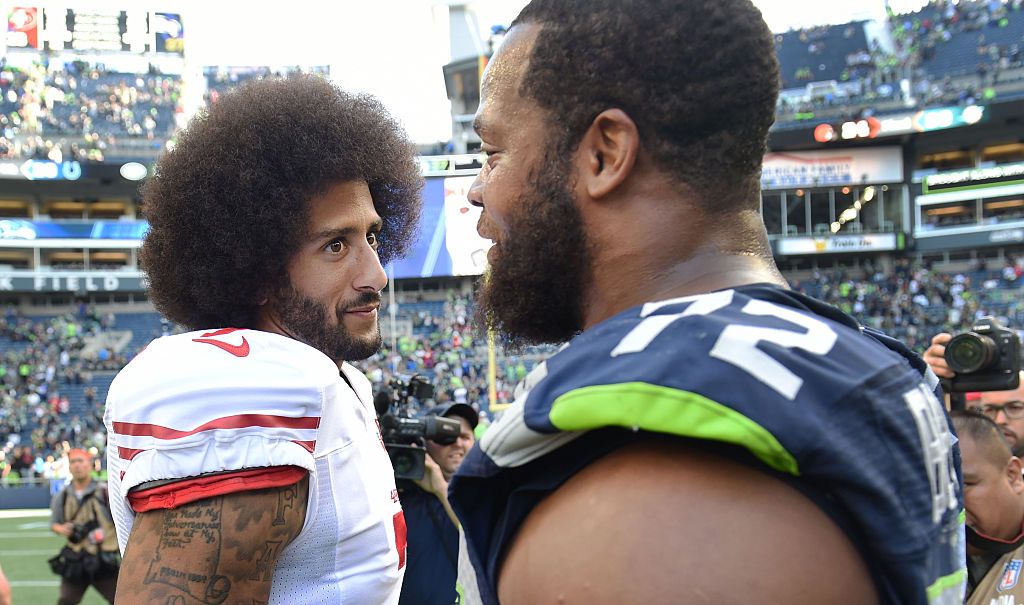 Seahawks defensive end Michael Bennett believes his new book, Things That Make White People Uncomfortable, will help "start a conversation," according to reports.
The 31-year-old followed his fellow NFL stars this weekend in protesting during the national anthem. Like Oakland Raiders running back Marshawn Lynch on Saturday, Bennett sat down during the anthem on Sunday ahead of the Seahawks game against the Los Angeles Chargers.
Both Lynch and Bennett were moved to react after the violence in Charlottesville, Virginia, involving far-right groups and white nationalists. "The last week, with everything that's been going on in the last couple months—especially after the last couple days seeing everything in Virginia... [I] just wanted to be able to continue to use my platform to be able to speak on injustice," Bennett said, as quoted by The Guardian.
"First of all, I want to make sure that people understand I love the military. My father was in the military. I love hot dogs like any other American. I love football like any other American. But I don't love segregation. I don't love riots. I don't love oppression. I don't love gender slander. And I just want to see people have equality that they deserve."
Related: Spike Lee Backs Rally For Quarterback Colin Kaepernick
NFL quarterback Colin Kaepernick was the first to protest against the national anthem by taking a knee. But Kaepernick, who is now without a team ahead of the new season, was criticized and accused of disrespecting the American armed forces.
After the game, Bennett spoke about his upcoming book that he hopes will spark a new conversation in the United States. The title, Things That Make White People Uncomfortable, is considered controversial, but Bennett insists it is meant to catch people's attention.
"I think the title is just a title to start a conversation so people want to read it," he said. "The book I'm focusing on is issues that I see that are important in America, and they are my views and opinion."