Real Madrid Targeted English Players To Tap into Asian Market, Former President Tells Newsweek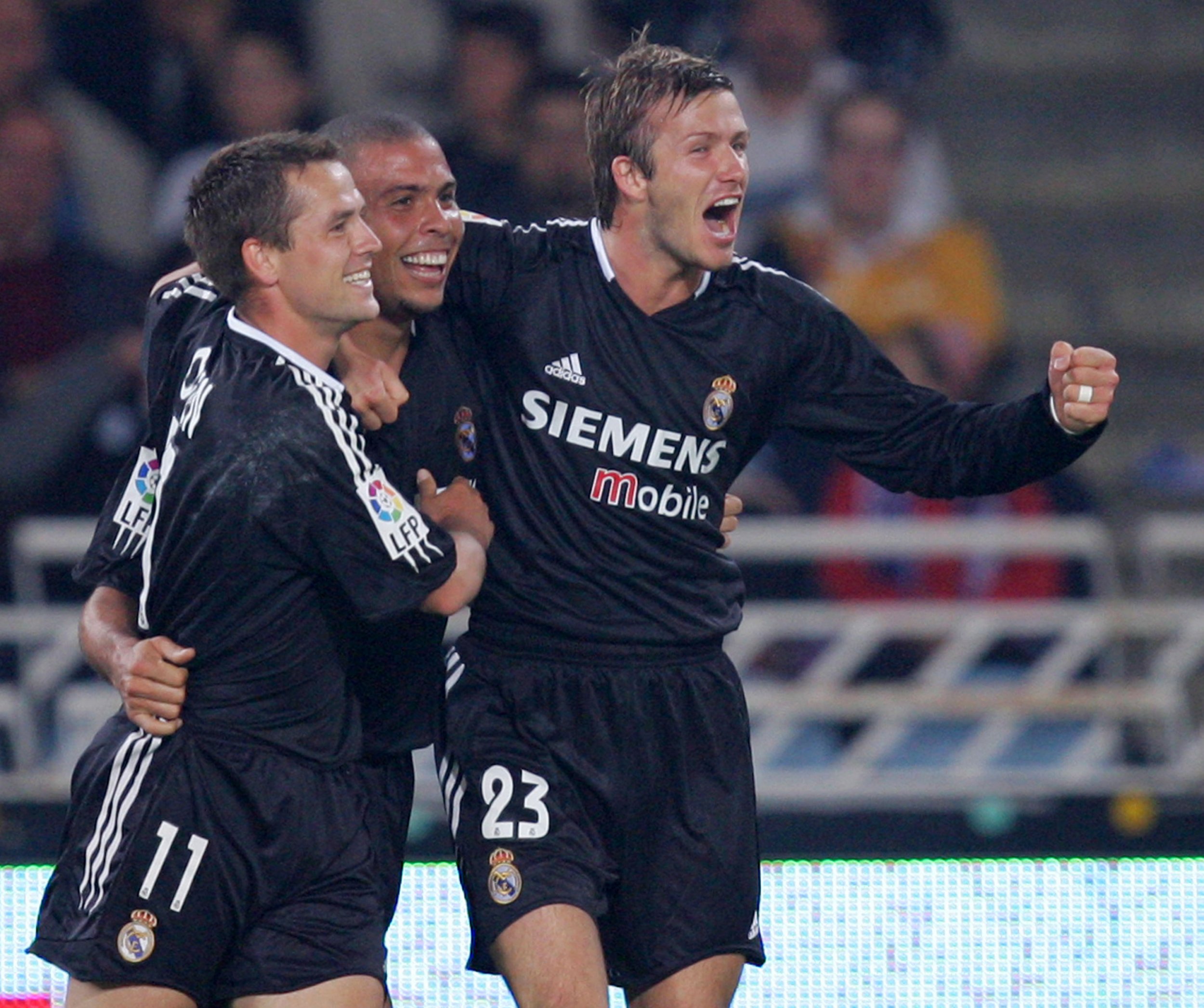 Real Madrid targeted transfers for English players in the early 2000s as part of a push to expand into the Asian market, according to former club president Ramon Calderon.
David Beckham, the former Manchester United and England captain, was unveiled to 1,000 journalists at the Santiago Bernabeu Stadium in July 2003. The event was held at 11 a.m. in order to fit in with Asia's evening news broadcast, Calderon says. Michael Owen and Jonathan Woodgate, both England internationals, followed Beckham to the Spanish capital in 2004.
Calderon, who was president of Real Madrid from 2006 through 2009, says the board saw the popularity English football, and therefore English players, had around the world. It believed bringing these players to Spain would attract lucrative sponsorship. "We have signed some players, for example Owen [and] Woodgate, because they were English, and at that time it was important to have as many English players as we could," Calderon told Newsweek .
"Owen came when he had got the Ballon d'Or but [it] wasn't really the moment to sign him. It's true in those cases—Owen, Woodgate—that the commercial point of view was really much more important than the aspect of them as football players at the time."
Neither Owen or Woodgate's time in the sun ended in success. Despite having a respectable scoring record in Madrid, Owen left after a year to join Newcastle United, while Woodgate made just nine appearances for Real Madrid in four years after struggling with injuries.
But success of the players was not paramount. "We knew that English players are very important for the Asian market," Calderon explains. "[English] culture is very well-rooted there, so the Premier League and English players are well-known, and they sell the brand of the club they are playing for."
This admission from Calderon comes after current Real Madrid president Florentino Pérez was quoted on Monday admitting the club looks at the commercial prospects of each new signing. "In our model, it is fundamental to understand that in the signing of every player, we have to have in our heads: what's the income generated?" Pérez said in an interview with Columbia Business School professor Steven Mandis, as quoted by the Daily Mail.
This system, Calderon says, was introduced in 2002 when he joined the Real Madrid board, as part of an attempt to bring in greater revenue and help the club recover from its poor economic situation.
Real Madrid's Ciudad Deportiva training base was sold off to pay off debts, Calderon says. The board then had to work out how to continue creating revenue, thus the Galacticos were formed. "We knew we needed to bring to the club good players, renowned players, to attract the sponsors and the big brands," Calderon says. "That's why we signed Ronaldo, [Luis] Figo, [Zinedine] Zidane, Beckham, because with those players we managed to turn [around] this very bad economic situation we had."
Beckham, a regular in both the front and back pages of newspapers in the early 2000s, was signed from Manchester United. "The idea was [aimed at] the combination, with good players and good image, like in the case of Beckham," Calderon says. "We knew, for example, English players had more interest for the people.
"When we introduced him to the press it was in 2003, nearly 1,000 journalists came. We did that at 11 a.m. because he could make the broadcast news in Asia where he is very popular. That day we sold 8,000 shirts. The idea was that those players really gave a lot of interest from around the world and that could attract the sponsor to be on the shirt." Calderon says the importance of commercial value to footballing ability in the case of signing Beckham was "50-50."
"I wouldn't say we signed him because of his name or his popularity, not only for that. If he hadn't been a good player we wouldn't have signed him, but it is important that he could attract a lot of sponsors and, therefore, money for the club."
This proved to be a successful strategy. When Calderon was elected president in 2006, following Pérez's resignation, he agreed a series of lucrative deal. Money from television rights was increased from £60 million ($74 million) to £135 million (£168 million); beIN Sports was signed as a shirt sponsor for £20 million ($25 million), doubling the current deal from BenQ; and Adidas increased its sponsorship from £40 million ($50 million) to £65 million ($81 million).
Despite officially moving to Real Madrid in 2009—after Calderon had resigned as president—the Spaniard says he was behind the world record signing of Cristiano Ronaldo from Manchester United. The deal with the Premier League club, he says, was completed in December 2008 and officially unveiled in June the following year. But Calderon says Pérez, who returned that summer as president, didn't believe Ronaldo would be commercially lucrative.
"My intention was to have him because he was the best with [Lionel] Messi. We couldn't sign Messi for obvious reasons: he was with Barcelona. But I knew he was the player, he was the one to come," Calderon recalls. "When Florentino came and saw the contract he didn't want to keep it because he thought he wasn't the right man, commercially speaking. Fortunately, he was convinced by [general manager Jorge] Valdano at the time to keep him."
Ronaldo, who turned 32 on Sunday, is now a four-time Ballon d'Or winner, helping deliver one La Liga title and two Champions League trophies to Real Madrid in seven-and-a-half years. The Portuguese forward reportedly has a five-year contract with Nike worth £10 million ($13 million), a footwear brand called CR7 that is valued at £27 million ($34 million), plus ROC headphones worth £16 million ($21 million).
Real Madrid's approach to signings, Calderon says, cannot be compared to any other club in world football. Despite Manchester United's marketing of Paul Pogba after he signed for a world record fee last summer, Calderon believes the Premier League club signed him solely down to potential, to help push United on for football reasons rather than financial.
"I think it's the wise thing to do," he says, "the right thing to do, to sign players because you think they will help you win titles."