LeBron James, Bubba Wallace Other Sports Stars React to Derek Chauvin Guilty Verdict
A Minnesota jury on Tuesday afternoon found former Minneapolis police officer Derek Chauvin is guilty in the death of George Floyd last year. The jury found Chauvin guilty on all three counts of second-degree murder, third-degree murder and second-degree manslaughter.
Chauvin is the former Minneapolis police office seen kneeling on George Floyd's neck for nearly nine minutes. Floyd died while in police custody in May of 2020. Chauvin didn't take the stand during the trial, and the jury only deliberated one day after the closing arguments from both sides were presented Monday.
A video showed Chauvin kneeling on Floyd's neck for nearly nine minutes last year, and Floyd's last words heard on the video were "I can't breathe."
Sports figures reacted to the verdict reading Tuesday afternoon.
The NBA last weekend told its teams to be vigilant in their reactions once the Chauvin verdict was announced. Should there be riots and protests, it could lead to a night or two of league games getting postponed this week, ESPN reported last Sunday.
The deaths of Floyd and Breonna Taylor last year set off a surge of protests against police brutality against Blacks, and the Black Lives Matter and social justice movements eventually reached the sports realm.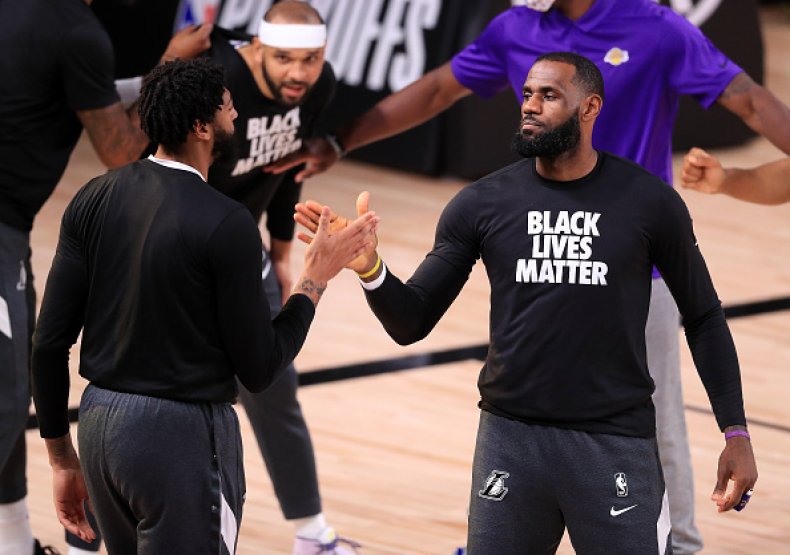 The NBA, at the time, had been paused until further notice because of the COVID-19 global pandemic. The season resumed in Orlando with all teams playing at one, concentrated venue. Teams were allowed to display social justice monikers like "Equality" on the backs of their jerseys, and "Black Lives Matter" was painted on the floor of every court side.
Last year, during the NBA's playoffs, the Milwaukee Bucks boycotted a first-round game against the Orlando Magic after Jacob Blake, a Black man, was shot seven times by police in Kenosha, Wisconsin. The following two nights, the NBA postponed all of its playoff games because of the shooting, and no teams were penalized.
Blake was seen in a video during a traffic stop running from the passenger side of his car to the driver's side. He appeared to be reaching toward the floorboard when all of a sudden there were seven pops from a police gun. Blake later admitted he was carrying a pocket knife.
Last week, after police in Brooklyn Center, Minnesota, shot and killed Daunte Wright during a traffic stop, the Minnesota Timberwolves and Brooklyn Nets postponed their game.
Minneapolis Public Schools announced last week they will not hold in-person classes beginning Wednesday, based on conversations their officials had with sources from Hennepin County prior to the closing arguments in the trial.
Here are other tweets from around the sports world:
-