Can You Spot the Difference Between These Sharpie Pens? This TSA Agent Did
What might look like a normal marker pen to the naked eye was confiscated at an airport after it caught the eye of a TSA officer.
Officers at Huntsville International Airport in Alabama were alerted to an unusual image and noticed that the otherwise regular-looking Sharpie marker was hiding a sinister secret.
"TSA Officer Germaine Galarza observed the X-ray image and performed a bag search, finding two Sharpie markers. One turned out to be a normal marker, but the other was altered and contained a sharpened spike of fiberglass," the Transport Security Administration (TSA) said.
Sharpie does not sell products with a dangerous spike and this particular item had been modified to include the sharp edge. Newsweek reached out to Newell Brands, which own the Sharpie brand, for comment.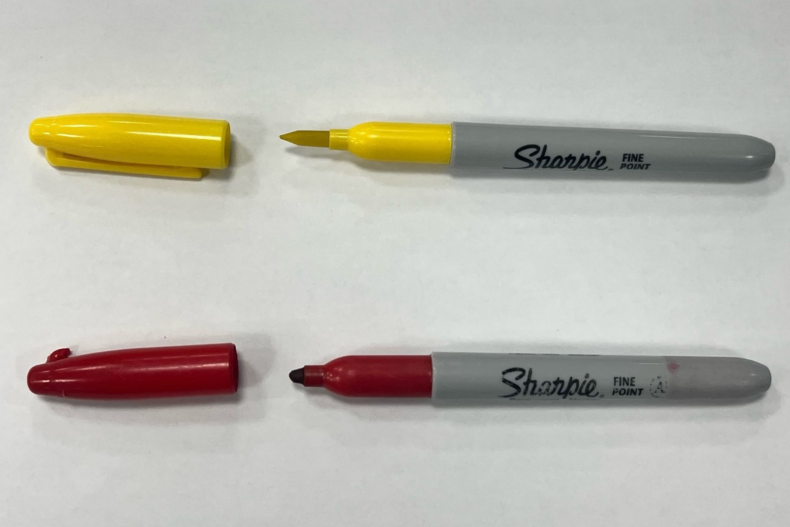 The TSA has strict rules on what can be carried on an aircraft to ensure passenger safety. Any items that pose security concerns can result in additional screening, prevention from flying and even civil penalties.
While sharp items including box cutters, knives and even swords can be carried in checked baggage, carry-on bags have much stricter restrictions. Knives, except for plastic or round bladed butter knives, are prohibited from carry-on luggage, as are saws, Swiss army knives and utility knives.
Despite strict TSA restrictions, travelers are frequently stopped at checkpoints for carrying banned items. In 2022, the TSA broke the record for the number of firearms caught at security checkpoints.
Thanks to his training and situational awareness, Galarza was able to identify the potentially dangerous item that could easily be missed by the naked eye. He said that she had recently read about altered markers in a situational briefing, so she checked the pens carefully.
"Our officers are trained to and do intercept threats hidden inside or camouflaged as everyday items," TSA employee Sari Koshetz told Newsweek. "Other examples of items that we often stop at checkpoints are disguised as flashlights or cellphones to the untrained eye but actually contain stun guns. TSA also works every day with the intelligence community to stay in front of developing threats."
The passenger voluntarily abandoned the makeshift weapon after claiming that he was given the pens at a trade show.
"I take my job very seriously," Galarza said. "I review our standard operating procedures whenever I have questions along with asking my team and supervisor. When new information is passed along to us, I read the briefs, reports and take time to look at pictures."
Galarza appears to have a talent for spotting dangerous items at the checkpoint, and so far in her career has also prevented passengers from traveling with a stun gun and two firearms.
"It makes me feel good to know that I am part of protecting our flying public," she said.