Spotify Hosting Infowars Show, Describes Alex Jones as 'Seasoned Radio Broadcaster'
Streaming service Spotify faced criticism Monday from users and politically-minded podcast hosts for hosting hundreds of The Alex Jones Show broadcasts by the Infowars conspiracy theorist.
Spotify, the massively popular Swedish-headquartered streaming service, received backlash for its continued hosting of several Alex Jones shows that were removed last week by YouTube and other social media giants. In addition to removing four episodes, YouTube and Facebook hit the far-right-wing Austin-based show with short-term content and live-streaming bans.
YouTube suspended Jones for 90 days, and a Facebook spokesperson told CNET that one of his channels was on the brink of being "permanently banned." Jones also was banned personally, but his colleagues have continued to post Infowars content.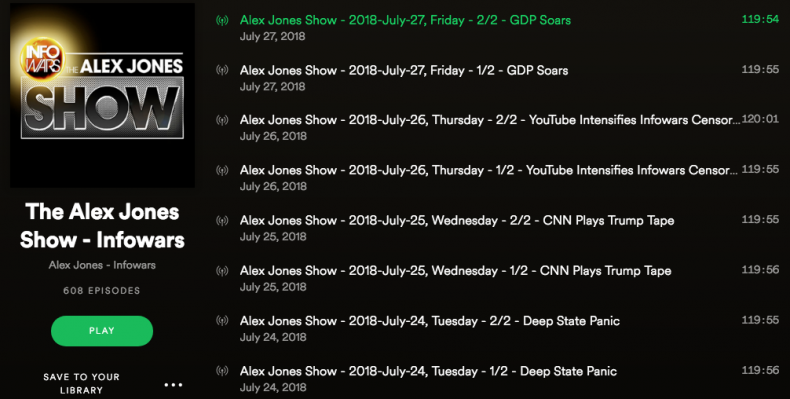 Spotify is still hosting hundreds of The Alex Jones Show episodes dating back several years. Its description of The Alex Jones Show Infowars channel reads, "Alex Jones is a filmmaker, media analyst and seasoned radio broadcaster who regularly hosts individualists immersed in the Infowar. Understand the players in the battle for your thoughts in this on demand news podcast."
Among the incredulous Spotify users appalled that the service was still hosting Jones was Sh*tpostpodcast host Jared Holt, whose tweet sparked angry responses.
Last week, Jones faced criticism for proposing a hypothetical shoot-out with special counsel Robert Mueller, and Infowars itself removed the broadcast—but not YouTube.
Spotify did not immediately respond to Newsweek's request for comment about any terms-of-service breaches or actions to remove "hate speech."