Alex Jones Threatens to Shoot 'Pedophile' Robert Mueller, Accuses Zuckerberg of Facebook 'Shadow Ban'
Infowars conspiracy theorist Alex Jones ramped up threats against special counsel Robert Mueller on Monday, calling him a "monster" and described shooting the former FBI Director.
Jones' nearly 3-hour July 23 InfoWars broadcast ranged from rants about Hollywood pedophilia to social media "shadow bans" to outlandish allegations Mueller was personally involved in a child sex ring composed of left-leaning political figures.
The InfoWars host went on to illustrate a "real world" threat against the former Marine Corps officer and Vietnam War veteran currently in charge of the Russian interference investigation of the 2016 presidential election.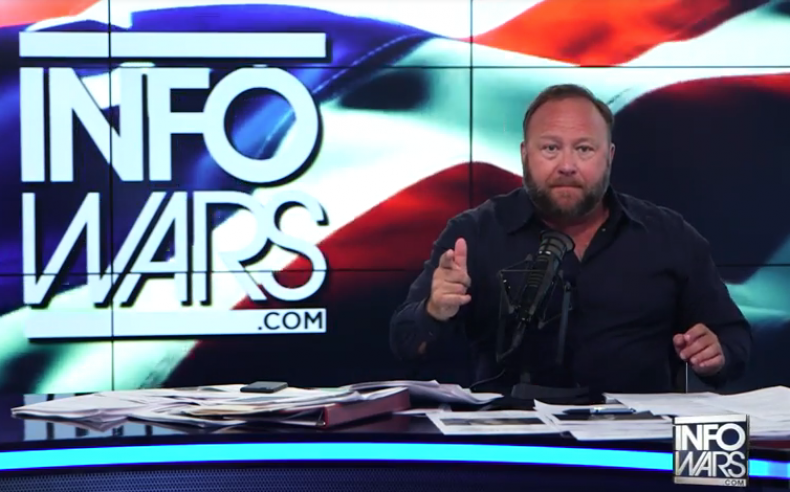 Jones took on a particularly insidious tone during his Monday show, accusing Mueller of violent child sex acts before dramatizing a hypothetical "wild west" shootout with Mueller, a Republican appointed by Deputy Attorney General Rod Rosenstein to lead the Russia investigation in May 2017.
While playing spaghetti western music riffing off The Good, the Bad and the Ugly theme song, Jones detailed how the only thing about Mueller that scares him is Jones "not manning up."
"I'm constantly in fear that I'm not being a real man, and I'm not doing what it takes, and I'm not telling the truth. And so, call it whatever you want, I look at that guy, and he's a sack of crap," Jones said.
"It's going to happen, we're going to walk out in the square, politically, at high noon, and he's going to find out whether he makes a move, man make the move first, and then it's going to happen," Jones said as he pantomimed shooting at Mueller.
"It's not a joke. It's not a game. It's the real world. Politically. You're going to get it, or I'm going to die trying, bitch. Get ready. We're going to bang heads," Jones continued, pretending to fire a gun at Mueller.
Jones spent the rest of his show taking shots at "the little Saint Bernard doggy that goes around delivering things in the dark of the night." He accused Mueller of running a communist-led "inquisition" of the Trump administration with the help of Hillary Clinton and former CIA Director John Brennan. Trump is reportedly considering revoking Brennan's security clearance.
Jones brought on fellow far-right conspiracy theorist Mike Cernovich to claim Hollywood film industry figures are proactively defending child sex offenders and pedophiles.
Jones and Cernovich, who have promoted pedophilia conspiracies in the past, both lamented the "shadow bans" they've allegedly received from Silicon Valley social media giants such as Facebook and Twitter. "Conservatives, libertarians, anybody exposing pedophilia—you wanna get banned? Talk about Roman Polanski. He's their god, raping little girls."
Before plugging a short-term sale on his wide variety of alleged male vitality and energy-boosting products, Jones continued his convoluted and conspiratorial attack on Hollywood pedophilia and non-Trump supporters, while also targeting tech companies.
Jones repeatedly referenced a petition entitled, "Demand that social media companies end censorship of alternative voices online." He described it to his audience as a revolt against "how you're being shadow-banned, you're being censored, we're really just raising awareness of this for the racketeering and antitrust charges for Facebook, Twitter and Google."
Jones personally criticized Facebook CEO Mark Zuckerberg, who is being widely criticized along with other tech leaders for allowing hate speech and far right propaganda on their social networks.
"If Zuckerberg thinks that little game of 'Oh, Alex Jones, he's just wrong, we don't want to ban him,' you already banned [me], shadow banned… I'm already banned." Jones went on to ridicule the Facebook CEO for saying Holocaust deniers are allowed on the social media platform because they're not "intentionally getting it wrong."
Jones' comments come as White House Press Secretary Sarah Huckabee Sanders appeared on Fox & Friends on Monday to call the Mueller Russia investigation "a hoax and waste of time."