The Most Streamed Valentine's Day Songs On Spotify Plus The Biggest Anti-February 14 Tunes
It's frequently remarked that most contemporary pop songs are, in some way, about love or relationships.
Even tracks that are not explicitly pigeonholed as "Love Songs" will often allude to the topic or have hidden references to it. Given that the market is so oversaturated with this type of romantic music nowadays, it can be tough to narrow down the most popular examples.
In fact, when Newsweek initially contacted Spotify to ask which love songs are streamed most on the platform around Valentine's Day, we discovered that those parameters were far too wide. After all, it's difficult to categorize what songs fall into the genre and you cannot narrow it down enough because of how prevalent this theme is.
However, there are certain ways of measuring which tracks are popular during the week of February 14. Specifically, you can take a look at the most played songs from Spotify's dedicated Valentine's Day playlists (which are available all year round but are obviously listened to most heavily in February).
Some of these — like the "Valentine's Day Love" and "Text Me Back" collections —are curated by the streaming platform itself, while others are user-generated instead. Spotify has confirmed that there are over a million Valentine's Day playlists in total, as well as 870,884 themed around breakups and 28,188 for the platonic Galentine's day.
Reflecting on this, Talia Kraines, Senior Editor of Pop at Spotify, told Newsweek: "We've revamped our Valentine's Day music offerings for 2022 and have a number of different destinations for fans of all ages around the world – whether they're newlyweds or newly dumped or grappling with a new crush."
With that said, there's a lot of information to sift through here. With the help of Spotify, Newsweek has compiled this exclusive breakdown of the most interesting data.
Most Streamed Songs on Spotify's 'Valentine's Day Love' Playlist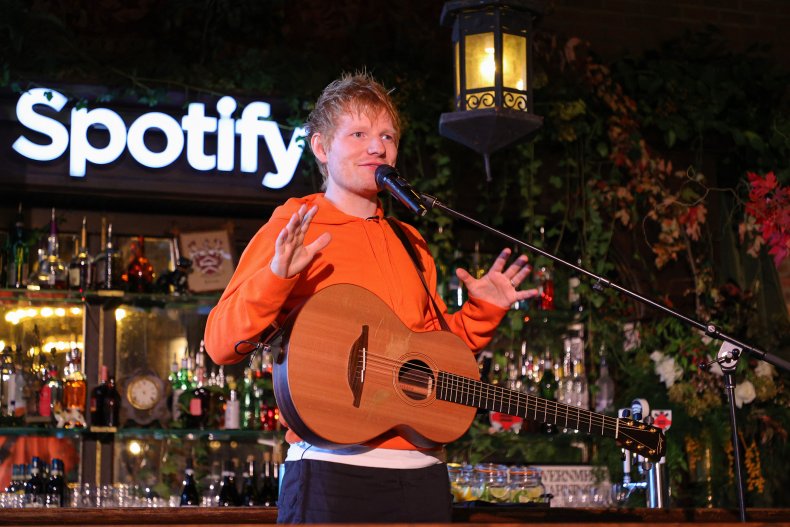 According to Kraines, "Valentine's Day Love" is basically Spotify's official playlist for February 14, which includes traditional love songs from the likes of Nat King Cole, Elvis Presley and Etta James, as well as some newer hits.
Speaking about this, she said: "No matter how old you are, or what language you speak, the classics transcend borders and generations. Frank Sinatra and Louis Armstrong are actually very popular with Gen-Z, and Nat King Cole's is one of the most 'saved' songs on [the] playlist at present."
Despite this eclectic mix, the most popular tracks in Valentine's Day Love are very modern. There aren't too many surprises, with the usual suspects like Ed Sheeran, Taylor Swift and Justin Bieber all appearing in the top ten.
Kraines continued: "Of course, Taylor Swift is an incredible representative on all of our Valentine's Day and love-centric playlists. Her appeal is universal, her songwriting both relatable and original, and she tends to write really classic love songs, with "Lover," of course being a standout."
Here were the most popular songs in Spotify's own "Valentine's Day Love" playlist, during the week of February 14, 2021:
| | | |
| --- | --- | --- |
| Rank | Artist | Song |
| #1 | Taylor Swift | "Willow" |
| #2 | Ed Sheeran | "Afterglow" |
| #3 | Maren Morris with Hozier | "The Bones" |
| #4 | Justin Bieber | "Anyone" |
| #5 | Justin Bieber ft. Chance the Rapper | "Holy" |
| #6 | Ariana Grande with Justin Bieber | "Stuck with U" |
| #7 | Harry Styles | "Adore You" |
| #8 | Dan + Shay with Justin Bieber | "10,000 Hours |
| #9 | Ben Platt | "Grow As We Go" |
| #10 | James Arthur | "Falling Like The Stars" |
Most Played Song's in Spotify's User-Generated Valentine's Day Playlists
Arguably a better way to see what people are really listening to on Valentine's Day is to check the user-generated playlists, as there are 1,116,121 of these (according to Spotify analytics).
They naturally encompass a lot of music, yet a few songs seem to appear more often than others. For example, "My Girl" by The Temptations (which is also featured in our list of romantic quotes), "Just the Way You Are" by Bruno Mars and "At Last" by Etta James are in the top 10.
In general, this list is not so utterly dominated by modern tunes, given that it also has representation from Elvis Presley and Whitney Houston. That being said, Ed Sheeran naturally pops up again, as he's a regular fixture of these lists.
The Top 10 most-streamed songs featured in user-generated Valentine's Day playlists are as follows:
| | | |
| --- | --- | --- |
| Rank | Artist | Song |
| #1 | John Legend | "All of Me" |
| #2 | Ed Sheeran | "Thinking Out Loud" |
| #3 | Bruno Mars | "Just the Way You Are" |
| #4 | The Temptations | "My Girl" |
| #5 | Elvis Presley | "Can't Help Falling in Love" |
| #6 | Whitney Houston | "I Will Always Love You" |
| #7 | Adele | "Make You Feel My Love" |
| #8 | Etta James | "At Last" |
| #9 | Ed Sheeran | "Perfect" |
| #10 | Elton John | "Your Song" |
Most Streamed Songs in Spotify's Text Me Back Playlist
Not everybody is in a sentimental mood on Valentine's Day though and there are multiple playlists dedicated to themes of unrequited love, messy breakups and generally rebuffing the holiday.
According to Spotify, the music in these collections appeals specifically to those in younger demographics, who are more likely to be experiencing heartache on February 14. On this subject, Kraines said: "Some popular Anti-Valentine's Day homes for Gen-Z on Spotify include our 'I Swiped Left' destination, in addition to playlists like 'Text Me Back' and 'Sad Hour'.
"The common thread on these playlists is lyrics that are emotionally relevant to listeners' lives. [They] include songs that quite literally capture the emotions related to unrequited love. The artists are all very authentic, with intimate lyrics that are upfront about their emotions, which Gen-Z is attracted to."
Text Me Back is the closest to an official Anti Valentine's Day playlist. The most streamed tracks here on Valentine's Day in 2021 were as follows:
| | | |
| --- | --- | --- |
| Rank | Artist | Song |
| #1 | Dayglow | "Can I Call You Tonight?" |
| #2 | Will Joseph Cook | "We Met on the Internet" |
| #3 | The Neighbourhood | "Daddy Issues" |
| #4 | Clario | "Flaming Hot Cheetos" |
| #5 | Girl in Red | "We Fell in Love in October" |
| #6 | Frank Ocean | "In My Room" |
| #7 | Jaden ft. WILLOW | "Summertime In Paris" |
| #8 | Joji | "SLOW DANCING IN THE DARK" |
| #9 | SZA | "Drew Barrymore" |
| #10 | Conan Gray | "Crush Culture" |
Most Popular Songs in Anti-Valentine's Day Playlists
When it comes to user-generated playlists that snub Valentine's Day, the picks are inevitably a lot angstier, with rock band Puddle of Mudd and CeeLo Green's NSFW version of "F*ck You" ranking very highly.
Despite placing in the romantic Valentine's Day list, Taylor Swift (who always performs incredibly well on Spotify) also takes the crown for top breakup song —with "We Are Never Ever Getting Back Together" — indicating that she really does have a monopoly on matters of the heart
Top Songs Included In Spotify Anti-Valentines Day Playlists:
| | | |
| --- | --- | --- |
| Rank | Artist | Song |
| #1 | CeeLo Green | "F*ck You" |
| #2 | TLC | "No Scrubs" |
| #3 | Beyoncé | "Single Ladies (Put a Ring on It)" |
| #4 | Alanis Morissette | "You Oughta Know" |
| #5 | The J. Geils Band | "Love Stinks" |
| #6 | Kelly Clarkson | "Since U Been Gone" |
| #7 | Aly & AJ | "Potential Breakup Song" |
| #8 | Puddle of Mudd | "She Hates Me" |
| #9 | Justin Timberlake | "Cry Me a River" |
| #10 | Taylor Swift | "We Are Never Ever Getting Back Together" |
Top Songs Included In Spotify Breakup Playlists:
| | | |
| --- | --- | --- |
| Rank | Artist | Song |
| #1 | Taylor Swift | "We Are Never Ever Getting Back Together" |
| #2 | Adele | "Like You" |
| #3 | Ariana Grande | "Thank U, Next" |
| #4 | Kelly Clarkson | "Since U Been Gone" |
| #5 | Carrie Underwood | "Before He Cheats" |
| #6 | Little Mix | "Shout Out to My Ex" |
| #7 | Beyoncé | "Irreplaceable" |
| #8 | Lewis Capaldi | "Someone You Loved" |
| #9 | Beyoncé | "Best Thing I Never Had" |
| #10 | Olivia Rodrigo | "Drivers License" |