Squad Members Slam Rittenhouse Not Guilty Verdict: 'Our Justice System Is Broken'
Members of a group of Democratic representatives known as "the Squad" slammed the verdict handed down by a jury in Kenosha, Wisconsin, on Friday that found Kyle Rittenhouse not guilty of homicide or other charges in the deaths of in the deaths of Joseph Rosenbaum and Anthony Huber.
The verdict was delivered after four days of jury deliberations.
"Our justice system is broken," Representative Rashida Tlaib, a Democrat from Michigan, tweeted Friday afternoon.
"It protects white supremacy. The two people who were killed deserved justice and so did our communities who continue be targeted with violence like this," she added.
Tlaib said that "painful verdict sends a horrifying message that bringing violence to a protest for racial justice is acceptable. It's incitement, not justice."
"What we are witnessing is a system functioning as designed and protecting those it was designed for," tweeted Rep. Alexandria Ocasio-Cortez, a Democrat from New York.
"My heart still breaks for the communities and families whose grief now compounds, and the countless others who will be denied and deprived in similar scenes across the country."
On Friday, the jury acquitted Rittenhouse on all charges in connection with the deaths of Rosenbaum and Huber, who Rittenhouse fatally shot on August 25, 2020.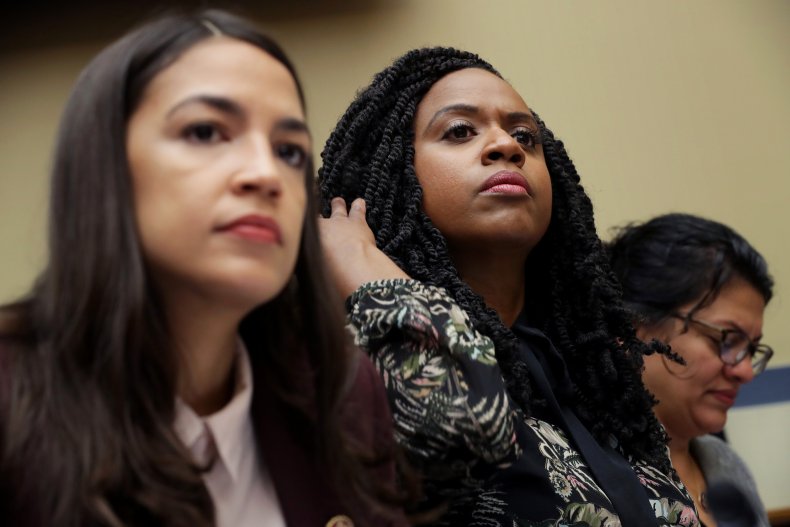 Rittenhouse had been charged with five first-degree felony counts: intentional and reckless homicide, attempted intentional homicide and two counts of recklessly endangering safety.
Throughout the trial, Rittenhouse had argued he acted in self-defense when he fatally shot Rosenbaum and Huber and injured Gaige Grosskreutz, who was struck in a bicep and wounded.
He said he had traveled to Kenosha to help protect local businesses that had been destroyed or looted amid the social unrest that followed the police shooting of Jacob Blake.
"Racism & white supremacy remain the bedrock of our legal system," Representative Ayanna Pressley, a Democrat from Massachusetts said on Twitter following the verdict.
"My heart breaks for the family & loved ones of those whose lives were stolen, and the trauma our communities face today and every day. The struggle for accountability, for justice, for healing goes on," Pressley said.
Representative Cori Bush, a Democrat from Missouri, also responded to the verdict on Friday afternoon.
"The judge. The jury. The defendant. It's white supremacy in action," Bush wrote.
"This system isn't built to hold white supremacists accountable. It's why Black and brown folks are brutalized and put in cages while white supremacist murderers walk free. I'm hurt. I'm angry. I'm heartbroken," she added.